Many have now heard that the Light-Sport Aircraft industry achieved an impressive benchmark in its first decade. As the newest aviation segment approaches its 10th birthday in the summer of 2014, airplane designers have created and gained FAA acceptance for 134 models, a pace of more than one new design every month for 10 years running. No one has claimed a more active period in worldwide aviation since 1903 witnessed the Wrights making their first flights.
Yet even within this ocean-swell of engineering, flight testing, manufacturing and marketing, the industry is gearing up for a secondary wave.
In 10 years, LSA have morphed from European and American ultralight or light kit aircraft into a fleet of modern and capable aircraft manufactured under industry consensus standards. In 2014 it is becoming clear that the LSA industry is embarking on a new level of achievement. From design studios born of spacecraft and yacht building are coming the next generation of Light-Sport Aircraft. Some of the most intriguing are seaplanes.
Icon stimulated the market for these advanced ships with fresh ideas and creative engineering. A team from Scaled Composites (key participants in the creation of SpaceShipOne and a gaggle of unique aircraft) joined Icon to bring us the A5. Using California savvy instilled by their charismatic leader, Kirk Hawkins, Icon marketed the blazes out of the distinctive design.
Following their breathtaking charge into the LSA space, the Southern California company reported capturing more than 1,000 aircraft orders, even more than Cessna once logged for the now-abandoned Skycatcher. While Team Icon works to assemble a manufacturing system, other designs are coming into view.
Today, in the here and now, among those 134 SLSA models plus amateur built kits are several proven light seaplanes, including Searey, Super Petrel, SeaMax, Mermaid — all presently accepted by FAA as Special LSA — plus Freedom, Aventura, and Atol (a review of most of these can be found at here).
Yet among LSA seaplanes, the next generation wave is building and we expect additional designs to emerge this year. Among them are some of the most technically sophisticated flying machines in the entire LSA space.
NEXTGEN IN SEAPLANES
Consider this: The Lisa Akoya, Icon's A5, the Vickers Wave, and one other that I've agreed not to identify have all secured substantial funding from Chinese investors. Of course they join such notable aviation enterprises as Cirrus Aircraft, Continental Motors, Flight Design, Superior Air Parts and others in securing Chinese investment.
In the case of the LSA seaplanes, the investors are not taking over the companies and appear primarily focused on the China market. Regardless, funding is a lifeline for small companies with big ambitions and costly development processes.
Lisa's Akoya, stunningly priced near $400,000, is a unique design that in some ways attempts to surpass Icon's A5. Both are flying at present, but neither has gone to the conforming prototype stage, as far as the public is aware. Another fascinating design promises features and qualities that I believe will surprise and delight potential buyers. We may see a prototype at AirVenture this summer.
One that has already showed their hand is the equally groundbreaking Wave from Vickers Aircraft in New Zealand. The company has allegedly signed preliminary agreements with Chinese investors and new funding could accelerate its seven-year-old design project so that it can take to the skies this summer.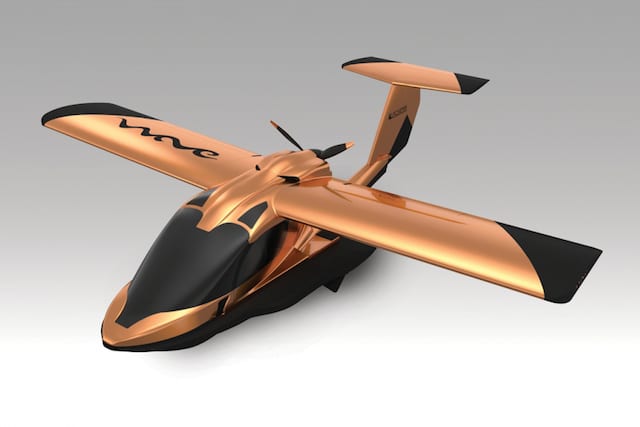 Wave (pictured) has several popular characteristics, such as powered folding wings, sliding doors, enough aft cabin space to allow a four-seat design in the future, and specialized landing gear involving as many as seven wheels.
Wave's "Cross-Over" landing gear does not need to be retracted, which eliminates some weight and reduces pilot workload. The gear pivots enough to aid crosswind landings on hard surfaces. Naturally, components such as autofold wings threaten to add weight.
Readers may recall that Icon asked for and received an exemption to the LSA weight restriction so it could offer all the features customers wanted for their seaplanes. Wave designer Paul Vickers has observed this and said that he has designed with great care from the beginning to assure his seaplane can make weight even while offering the very powerful fuel-injected Lycoming IO-360.
Deploying 180 horses from the American powerplant would give a clear edge to Wave, providing it can meet the ambitious weight controls to stay with the permitted 1,430 pounds gross.
Wave is a true composite, built from an aluminum primary structure surrounded with a carbon fiber hull. As parts go together in prototype number one, Vickers said all parts are matching the weights as predicted by state-of-the-art computer design software.
If you think Vickers might have missed something on its new Wave, consider this list: Automatic folding wings; Cross-Over landing gear; electric, retractable water thruster for engine-off, on-water maneuvering; Vertical Power's digital electrical management system; iPad Mini EFB; angle of attack indicator; Dynon's Skyview computer instrument including autopilot; custom-designed Aveo Conforma lighting; center console joystick; dual aft-sliding doors; a windscreen offering 335° visibility; inertia reel four-point seatbelts and Amsafe airbags; BRS emergency airframe parachute; air conditioning; special exterior lighting; cabin heat with climate control fans; stereo intercom; and even arm rests and drink holders. (Note that some listed items are optional.)
As with every design since the Wright brothers' first biplane 111 years ago, the proof of design will be found in the flying, but Wave, A5, Akoya, and others yet to be identified are showing the LSA seaplane subcategory to be a fountain of engineering prowess.
Though Lisa is asking a great deal for its Akoya, the others are promising base prices below $200,000. As polished, ultramodern, even futuristic seaplanes go, such prices remain quite a bargain as any general aviation seaplane buyer can attest.
As LSAs celebrate their 10th birthday in 2014, anything can happen and we wait with anticipation to see the newest flock of LSA in boat hulls take to the friendly skies.