Perhaps it has occurred to you. as it has to me, aviation attracts high achievers like a moth to a flame. Ours is not the domain of the weak or timid. Similarly it's not an exclusive outpost for rich, old, white guys who split their time between the golf course, the yacht club, the airport, and pillaging the economy for their own personal gain. That's the common perception of us. Wrong as it may be, that image persists.
Perhaps it's time for us to correct that mischaracterization. Not to massage it, or spin it, or dress it up to make it look good. No, I mean it's time for us to lift up our heads, throw out our chests, and make it clear exactly what sort of people aviation attracts.
In my career I've been fortunate enough to stand shoulder to shoulder with Chuck Yeager, one of the pioneers of high performance who ushered in the space age. I shook Scott Crossfield's hand and was surprised at how firm the grip of an older man could be. But then this is a man who had an experimental flying rocket known as the X-15 blow up around him and he still walked away with his dignity and his nerves intact. Yeager and Crossfield competed with each other and the elements, both touching the edge of space and pressing the known limits of the speed envelope, repeatedly.
If you've flown on a commercial airliner in your lifetime, you've benefitted from their work.
Years ago, while wandering through a hangar I rounded a corner to find myself standing toe-to-toe with Frank Borman, the commander of Apollo 8. To put the accomplishments of that crew and their support team in perspective, it's necessary to divest yourself of much of what we know today.
When their Saturn V lifted off the ground, they were headed for a rendezvous with a foreign body we call the moon. Never before had a spacecraft shot off into space with the intention of slingshotting around the back side of a satellite in order to get home again. If they missed the moon, they might still be headed out into space today.
But the engineers with the slide rules got it right and the astronauts navigated their way through space exactly as they were supposed to. In the process they became the first three men in the history of humanity to witness an earth rise. They also opened the door to achievements that were well beyond our technology and understanding only a decade earlier — achievements that are now considered so pedestrian and unremarkable most school age children aren't even aware they occurred. Yet to my generation, these people were heros. We knew their names. We aspired to be like them.
Of course, not all great aviators are famous. Some are individually unknown, although collectively they are legendary. You may not recognize names like Leo Gray or George Hardy, or Hiram Mann, or Roscoe Brown, but those names all bring a specific smiling face to my mind. Each one is a true hero in my book. Smart, brave, capable, battle hardened.
They're leaders who transcend the military rank bestowed on them. Each of those names belongs to a Tuskegee Airman. To this day they support each other and enjoy a deep satisfaction for the accomplishments they and their peers earned against stiff odds. Even now, 70 years after committing themselves to offering up their lives for a nation that treated them, their families and friends so poorly, they continue to share their stories and to excel not just in the air, but in life.
These men helped to preserve freedom in the world, then they came home and represented a level of performance that simply could not be minimized or mocked any longer. If you are alive, they helped make your life better. End of story.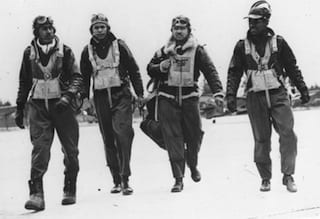 They're saints in the American pantheon of outstanding personal achievement, and soldiers in the battle for equality and opportunity. Each one of them deserves our undying respect and admiration for being better than we are. Because they are. Seriously, they are.
With all that to work with, and so much more, I can only wonder why the current participants of this industry allow ourselves to be misrepresented and maligned so frequently. It's time for us to correct the record.
We have giants among us, and the legends they created should be the footing we stand on when we share their story. We should be honest with the public at large. We should tell these stories that haven't been told well enough, or often enough, or widely enough.
I am involved in aviation because great men and women came before me and led the way. Our airports exist, at least in part, to honor the memory and the achievements of people who accepted shockingly high levels of risk in order to blaze trails that make our lives better, safer, more fulfilling than they could otherwise be.
In part, these runways exist to allow a new generation to participate, to catch just a glimpse of what was and maybe to provide a hint of what could be in the future. And they are the launching points for dreams not yet realized, harbored in the minds of children not yet old enough to see over the instrument panel.
But they will become one of us, and amaze us, and lead us to great new discoveries — because that is the true legacy of aviation.
Go tell the story. Tell your story. It needs to be heard.