Syd Jones is not your average guy. From his early adulthood, he's been…let's say, unique. Not content to follow the traditional path of a young man fresh out of an educational institution, Syd didn't find the idea of a regular, stable office job to be all that appealing. Hunting for pirate treasure? Well that's something else entirely. That sounded exciting. So that's what Syd did. He joined forces with Mel Fisher's fledgling band of divers and salvage experts in training and they went after the Nuestra Senora de Atoche.
The ship was sailing for Spain loaded with treasure when it went down in a storm. The year was 1622, so finding it was, understandably, a bit difficult. After spending more than 350 years on the sea floor, a wooden ship can get a little weatherbeaten.
Yet Syd and his compatriots persevered. Through good times and bad they dove into the crystal clear waters of the Atlantic where they fought the current, a blazing sun, and their own cold soaked bones to search for clues, recover bits and pieces, and finally come up golden.
How golden? The treasure Syd and his fellow crewman recovered has been valued at roughly $450 million. And that's not the whole shebang. More treasure is still out there. Somewhere. Waiting for somebody to find it.
Contentment did not ensue, however. Intellectual wanderlust kept pecking at Syd. Eventually even the allure of buried treasure dimmed as a new fascination took hold.
Aviation got into his head and heart. He has been pursuing that dream for a good long while now. With some impressive success.
I met Syd years ago when we were both employed at Tom Reilly's Warbird Museum in Kissimmee, Florida. Syd, often flanked by his wife KT, a fellow treasure hunter and a real firecracker in her own right, was usually elbow deep in the restoration of a B-17 bomber, or performing maintenance on an AT-6, or flying right seat in one of three B-25s that were frequent visitors to the shop.
It was then I heard the stories of the Atocha, and of Syd's plans to finish a book about the story. Which he did. "Atocha Treasure Adventures: Sweat of the Sun, Tears of the Moon," was completed, published, and is currently available at fine bookstores and online outlets the world over.
And then things started to get really interesting. Hawaii called and the intrepid couple answered. They dropped everything to move thousands of miles west, leaving peninsula life behind in favor of island life, where they combined their love of discovery with their affection for aviation – to the great benefit of mystery lovers everywhere.
While there, Syd heard a story about a crashed Japanese Zero. On Dec. 7, 1941, the airplane came down with an inelegant thud, leaving a dazed pilot and a small but astonished collection of islanders in its wake. Not content to accept the rumors or hearsay, Syd began to dig, both literally and figuratively. His curiosity piqued, he pursued the story with tenacity. He even climbed into an airplane and flew the probable route of the crashed airplane to gain more insight into its flight path as it prepared to land on the isolated and rugged island of Niihau.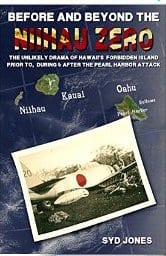 With the pilot surviving the crash and being assisted by islanders who had no idea an invasion and a war had begun only hours before, the story starts to get truly weird and nearly unbelievable. But it's true. It's all true.
Syd and KT Jones studied the events that unfolded that day, dug out documentation to shed light on the facts. 

I won't spoil the story. I don't have to. You can read it for yourself in Syd's latest literary offering, "Before and Beyond the Niihau Zero, The Unlikely Drama of Hawaii's Forbidden Island Prior To, During, & After The Peal Harbor Attack."
Don't let that extensively long title and subtitle fool you. The story is riveting. It's a bit of history I certainly never learned in school. You probably didn't either.
For all the documentaries, the books, the feature films, and the rumors I've heard about Pearl Harbor and the attack of Dec. 7, 1941, I never heard a peep about this story. Thankfully, Syd Jones did.
Packed with first and second hand accounts of the chain of events that led from tragedy to peculiarity and back to tragedy again, Jones does an excellent job of relating a story that could easily have been embellished to the point of fictionalization. Yet he avoids that pitfall and simply tells the story. The true story. Sharing the facts as they were, as told by those who were there — or were there shortly after it all went bad.
All of which leads us to this: If you're fortunate enough to grab a copy of Jones' book and take his story to heart – the next time someone relates the story of the Pearl Harbor attack, you can sit back and wait for them to finish. And when they do you can slide forward in your chair to address those around the table by saying, "You're not going to believe it, but then this happened, and it happened just this way."