The January/February 2015 issue of FAA Safety Briefing looks at all things airspace and air traffic control. Articles highlight important "rules of the sky" and cover the technology changes in our National Airspace System.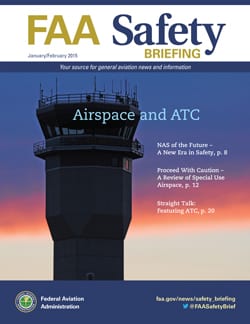 Feature articles in this issue include:
"The NAS of the Future – Entering a New Era in Safety" (p 8),
"Proceed with Caution – A Review of Special Use Airspace" (p 12),
"Straight Talk: Featuring ATC – Air Traffic Controllers Mic'd Up (p. 20)
In this issue's Aeromedical Advisory department (p. 5), Federal Air Surgeon Dr. James Fraser explores some of the warning signs of hypoxia, while Checklist (p 25) reviews resources you can use to better understand the nuances of the NAS, including the "Point Sixty-Five" (FAA Order 7110.65). Also, Angle of Attack (p 32) discusses how the FAA's new Additional Pilot Program can improve flight test safety.