While there are plenty of reasons to hang your head and lament the difficulty of making a difference in your community, it is not impossible to have a positive effect. Hard? You betcha. Impossible? Not hardly.
There is reason for real hope even when the hill seems unimaginably steep and the burden feels too heavy to carry one more step because, in all honesty, one person can do a lot. That's especially true if they employ the massive, almost unstoppable power of the multiplier effect.
Let me give you an example.
Arcadia, Florida, is a bit out of the way for most tourists in the Sunshine State. It's south of the major theme parks, well east of the Gulf coast, and separated from the Atlantic Ocean by many miles of agricultural fields, swampland, Lake Okeechobee, and even more miles of rural pastureland. In short, of all the people you know who have been to Florida on vacation or for a business trip, the odds are excellent they've never set foot in Arcadia.

That being said, Arcadia is a beautiful little town. Quiet, peaceful, and richly blessed with agriculture fortunes; this is the sort of the place where the residents don't take their out-of-the-way location as a negative. More often than not, they revel in the rural nature of their home. They are admittedly about as far from a set of railroad tracks or a major highway interchange as you can get on this massive southern sandbar. But Arcadia has something special nestled into the southeastern corner of the town: An airport.
Runway 13/31 is grass. Marked with painted tires, it's 140 feet wide and nearly 3,000 feet long. That provides plenty of space for classic traildraggers to plop down or lift off. The paved runway is only half as wide, but nearly 800 feet longer. Between them they provide a lifeline to this little town of fewer than 8,000 inhabitants, as well as a quick and easy way to get in or out for recreational purposes.
A handful of the local users of X06 decided it was time they helped make the airport a bit more inviting. So they put their shoulder to the grindstone, as the saying goes, and got to work doing the heavy lifting. That's a literal interpretation of the effort required, too. They got sweaty and dirty clearing a campground from the brush and undergrowth surrounding a stand of mighty, shade-producing oak trees situated just northeast of the T hangars. The result is an oasis of tranquility paired with the convenience of quick ingress egress thanks to the runways so nearby.
Last weekend I flew in to Arcadia. In fact, I pitched a tent and spent the night there. And I wasn't alone.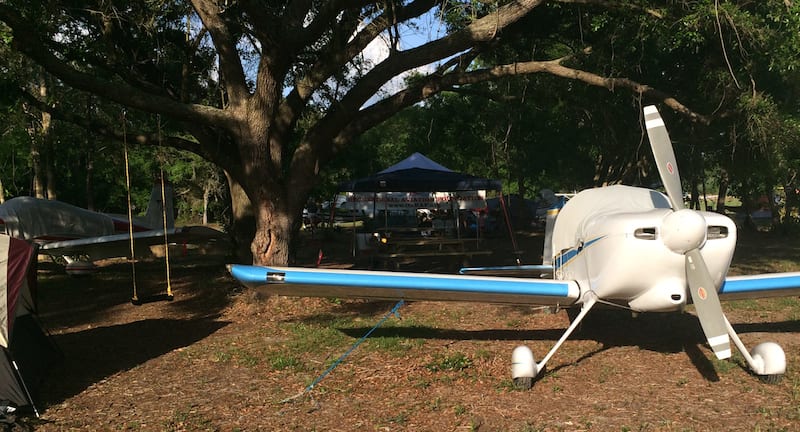 The Friends of Arcadia Airport reached out and invited friends, acquaintances, and pretty much anyone they could get in touch with, asking them to come spend the weekend on the field. Their tools weren't particularly sophisticated or pricey. Email is about as high-tech as they get. But fliers and phone calls work, too. They invited folks to come, and they came. They asked for RSVPs and they got 'em. They made tickets and transportation to the rodeo available, and visitors from all points on the compass came out to take advantage of the opportunities.
It was, in a word, great!
What started as an individual wondering to himself, "What kind of an impact can I can have?" quickly transformed into a small group of volunteers. That small group gave way to a larger circle of contacts, and before you could say, "Hey, you guys can't do that," they'd done it.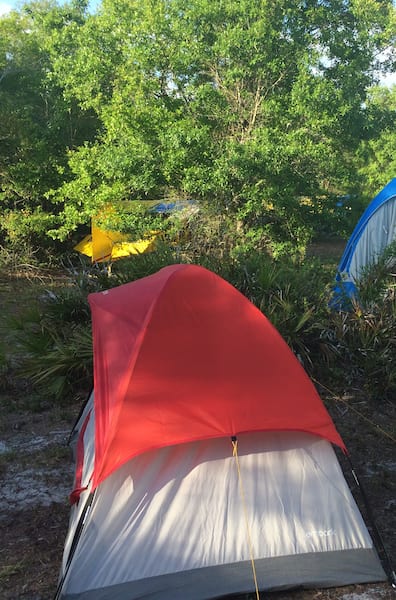 Twenty-six airplanes flew in this past weekend. They came specifically to enjoy the company of others like themselves. They brought friends. They brought spouses. They brought children of all ages, the youngest of which enjoyed time on a rope swing hanging from the branch of an oak tree.
Memories were made that will last for decades because of the efforts of some good-hearted folks who wanted nothing more than to make their hobby more appealing to others and provide greater value to the comunity they've grown to love so much.
As the sun set on Saturday night, after the hot dogs and chili had been consumed, it was time for a bit of light entertainment. Ten of the campers had packed musical instruments with them, and so they gathered around the fire ring, sitting on hay bales and singing together under the stars. When the fire grew dim we all headed off to our tents, pitched beside our airplanes, and slumbered through the cool, Florida night, with the sounds of nature all around us.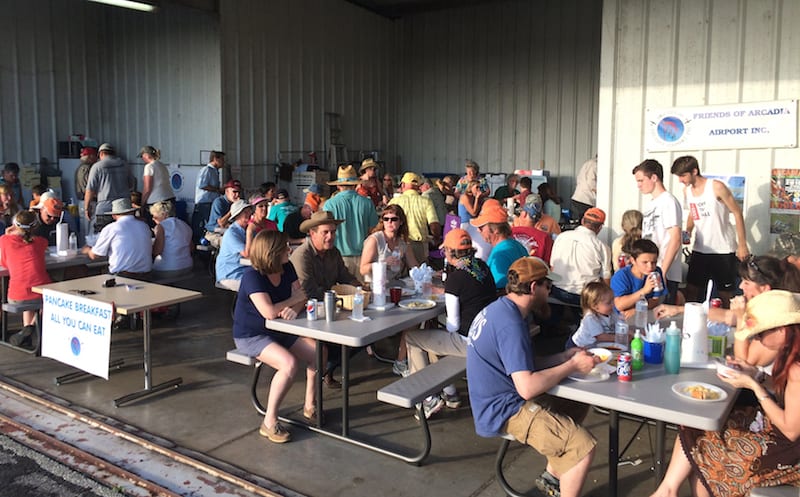 In the morning the campers were treated to donuts and coffee. Good conversation ensued between people who had been strangers only a day before. Then the tents were packed up, stowed away, and the aircraft departed one by one.
By noon nary an airplane remained. Nor did any sign of those dozens of campers. Not a bottle or can or stray napkin spoiled the view. The camping area was as pristine and well kept as it had been before the adventure started.
Thank goodness for that first person who thought they could make a difference, and for the second person who thought they might be able to help, and to all the others who saw a good thing and got in on the action when they could.
I wish this happened on every rural airport in America. It could, too.
At least it could if you're the type of person who thinks they can make a difference. I certainly think you could.
The Friends of Arcadia Airport might tend to back you up on that, too.