It will come as no shock to regular readers of this column that I am on a mission. My goal, and yes I have absolutely chosen to accept it, is to shepherd as many aviation enthusiasts into the industry as full participants as I possibly can.
If they learn to fly, that's great. But if they choose to fill other roles in the industry, that's fine with me, too. Whether they involve themselves professionally or on an occasional basis as a hobby, I consider it a win whenever someone new breaks out of the pedestrain day-to-day grind and takes to the skies in an aircraft.
It's an awesome job, and thank goodness I get to do it. There is nothing I'd rather be doing. Truly.
Now where this self-imposed mission becomes sticky is when my rhetoric and actions intersect, sometimes less than gracefully, with the opinions of those who take a different view. Their view of aviation can be somewhat more eliteist, less open, and decidedly merit based. Their yardstick for what determines a true pilot seems to have more to do with horsepower and purchase price than enthusiasm, drive, or talent.
For some the slogan seems to be: If it isn't round, stay on the ground.
The round reference being directed at large, radial engines that sound magnificent, look impressive, and produce copious amounts of power, thanks to an abundance of fuel pumping through the lines.
When I was a young fellow I recall my father, who captained a Boeing 747, rather forcefully making the argument that private pilots should not be allowed to fly. I suspect that commentary was the result of a particularly unpleasant experience with densely populated airspace surrounding Kennedy International following a long flight from Tokyo.
He is certainly not the only heavy iron driver I've heard make a similar pronouncement. But when pilots of that stature say things with such fervor, it tends to make an impression on others. And that impression is not one that makes people think of running out to the local general aviation airport to sign up for lessons.
I've taken a decidedly different view over the years. Subjective as my perspective may be, I believe virtually anyone can fly. If they want to, they can. There is almost always a way to make it happen.
The hurdles to earning a pilot certificate or an A&P ticket, or to working the line or the desk at the local FBO, are all well known. Each job has its own challenges and rewards.
And to this point in my life I've found very few people who can spend an hour or two sitting beside the ramp enjoying lunch at the airport diner, then walk away totally disinterested in the experience. Let's face it, aviation is cool and so are the people who make it work. Celebrate that. Embrace the awesomeness of what you do and who you are. You've earned that privilege.
My friend Raj flies a Gulfstream for a living. His airplane's panel is a mass of lights and switches and glass with the power to both amaze and confuse any aviation newbie. Baird flies an MD-11 and Todd flies the 747-400, aircraft that are equally astounding and equally daunting to those who hope to one day follow in their footsteps. Me? I fly a Cessna 152 and I love it.
And whenever we communicate with each other, which isn't nearly often enough I'm sorry to say, not one of my flight school buddies has ever made fun of me for flying such a small, low-horsepower, low-complexity airplane. Not once.
Maybe there's a reason for that. Perhaps they show me and my little flivver the same respect I show them and their massive mounts because we all started out in the same place, at the same time, flying the same aircraft – Cessna 152s.
Because we all lived in the same development while in flight school, we studied together, we flew together, and some of us even crossed paths again after we finished school and began working as commercial pilots. Yet we all have similar beginnings. We share a mutual respect for what we do. And frankly, we all serve a slightly different mission from the others when we crawl into the cockpit. They transport people and products from Point A to Point B. I'm more of a cheerleader and a teacher. We each do something that matters to us, and to those we interact with.
In just a few weeks I will be spending several days standing beside my little yellow Cessna in the Florida sun, right outside the Aircraft Owners and Pilots Association (AOPA) tent at SUN 'n FUN, sharing a simple but true message with anyone who wanders by. And my message is this: You Can Fly!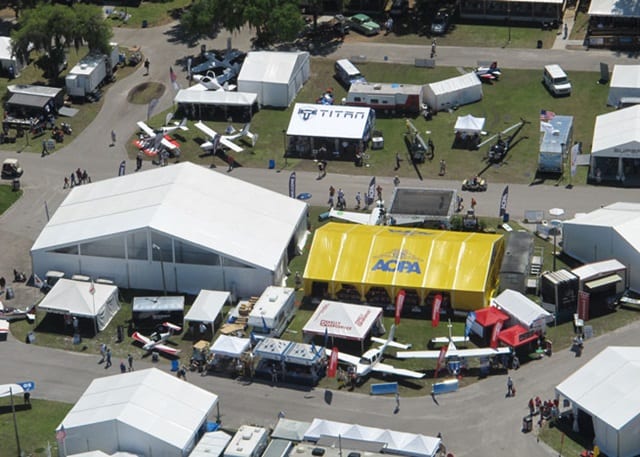 Not only that, you can do it affordably, recreationally, professionally, and with great personal satisfaction. Yes, you can — and there are plenty of people in the industry who will help you get started on that ladder if you're interested.
In my wildest dreams, I wish Raj, and Baird, and Todd might wander by with their turbine-powered swagger and the smiles of men who earn their living traveling the world and enjoying the view. They'll back me up, I'm sure. Because we're all pilots, we're all friends and we all started in the same place – we just took different paths along the way. Each of us took the route that was most attractive to us. And we couldn't be happier about how it all worked out.
May you be so fortunate.
If you're coming to SUN 'n FUN, look me up. I'd love to meet you.