Frederick, Maryland, has an amenity often missing in my home town: Sidewalks.
Where I live they're spotty at best. Hence, it's common for walkers to get into a gasoline powered vehicle which they drive to a place where they can walk without undue risk of being hit by a car, or a truck, or perhaps finding a territorial alligator in their path.
In Frederick sidewalks are everywhere. Wide, clean, well-laid cement pathways that lead from the front door of my hotel to virtually anywhere I might want to go. So I went.
This morning I found myself standing beside a green thicket of woods, coffee in hand, my feet on the neatly maintained path. A pair of white-tailed deer stood in the thicket, not 30 yards away, watching me intently as I watched them. We made quite a sight, I'm sure. The pedestrian observer and the breakfasting odocoileus virginianus.
There would be photographic proof of this encounter but for a panicky rabbit. You see, as I reached for my phone to capture my moment in nature for posterity, I startled a rabbit munching on grass only a few short distance from the spot where I stood. The rabbit ran. The deer followed suit. In a heartbeat and a half I was once again standing alone on the sidewalk. Just me and my cup of coffee.
What to do, what to do.
Solo once again, I found myself reflecting on the previous day. I'd been approximately four miles away from the spot where I encountered Maryland's finest wildlife. The specific location was Frederick Municipal Airport, just outside the front entrance at 421 Aviation Way, the headquarters of the Aircraft Owners and Pilots Association (AOPA).
Thousands of people were clustered around me in groups there, all having come to be a part of the Homecoming Fly-In. Hundreds flew in. Thousands drove. They came as lone individuals who wanted to see the sights. They came as couples wanting nothing more than to share the experience with someone they cared for. And they came as families complete with grandparents, parents, and children.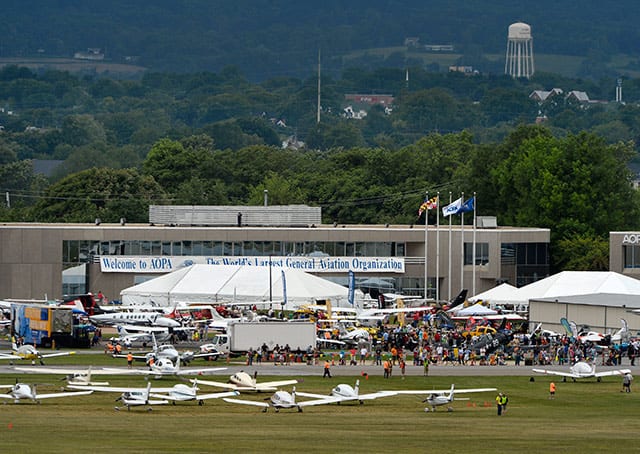 Many came with a long history of aviation involvement to their credit, although a large number of curious new-comers crossed my path as well. There were young people. Many, many young people. A large percentage of which had more questions about getting involved in aviation than they had answers. Fortunately, by the time they left the party they knew more and had better connections to valuable resources than they did when they arrived.
The common denominator to these two scenes was a beverage. Coffee specifically. Pilots drink coffee. Not all pilots of course, but a substantial chunk of them do. On the sidewalk there was only one pilot, and coffee was present. At the AOPA Homecoming Fly-In there was coffee available too. Lots of it. Thank goodness.
The coffee that came along on my morning stroll came from the hotel I was staying in, where it was perhaps ironic that I shared a breakfast table with the man responsible for delivering truly massive quantities of coffee to the fly-in. For the purposes of this story, let's call him Rob.
Some years ago Rob had an idea. What if, he reasoned, he created a business that supplied a product aviators truly love, and used a share of the profits to fund aviation-centric educational programs and non-profits that foster them?
This is where things get weird. Like so many of us, Rob continued to think about his bold new idea. He noodled it around for quite some time. Then, unlike so many of us, he actually did it.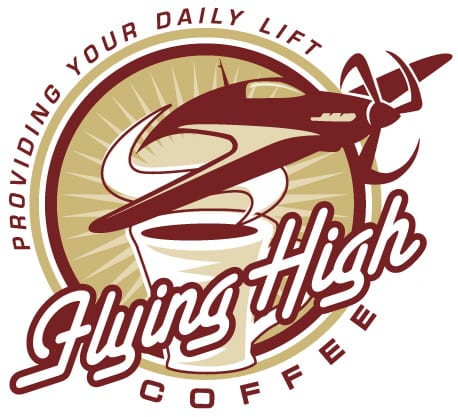 He founded Flying High Coffee, selling coffee online by the bag, as well as coffee related doo dads that might come in handy for those attempting to ingest high-quality caffeinated (as well as decaffeinated) coffee.
As is so often the case in aviation, and with start-ups in general, Flying High Coffee is a small company. But it's a small company with big dreams. Better yet, it's a small company that's dedicated at its core to provide a helping hand to others. To do something rather than just bemoan the state of the status quo.
What if everybody did that? What if even half of us did that? Can you imagine the potential impact if even half the pilot population stood up one morning, took a look at what they believed in, and pursued it with the passion of the guy who motors around the country providing seemingly limitless cups of coffee to vendors, volunteers, staffers, and attendees at aviation events like SUN 'n FUN, AirVenture, and the AOPA Regional Fly-Ins?
I suspect the outlook for general aviation could be, and would be, much improved if we all showed such commitment and drive. It's unlikely that will come about, of course.
But then, we don't really need half the pilot population to become overnight entrepreneurs. Any single individual might find their personal commitment to promoting and supporting general aviation in a meaningful way may be no more complicated or time consuming than clicking on an Internet link, checking the mail for a delicious smelling package, then sipping on a magnificent cup of coffee made from grounds or beans supplied by a company that does the work for them.
Yeah, that counts as doing something. Even if you're only standing on the sidewalk, spooking a rabbit, which freaks out some deer. You might still be supporting general aviation.
Now that's some serious multi-tasking.