Can electric aircraft truly become part of the national or worldwide fleet? You might discount the possibility, but then consider Airbus.
When I was a youngster, I remember a TV commercial with a song jingle that went, "Electricity does more for you each day." (Despite the decades that have passed, the tune still plays in my head.) Another one urged us to "Live better, electrically!" It had to be worthy; even Ronald Reagan (before he became president) announced the message for General Electric.
Today, such retro TV ads look and sound rather quaint. We no longer have to encourage people to use electricity. Indeed, the climate change crowd may prefer that we all reduce usage. Companies everywhere want to be seen as "green."
National and state politicians subsidize the purchase of electric cars, so intent are they that you should use less fossil fuel. Whatever you think about renewable energy versus hydrocarbons, one thing seems certain: We are going to arrive at electric airplanes.
Electric Aircraft Then…
That last sentence is wrong. We are not going to arrive at electric airplanes. We've already arrived. I've flown one and some pilots are accumulating growing amounts of airtime on them. One tried to fly around the world.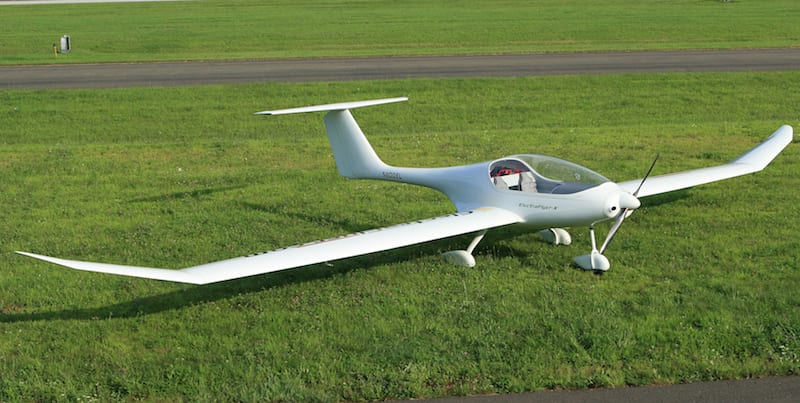 Randall Fishman showed up at Oshkosh with his electric-powered weight shift ultralight in 2007. One of the contemporary pioneers of electric flight, Fishman is now in his third generation of electric airplane development and he is no longer alone in the field.
Electric aircraft are not new, but modern developments have caused the pace to quicken. Fishman made his Oshkosh debut the same year Apple released its first iPhone. Eight years later, smartphones are ubiquitous and electric aircraft are also engaged in furious development.
Electric motors got their modern start on the very lightest aircraft in the fleet, officially called "ultralight vehicles" by FAA. The reason is that these ultralight flying machines need less power and that means carrying aloft less batteries. With energy density still far behind fossil fuels, battery weight is a key reason larger electric aircraft remain in the concept stage.
Clearly, open cockpit aircraft weighing only 254 pounds empty aren't for all pilots. What else is available?
… and Now
Europe's ElectraOne has been flying for a few years as a fully enclosed aircraft. However, it's a single seater. Likewise, Randall Fishman's ThirdGen creation is a high-tech motorglider-style electric aircraft called ULS. Sleek and enclosed, it, too is a single seater.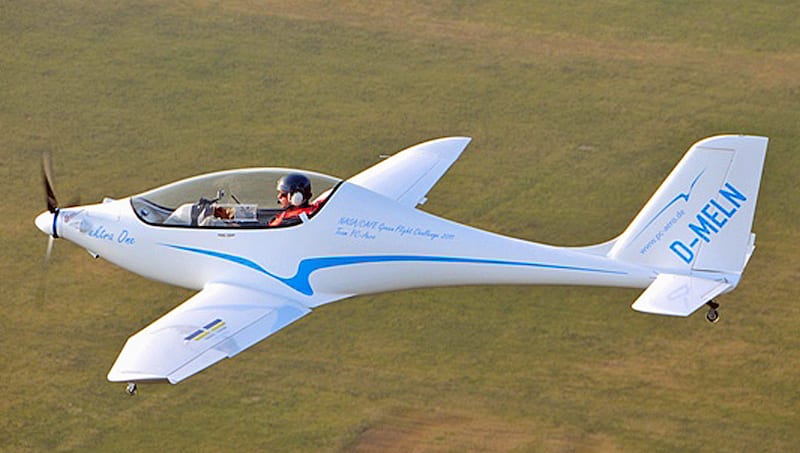 ElectraOne has migrated to the USA where businessman George Bye is developing the Sun Flyer, essentially an ElectraOne with two seats and more conventional landing gear. Bye has stated that he intends to offer his Sun Flyer to flight schools and already reports some initial orders.
Pipistrel is a Slovenian company ahead of that same game with its Alpha Elektro. Flight schools outside the USA are already using the side-by-side two seater for pattern work where batteries can be quickly swapped to keep students flying.
China's Yuneec bought an American ultralight called Spyder from Flightstar Aircraft after working with U.S. developer Tom Peghiny to make an electric-powered version renamed eSpyder.
Yuneec became a large company through its radio-controlled aircraft and when the RC industry made a sweeping transition to electric motors Yuneec found it had know-how about electric motors, controllers, batteries, and charging system that could be used to make man-carrying electric airplanes. Its e430 is a well developed side-by-side two seater that looked nearly ready for market. Indeed Yuneec established GreenWings to sell the eSpyder and e430 but the company put those plans on hold for reasons not fully communicated.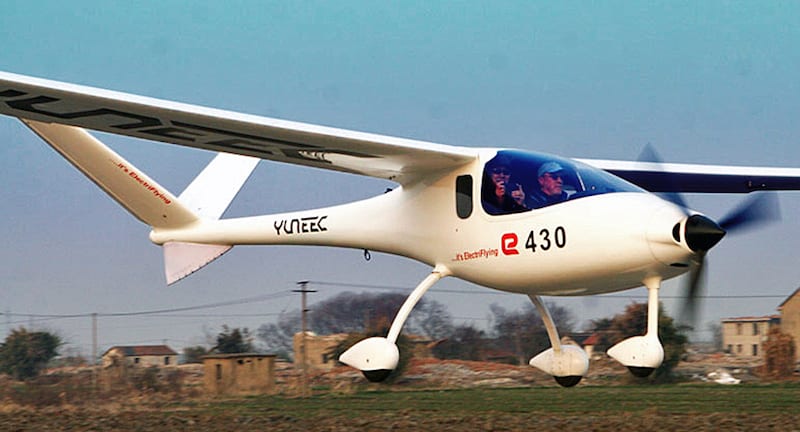 Meanwhile, as you recently read in these pages, Florida entrepreneur Chip Erwin has received his first ePlane and will be offering the all-metal fully-enclosed European design with his own electric motor and related systems probably before the end of 2015.
Electric Airplane Futures
Finally, we come to the big boys of aviation … the really big boys. I refer to giant airline manufacturer Airbus and its E-Fan.
At present, Airbus' E-Fan aircraft are essentially sized like a Light-Sport Aircraft (though that company has yet to make announcements regarding certification systems). E-Fan 1.0 is a tandem two seater, but the company has much more ambitious plans.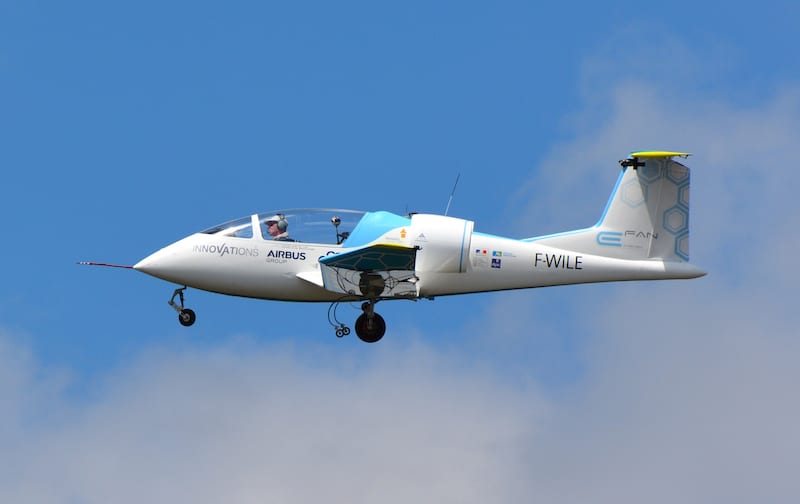 Its more conventional looking two seat E-Fan 2.0 still uses twin ducted motors that impart a tiny business jet look following on the E-Fan 1.0 that completed an English Channel crossing in July. That effort created a whole flurry of corporate intrigue regarding who would be first to make the crossing … but that's another story.
E-Fan 2.0 is moving along with Airbus also planning an E-Fan 4.0 with four seats, though such a project must await fresh battery development.
Airbus is looking even deeper into the future and it isn't only in two- and four-seat small aircraft. Its July 2015 press kit contained extensive information about its ideas for electric airliners. Yes, electric airliners!
FAA and Electric Power?
Meanwhile in the USA, the FAA is struggling on a few fronts — NextGen software "glitches," the Third Class medical petition, remotely piloted aircraft (RPA) or drones proliferating like bunny rabbits, and new budget worries.
That probably means the agency won't soon find time to fix a handful of words in its 11-year-old Sport Pilot/Light-Sport Aircraft rule that blocks development of an electric aircraft industry in America.
That's regretful because electric airplanes hold great promise and many, including a significant number of FAA employees, are rooting for them to succeed.
The promises of electric propulsion are many, from quieter operation to reduced use of fossil fuel (still used to produce electricity, of course) to lower maintenance hassle, to far less vibration and the airframe fatigue that accompanies it.
When Apple first introduced that iPhone, many didn't see how it was going to change communicating and computing. Electric aircraft may not seem to offer anywhere near that potential, but when you scale the idea up to airliners, well … all bets are off.
It may be hard to see where electric aircraft could be headed, but the future seems certain to have more buzzing around. Eight years ago, did you envision having a smartphone in your hand nearly all day long?
Numerous electric airplane articles are available at ByDanJohnson.com