Hanging just above the desk in my office is a lithograph called "The Dealer."
The artist's signature is included just below his mustachioed nose. It's a self-portrait of Kurt Vonnegut, a profoundly influential writer who did more than anyone else to push me in the direction of the literary arts.
Beside it is a thank-you note from the truly great and entirely underrated Earl Morrall. Earl played second-string quarterback for the Colts, behind Johnny Unitas, and the Dolphins behind Bob Griese. In 21 seasons with the NFL he established the model of what a quiet, stoic leader looks like. It was in Miami he did the impossible, leading his team through an undefeated season that culminated with a Super Bowl victory.
Yes, I collect autographs.
There are more traditional celebrities in my collection, as well. Irene Dunn is a favorite. If her name doesn't ring a bell, go watch Turner Classic Movies more often. Irene Dunn was talented, beautiful, and funny.
I also own a multi-page Christmas card from Edward Everett Horton, a character actor of the black and white era, who appeared with Cary Grant in Arsenic and Old Lace, but might be better remembered by my generation as the narrator of Fractured Fairy Tales on the Rocky and Bullwinkle show.
Musicians hold a place in my collection as well. I've got Keith Richards twice, once on a page of TWA stationery. My ex-wife, who was a flight attendant for the airline, got me that one. The other is on the invitation to Keith's first solo record release party. I got that one in person.
And I've got Chuck Berry, too, because if you're going to laud the child, it just makes sense to honor the father as well.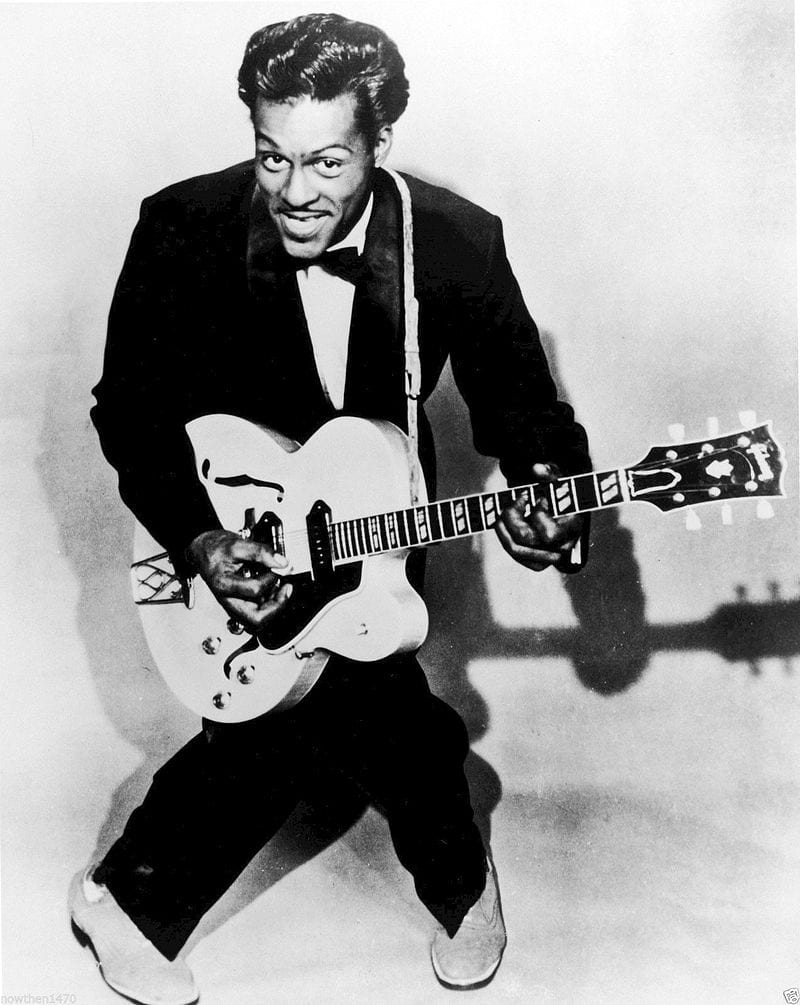 Yet, the signatures of luminaries aren't the most valuable autographs I've collected over the years. It's true.
My real treasure trove of signatures come from people you've probably never heard of. People like Keir Johnson, Gene Benben, John Martochio, Todd Hendrickson, Bryant Bouslog, and Dewey Oliver. Most of these signatures will never find their way into a frame that hangs on my wall. Yet I value them more than Keith, or Chuck, or even Earl's personalized note.
These signatures appear in my pilot's logbook or on temporary certificates that I've saved for more than two decades. They belong to the individuals who taught me to fly, to think like a pilot, to act in a responsible manner, and to put safety above all else when headed skyward.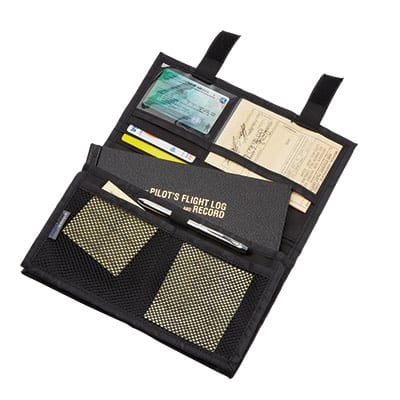 I have great memories of them all, even if none of them ever find fame or fortune.
Keir Johnson was my second flight instructor, but the first to make any real attempt to teach me to fly. I wasn't the best student at that point, having been badly burned at my first flight school. But Keir was persistent, enthusiastic, and supportive. He signed his name and gave me the freedom to solo. For that I'll be forever grateful.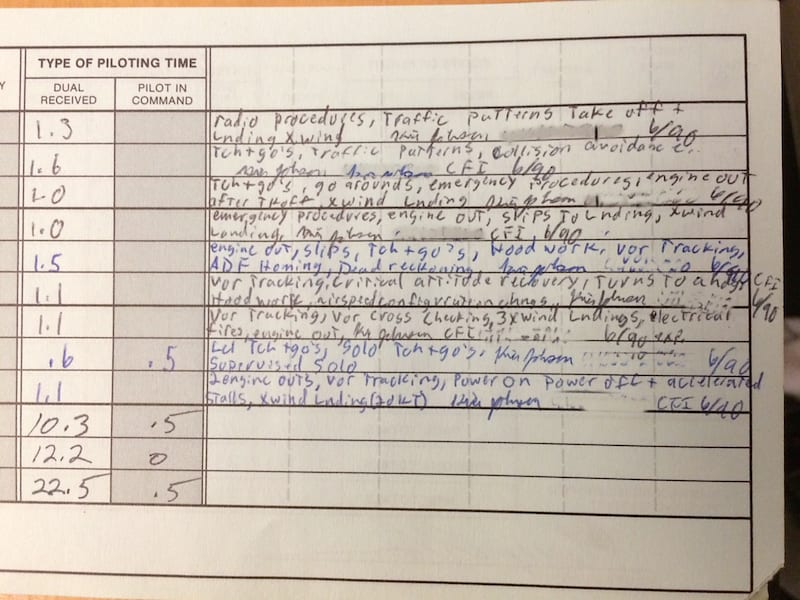 On that first solo attempt at Hartford-Brainard's Runway 2, I found myself high, short, and nowhere near stabilized on the approach. With a sense of real embarrassment, I went around. After completing my third full stop landing, Keir congratulated me on making a good decision.
Being several years younger than I was, he could have teased me, but he didn't. Instead he displayed a level of professionalism that impressed me and instilled a sense of confidence that cemented my belief that avoiding a bad situation is always better than forcing an attempt that could end up in disaster.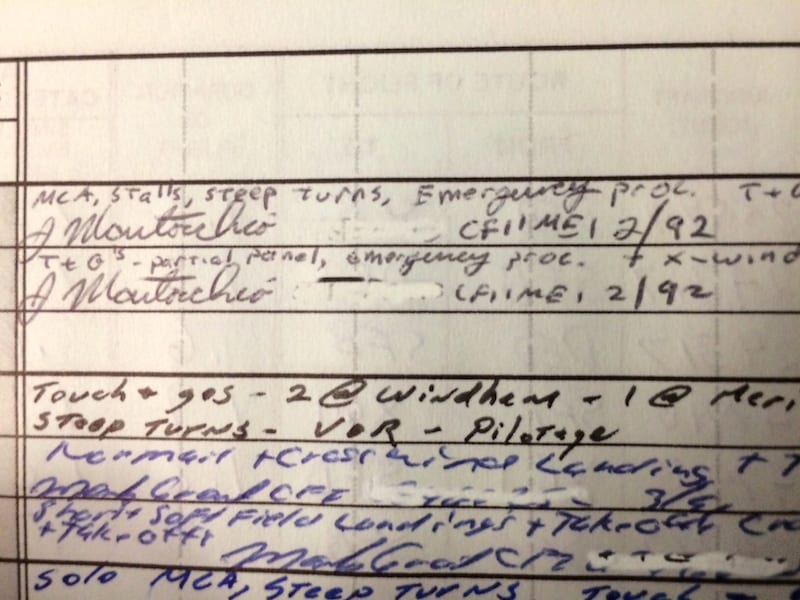 John Martochio filled the right seat after Keir moved on to greener pastures. Aside from his aversion to headsets, which I never understood, he was an excellent instructor who got me thinking about going beyond my private certificate and considering aviation as a career. I'll be forever grateful that he planted that seed, unknowingly though it may have been.
Todd Hendrickson finished my private pilot training and gave me quite a workout as my instrument instructor. He had more suction cups than the airplane had instruments, or so it seemed.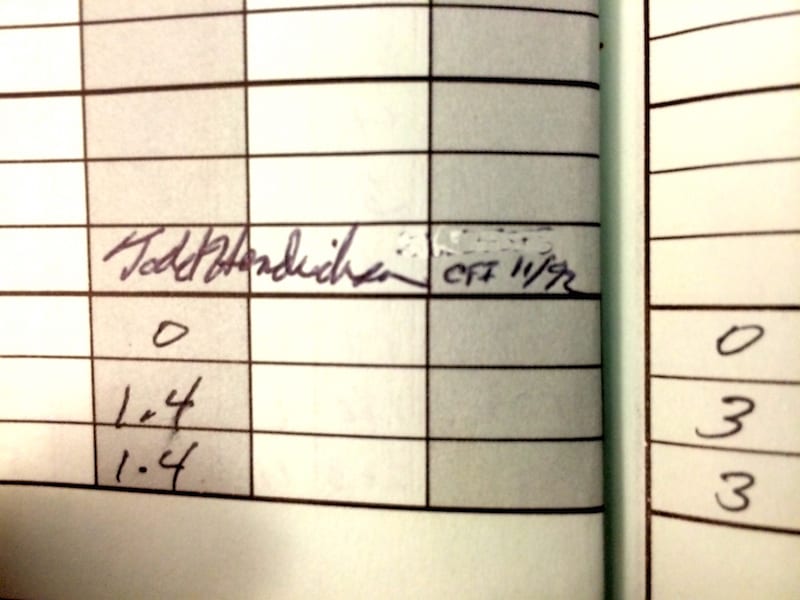 When I finally went on my instrument practical test with Gene Benben, I found myself confused at first because, for perhaps the first time since I'd started flying by instruments, I had the full unobscured panel to work with.
Todd prepared me well and Gene confirmed it. I'm comforted by those signatures today. They're marks of accomplishment for me, and a time period in my life that I sincerely treasure.
You probably have signatures in your logbook that mean a lot to you, too  — although you may not look at them often. I certainly don't.
Yet, knowing they're there, that a record has been established of more than hours flown and destinations reached gives me a real sense of satisfaction. I suspect it does for you as well.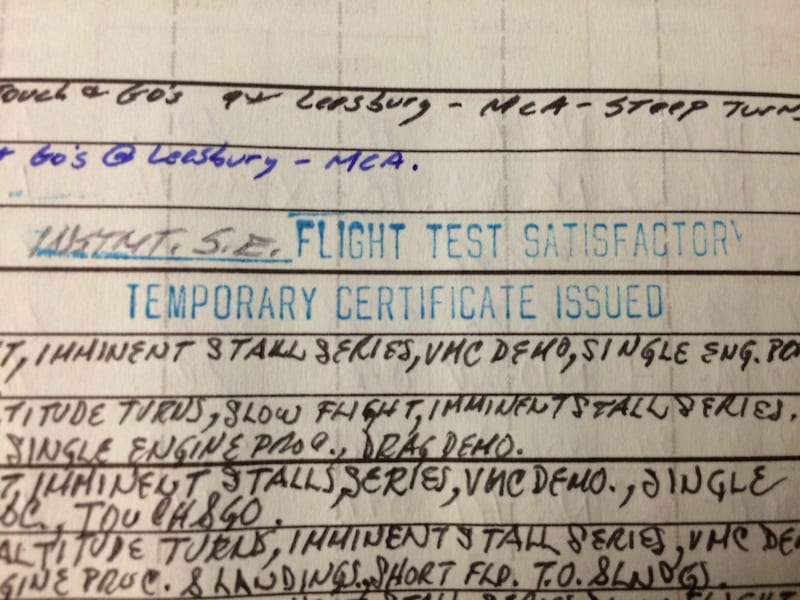 If you were to crack open that logbook and wander down memory lane, taking a moment to reflect on conversations, experiences, and moments of levity you shared with those instructors and examiners, I suspect you'll find you are an autograph collector, too.
Like me, you, too, are an avid believer in the power of the pen and the memories those lines on paper can elicit.
Now if we take that concept one step further, we might ask ourselves how many logbooks our own name appears in, and what effect might our signature, encouragement, and support have on the individuals who own those logbooks?
From Young Eagle Flights to Discovery Flights, to simply taking a friend from work out for lunch at some far-flung destination, all of us who fly have the ability to inspire, motivate, and transform others.
So let's do that. Let's all of us do that.