Just shy of a year ago I launched on a new endeavor. It was an exciting task. It was unique. It was a bit daunting, too.
In all the world there was only one other person doing what I was doing on a full-time basis, and she was nearly 3,000 miles away. Kay Sundaram took the territory known as Southern California, while I staked my claim to a massive sandbar commonly referred to as Florida. Our job was to begin the process of turning around the dwindling numbers of pilots and aviation enthusiasts in the good old U.S.A.
We are the Ambassadors. Our position was designed by the good people at the Aircraft Owners and Pilots Association (AOPA) to provide a go-to person for general aviators and wanna-be general aviators who are hoping to find a better way.
Whether they are trying to get back into the cockpit after a long absence, or to cut the cost of flying down to size, we have been charged with the amazingly exciting responsibility of providing the tools to make it happen. In effect, we are consultants our clients don't pay. The bill is already covered.
And just to be clear on this one most important point: The Ambassadors and the associated You Can Fly program are not funded from AOPA membership dues. Our work is funded by an astoundingly generous, anonymous donor whose goal is in line with our own. We're trying to make a difference.
Now, nearly a year after starting out on this quest, I can say with great pride that Kay and I are indeed making a difference. We have found success. Big, bushel baskets of success, as a matter of fact.
We've been able to validate the theory and make impressive inroads. But that's not complete success, mind you. Two people aren't going to change the landscape entirely in a single year. But there are certainly a considerable number of people flying this year that weren't flying last year.
And there is a growing acceptance — even excitement — over the potential that flying clubs offer Jane and Joe Pilot. Maybe most important of all, there is now a proven method of increasing the number of active pilots.
If you're looking out the FBO window this fine morning, sipping a cup of less than gourmet coffee, as a persistent low layer of frozen stratus keep you on the ground, perhaps it will warm your heart to know things are finally moving in the right direction. For the first time ever, there are a handful of people completely devoted to the task of providing opportunity, insight, guidance, and real hope to those who want to fly, or fly more often. It's working.
Now you'll notice I originally said there were two people doing what I do. And that's true. Or at least it was true.
Kay Sundaram and I were tasked with blazing a trail, but we weren't out on the wide open prairie all by our lonesome. There is a whole team of professionals working behind the scenes at AOPA headquarters in Frederick, Maryland, to make our work day more productive and our ability to truly help others more effective.
Whether we're engaged in putting on a Rusty Pilot seminar, or wrangling together a group of folks who are thinking about the benefits of creating a flying club, or even if we're motoring around in a bright yellow and black Reimagined Cessna 152, providing tangible proof that affordable flying does exist – we've got a tag-team of creative geniuses behind us that can help even a tap dancing chimpanzee like myself perform like a polished professional.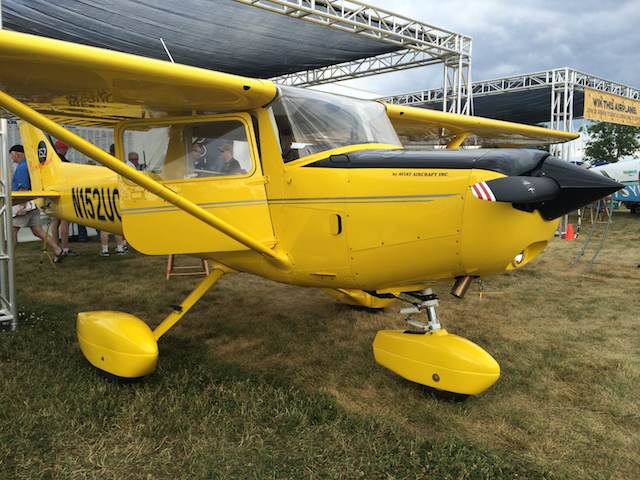 It's been said that success breeds success. That's certainly true of this endeavor. Kay and I have been joined on a part-time basis by Sean Collins, a fine, upstanding resident of Maine who is taking the tools of the You Can Fly initiative to the people of New England. In the coming weeks our team will be joined by Pat Brown of Texas, who will expand the program's territory to include a substantial portion of the Lone Star State.
I like this trend.
So, what have we gotten for our efforts to this point? Nine new flying clubs are a good start. Each one represents not only a cluster of pilots who can now fly more inexpensively and enjoy greater social satisfaction for their time spent at the airport, but also an entity that can grow and strengthen the opportunities for others to participate.
We've been fortunate enough to meet a spectacular number of Rusty Pilots who are finding their way back to the cockpit after years, sometimes decades away from the general aviation environment. Well over 1,000 men and women are now active, current pilots thanks to the efforts of the You Can Fly initiative, and the partnering FBOs, flight schools, flying clubs, and others who work with us to make sure these folks get through the ground portion of their flight review, and into the pilot's seat in order to complete the flight portion.
The numbers are good, but this is just a start. Eleven months in we're not just recording successes, we're also following up on opportunities we didn't even know existed a year ago – and the people we're interacting with are finding resources and assistance they didn't know was available to them. We're developing symbiotic relationships that continue to expand our reach and strengthen our resolve with each passing day.
The tide is turning. I can't even begin to tell you how pleased I am to have the pleasure of playing a role in that process.
In 2016 I hope you'll consider jumping on this wagon train and being a part of what we're doing — whether you want to host a Rusty Pilot presentation, offer flight training to Rusty Pilots or entry level students, or perhaps you'd like to become one of the growing number of people who are exploring the possibility of joining or founding a flying club. Whatever your wish, I think we've built a pretty impressive team of players who are ready and willing to help you reach your goal.
You Can Fly: It's not just a slogan — it's a literal statement. You Can Fly less expensively and with more satisfaction than ever before. Yes, you really can.