When I was first getting involved in aviation, the cost was a daunting dilemma for me. That's probably a common memory we share, you and me.
Availability was an issue, too. Most general aviation pilots have probably had a similar experience. We show up at the airport with a dream of learning to fly, only to find a very limited selection of aircraft, at prices that seem a bit steep.
It doesn't have to be that way. We can change the game if we choose to.
If you're an aircraft owner, and by that I mean if you are in possession of an aircraft of any kind, in any state of being, located anywhere in the world, I hope this idea will take root with you.
Given what I know now, if just a small fraction of us were to take up the cause, something wonderful would happen. Truly, it would.
The Lakeland Aero Club facilitates the most successful flight training program I've seen in quite some time. Founded with the assistance of some notable, forward-thinking aviation enthusiasts, the club exists in order to provide the high school students of the Central Florida Aerospace Academy an opportunity to maintain and fly aircraft. They earn their pilot certificates along the way.
More than 45 teenagers have become private pilots thanks to the overall program. Some have flown all the way from central Florida to Oshkosh and back. Not as passengers, as pilots. A handful have made that trip more than once.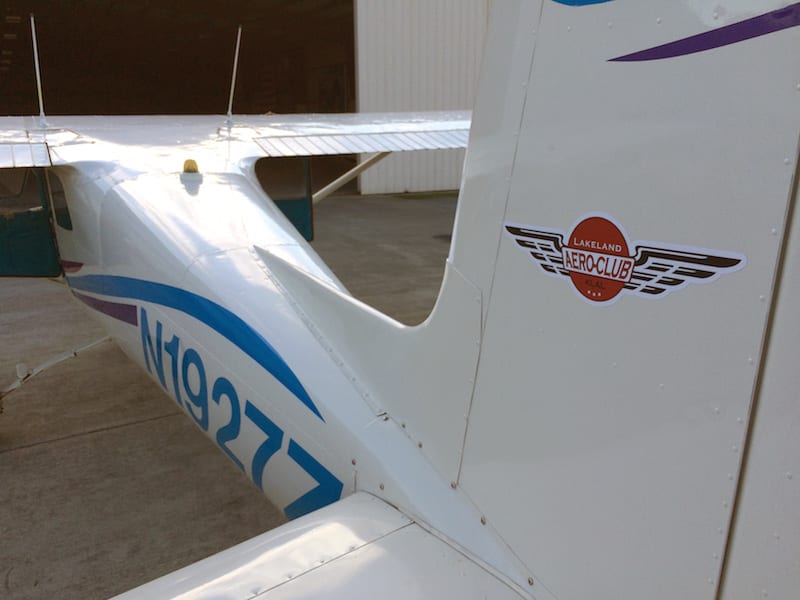 This is an outstanding program that could only be made better if they had an additional airplane or two. They currently operate a T-craft and a Super Cub. Both are in excellent shape and well maintained by the students. Yet the world has changed since those classics were common trainers, and earning a private pilot certificate requires the performance of basic instrument maneuvers using instruments that just aren't in the panels of those beautiful machines.
The problem came to my attention when the adult leadership at the Lakeland Aero Club, and their counterparts at SUN 'n FUN began to lament their plight. They weren't complaining. Rather, they were brainstorming and networking the problem.
Their Christmas wish list included a tricycle gear trainer the club members could use for flight training and time building. Impressive performance isn't what they value most. Their primary concern was to find a reliable machine that is inexpensive to operate. The question is, where would it come from?
Interestingly enough, I own a 1963 C-150C that spent the bulk of 2015 sitting in a hangar, waiting for someone to come out and fly. She did the same in 2014, and 2013, and for several years prior to that.
An idea began to hatch in my head. I ran it past the folks in Lakeland and before long we had a plan.
On Wednesday, Dec. 16 I pulled the Disco 150 into the sunlight, fired it up, and took a short hop from my home base to the airplane's new hangar in Lakeland. The flight took no more than 15 minutes.
When I arrived, ground control gave me taxi instructions to SUN 'n FUN, where I expected to slip the airplane into Hangar A and then catch a ride home. What I didn't expect was a welcoming committee of students and CFIs who were anxious to meet the new addition to their fleet.
High school students Michael Jenkins, Tyson Trentham, and Airic Perez stood at the ready to move the airplane into its new hangar. Their adult advisors, Al Herum and Mike Zidziunas, prepared to slap Lakeland Aero Club stickers on the airplane, branding it as one of their own before the engine even had a chance to cool.
The whole experience left me feeling a little emotional, to be honest. It's not often we pick up the gauntlet and do something substantive to move an important program along. At long last, I had, and it felt good.
As a CFI I've signed off my fair share of new pilot applicants. I'm happy to say that every one of those applicants was successful, too.
But now I've had the opportunity to do something even better. I've leased out an airplane at a very modest rate to an organization that will be using it to give young men and women a chance to completely change the course of their lives.
The challenge I faced as a prospective pilot will not be derailing the hopes and dreams of these kids. They've got an option I never had. An option you probably never had, either. But an option that so many of us could make available if we chose to.
If you own an airplane that you don't fly much, or that you don't fly at all, or maybe an airplane that's not even airworthy, there are organizations that could benefit from it, if you're willing.
If, like me, you're not in a position to simply donate the airplane, you can lease it at a rate that keeps you from going to the poorhouse, while allowing those who can't yet afford an airplane to get into the game, fly at a steeply reduced cost, and begin the process of welcoming the next generation of new aviation enthusiasts into General Aviation.
It's simply amazing what the power of having access to one airplane can do to a fledgling program, or to expand the potential of a successful one.
This Christmas I gave myself a gift that I'll cherish for a good long time. Every time I see the Disco 150 fly overhead, or on display at an event, or in a photo with a teenager who just completed a successful check-ride, I'll get to experience that sense of satisfaction all over again.
Merry Christmas, y'all — all year long.