Flying Again is the creation of Jason Schappert, his wife and business partner, Ashley Schappert, and director, John Ellis. There is a whole long list of other contributors who brought this feature-length movie to fruition, and all of them deserve their time in the sun. I encourage you to read the credits carefully when you see the movie. And yes, I expect you will see it. If you're lucky, you'll see it more than once.
Unlike most Hollywood productions that use aviation as a backdrop for political intrigue, romantic liaisons, or blowing up everything in sight, Schappert and his crew have done something truly unique and satisfying. They've made a movie that shows exactly how diverse the general aviation marketplace is and successfully exposes our individual weaknesses for what they are — common issues that can be remedied fairly easily.
"If you like airplanes, you need to be watching this movie," says Schappert.
As one of the leading CFIs publishing educational materials in print, online, and in video format, he knows a thing or two about general aviation and how to teach the material. But this movie isn't an educational product.
Rather, it's an inspirational story told from the viewpoint of a wide array of individuals. Some occupy the left seat, others sit on the right.
"The goal is to reach the masses," says Schappert.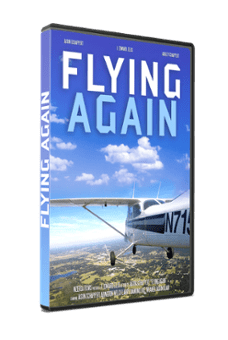 In an effort to do that, he and his team have begun shipping DVD and BluRay copies to supporters who gave the project a financial push with their Kickstarter contributions. The film is available to anyone with a credit card and an Internet connection. Both are priced at $29.97 and are available through the film's website, FlyingAgainMovie.com.
The movie will also be playing in select theaters across the United States at special screenings designed to entice movie-goers into the darkness to see something truly different: A feature length movie that is genuinely inspirational.
Clocking in at something like 84 minutes, the film takes its time to share the story of getting airborne. That's good, because it allows the filmmakers the freedom to dispel the myth that rusty pilots are crusty old men with thinning hair, shaking hands, and wandering minds.
"Rusty Pilots come in all shapes and sizes," says Schappert in conversation after a screening of the film at the historic Marion Theater in Ocala, Florida, his company's base of operation.
Filmed beautifully in locations across the country, including Colorado, Michigan, Nevada, and multiple sites throughout the Florida peninsula, Flying Again is visually appealing in a way most aviation movies miss entirely. Perhaps that's because these filmmakers actually love to fly. That affection for the subject matter shows in the finished product.
Subjects in the film include men and women, ranging in age from mid-20s well into their retirement years. Some are student pilots who were derailed during training. Some are low-time certificated pilots who simply fell away from aviation because of family or business issues.
"There's somebody there for everyone to relate to," Schappert acknowledges.
And he's right. Each subject gets to share the story of what took them out of the cockpit, as the viewer gets to follow along as they venture back into the air under the wing of some excellent flight instructors.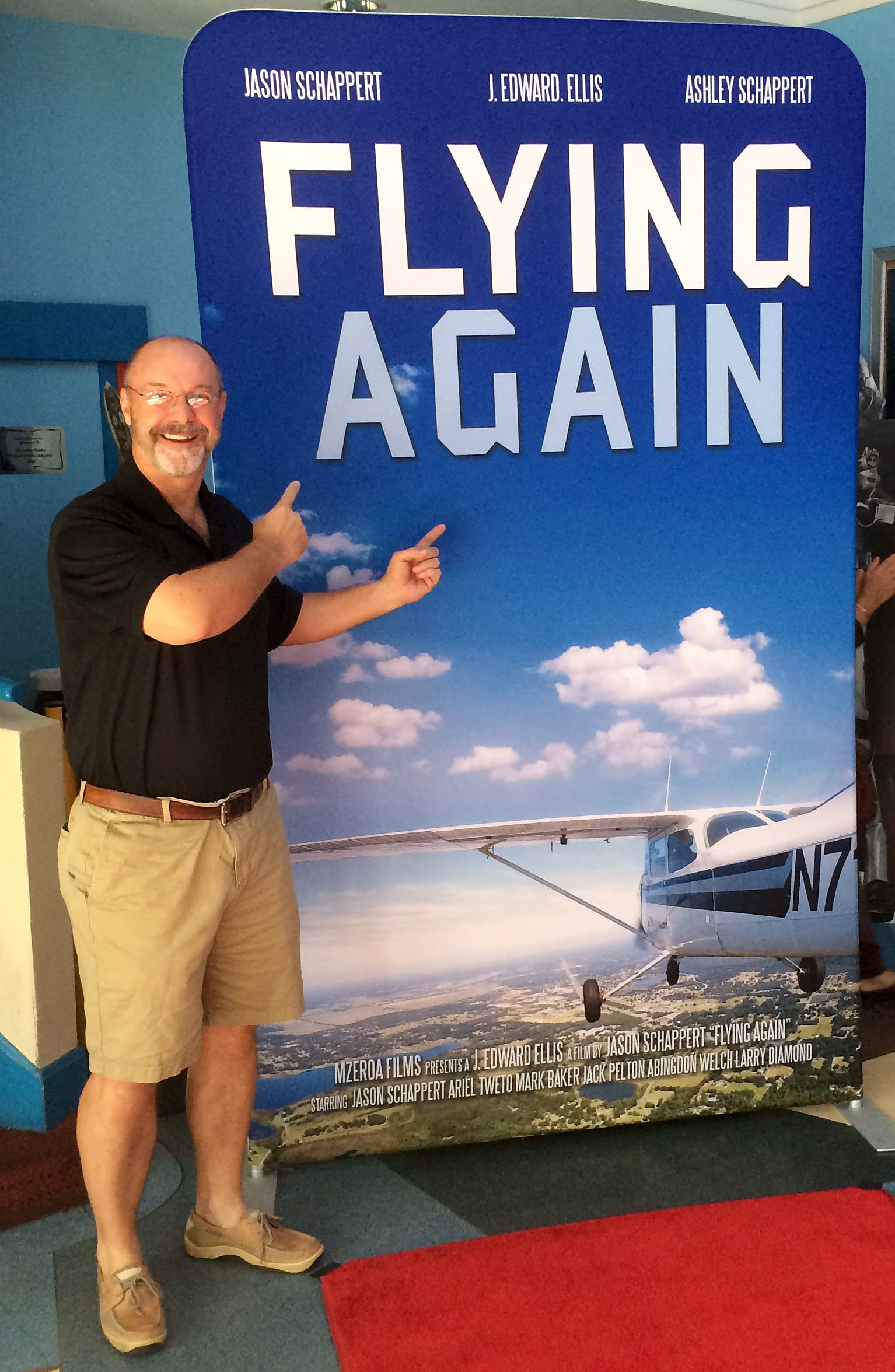 Speaking of CFIs, this is the first and only film I've ever seen that admits out loud that CFIs can get rusty too. That certificate doesn't impart any special powers to those of us who qualify as CFIs. We can become less than proficient too. And we do. For several years I was in that Rusty Pilot, Rusty CFI category. Don't be surprised that I admit it here in print. I admit it in the film, too. It's true.
Yes, I'm in Flying Again, briefly. But I'm such a dim-bulb I didn't know I was in it until my face came on the screen. Now that's a surprising way to start a Monday, looking at yourself standing 20 feet tall on a movie screen.
Even knowing that, I have a DVD copy of Flying Again on my desk as I write this. It will go into the library at my flying club later this week, and will be featured at a showing to all who want to come in the early weeks of 2016.
It's that good. Whether you're an experienced airline pilot thinking of getting back into VFR flying at the local non-towered airport, or a CFI who hasn't logged as many hours in flight as you might like, or someone who wants to brush off a long-ago earned but seldom used pilot certificate, or even an interested observer who has dreamed of flying but never made it past the airport gate, there's something in Flying Again that's aimed directly at you — as well as a whole lot of material that you'll find to be thoroughly entertaining and enlightening.
Schappert's goal is to get the movie seen by as many pairs of eyes as possible. To that end he and his team are willing to get creative.
"I'm open to doing free screenings at EAA Chapters and flying clubs," he says.
Yet, his ultimate ambitions are somewhat more aspirational.
"I want to be playing in the Air & Space Museum every day at 1 p.m.," Schappert jokes.
He's smiling, but I'm not at all sure he really is joking. Nor would I put that goal beyond the reach of him or this film. It should be playing at the Air & Space Museum in Washington D.C. It should be playing at your house, too.
Keep an eye on Jason Schappert and the gang at Mzeroa.com. Something's happening here. And they're right at the head of the parade, heads held high, voices calling out loud and clear, "Let's go Flying Again."
General aviation needs a guy just like Jason. Thankfully, we've got him.