This is part two in a series of stories about flying to Alaska. Read about Bill's trip planning, Flying the Alaska Highway and Return from Fairbanks.
This past summer I crossed off a significant item on my flying bucket list — Alaska. The journey from my home airport near Myrtle Beach, S.C., to Fairbanks and back covered more than 7,000 miles and lasted nearly a month. For a flatland, fair weather pilot like me it was the trip of a lifetime.
I flew my 1956 tailwheel Cessna 172 and my co-pilot was retired U.S. Army aviator Albert Finocchiaro. We had a capable aircraft, well-suited for the trip.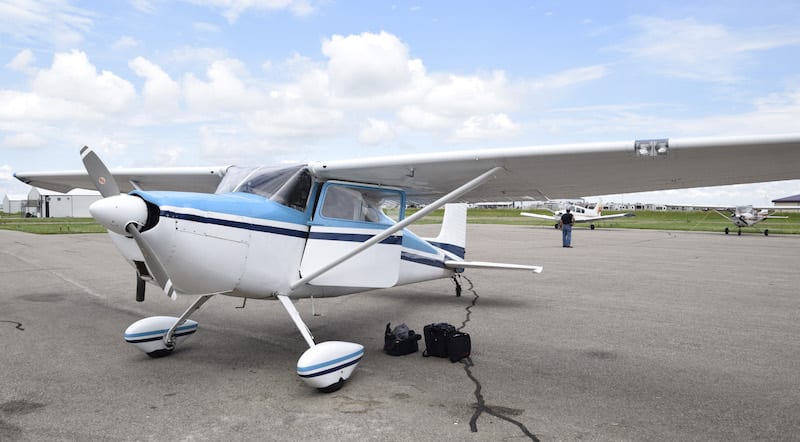 N3245G was converted to conventional gear before I bought it in 2002 and the engine upgraded to a 180-hp 0-360 Lycoming with a constant speed propeller and a Power Flow Exhaust system. With only 37 gallons usable we went for best economy over speed.
Our standard cruise settings were 18 inches of manifold pressure (about 50% horsepower) and 2,400 rpm using lean of peak set with a JPI EDM 830 engine monitor. That yielded an average flow of 7.5 gallons per hour and about 90 mph in still air.
For most flights we were low and slow, usually between 2,500 and 3,000 feet above the ground, or the valley floor once in the mountains.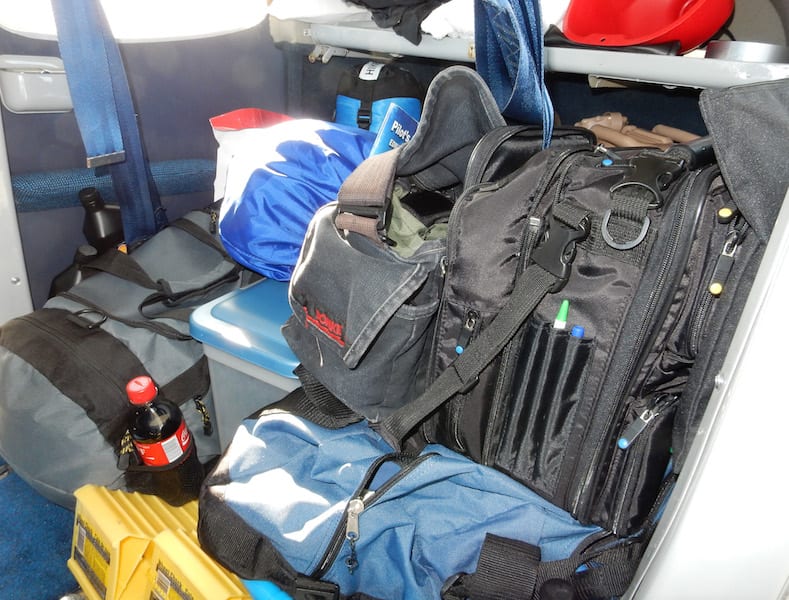 We launched on July 7, 2015, from Marion, S.C. (KMAO) for Morganton, N.C., (KMRN), then crossed the Great Smokies to Bedford, Ind., logging 5.3 hours and 508 miles our first day. From the start, we had ADS-B weather in the cockpit using a Stratus 2 receiver and ForeFlight display on our iPads. We also carried a DeLorme InReach Explorer satellite communicator, which sent a position report every two minutes.
We ended up getting to know Virgil I. Grissom Airport in Bedford and Airport Assistant Manager Melissa Huffman quite well thanks to bad weather. In fact, our trip was halted for four days in Indiana, blocked by a massive weather system eventually stretching from the Gulf of Mexico to the Great Lakes. Albert and I are instrument rated but 3245G is currently a VFR aircraft.
Finally, on Saturday morning, we took off under leaden skies and the threat of thunderstorms. We flew an arc to the west past the worst of the weather but still got rained on and bumped around. We fueled at Quincy Regional Airport (KUIN) in Illinois, then flew on across Illinois, skirting more rain. Our cockpit weather display and area forecasts showed more bad conditions along our route to Great Falls, Mont. Email advice from our bush pilot friend Will Johnson in Fairbanks convinced us to divert north toward better weather.
We filed for St. James, Minn., (KJYG) and after crossing the flood-swollen Mississippi a few miles south of Warsaw, Ill., flew over more Iowa corn fields than I ever knew existed. We entered Minnesota just prior to passing over the West Branch of the Blue Earth River near Elmore, Minn.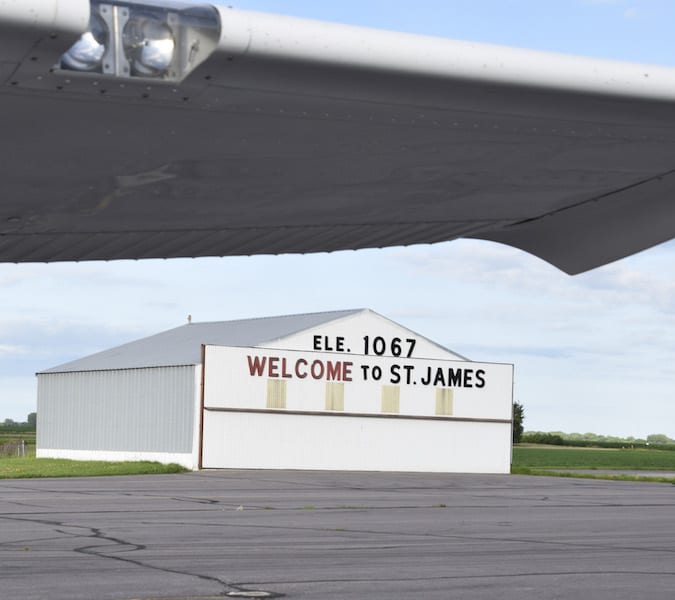 Albert saw KJYG first, pointing to a strip of asphalt seemingly in a corn field two miles to the northwest.
"That can't be it," I said. "It's so small and in the middle of nowhere. There's no town."
The 4,000- by 75-foot airfield was only 500 feet shorter than my home airport at Marion, but it was dwarfed by surrounding farm fields.
From Bedford we had covered 592 miles in 5.5 hours and St. James, population 4,605, turned out to be a fine stopover. For starters, the 100LL was $3.90 a gallon, the lowest we paid anywhere on the trip. And we got to drive a great airport car, an older Ford sedan with an imposing front bumper bull bar.
When the fog lifted the next afternoon, we flew to Devils Lake, N.D., again fighting thunderstorms and wind that forced another swing to the west and banged us and the plane around. Off to the east, maybe 15 miles distant, lightning bolts flashed repeatedly out of a long shelf cloud. The patches of green, yellow and red on the iPad screen matched what we saw out the windscreen as Albert skillfully steered us through the openings in an angry sky.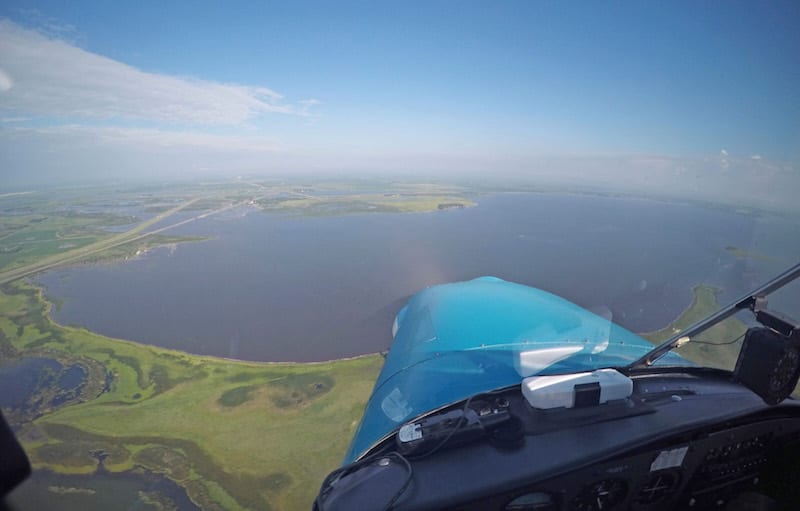 We crossed the North Dakota border west of the little town of Fairmount and overnighted in Devils Lake. Next morning we left smiling, thanks to a sign on the FBO door that advised use of their bathroom would be $20 if you bought your fuel from the competing FBO next door, something we had done. Devils Lake, home of the $20 pit stop.
We flew toward International Peace Garden Airport (S28) before encountering a thick cloud layer that obscured the ground toward the border. So we backtracked along the 70-mile route until we could spiral down under the cloud layer and head towards our alternate airport, Rolla, N.D.
By the time we got to Rolla, the skies had cleared so we flew direct to Peace Garden, a 3,000- x 60-foot asphalt strip that sits along the Canadian border. We parked on the south apron, the U.S. side, and it was a five-minute walk to the U.S. border station. The Canadian customs station was another 100 yards just over the border in Manitoba.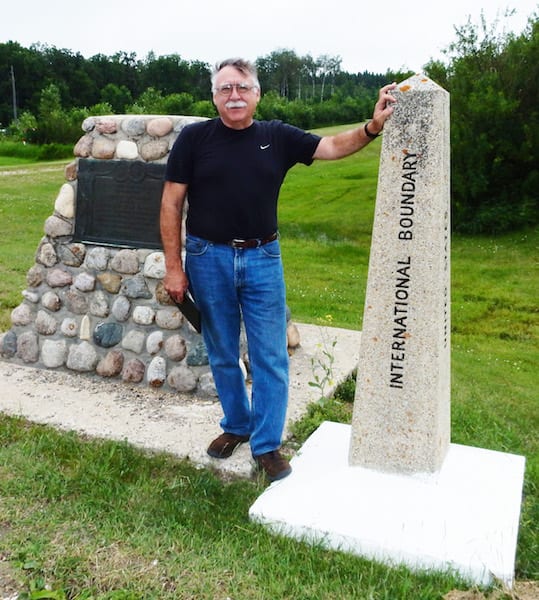 No one asked for the U.S. government Decal/Transponder Online Procurement System (DTOPS) aircraft decal I had jumped through hoops to get the previous week. And not a word about the forms I had filled out for the Electronic Advance Passenger Information System (eAPIS) run by Homeland Security.
"Oh, that's those other guys," the U.S. border agent told me when asked about eAPIS.
We filed by phone for the flight to Carlyle, Saskatchewan (CJQ3), the first Canadian fuel stop. Only the way back to the border was clear of storm clouds as we descended on short final over the main highway and touched down practically in the middle of town on the Carlyle Flying Club Airport. At the gas pumps we met Kim Rubbert, a local pilot who had seen us land and walked over from Main Street.
"Thought you might need a little help," Kim said.
He advised that rain and hail were expected and headed back across the street to find us an empty hangar spot. Thirty minutes later he was back with a key in hand. In short order, we rolled 3245G into a nearby hangar alongside an immaculate Cessna Cardinal.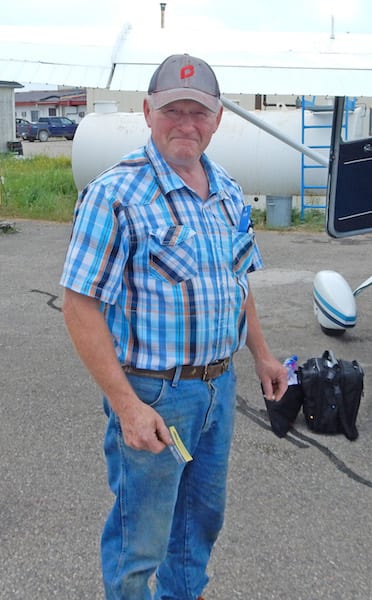 Next morning Kim picked us up at our hotel and helped roll the plane out. The weather was much improved and we flew 336 miles (3.5 hours) northwest to North Battleford (CYQW) in Saskatchewan.
When we landed there was a pronounced shimmy in the tailwheel. But a close inspection didn't reveal any visible problem. From there we headed for the Edmonton, Alberta, area where we got a discrete code for our transponder and transited their busy airspace.
After a bumpy 3.7 hours (324 miles) we reached Whitecourt (CYZU) in central Alberta where the tailwheel threatened to vibrate off its mount as we swerved inexplicably left and right after touchdown.
We needed help and found Paul Law, chief of maintenance for Taiga Helicopters. He raised the tail with a jack and grasped the tail wheel assembly. It wobbled in his hand and he diagnosed loose pins holding the assembly to the leaf spring.
One of the pins was bent and he replaced it, then tightened all four and declared us good to go to Fairbanks, where he recommended disassembly of the Scott 3200 upper tailwheel assembly and refurbishment as needed.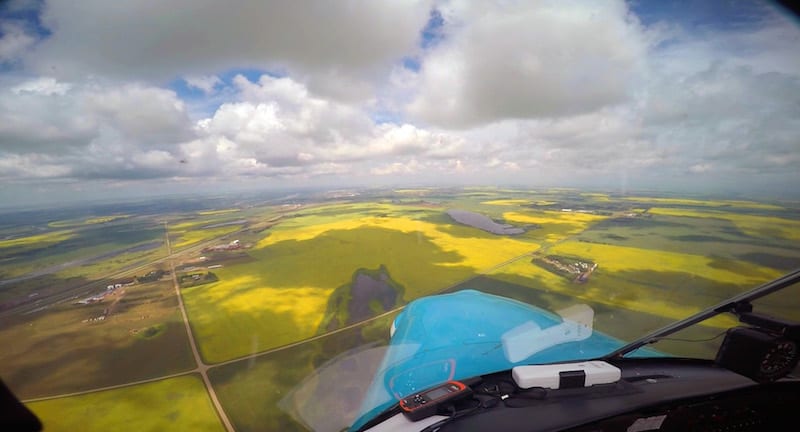 Mile 0 of the Alaska Highway begins at Dawson Creek, B.C., beyond Whitecourt, but we had enough fuel to fly 243 miles direct to Fort St. John, the traditional second stop on the 1,390-mile highway. The 2.5 hour flight was a transition to the North Country landscape as we left farming fields and small towns behind.
Great expanses of forest now stretched to the horizon and every few minutes we seemed to pass over an oil or gas well site. The only roads were narrow clay tracks that, like the trees, seemed to go on forever.
We entered British Columbia northwest of the hamlet of Bonanza, Alberta, and crossed the famed Peace River, then a few minutes later had a look down into the 850-foot gorge of the Beatton River while flying the pattern at Fort St. John (CYXJ).
There was no escaping the wind sweeping the North as we turned final for the landing on the plateau above the river. Luckily, the 20 mph gusts were just off the nose for the landing on Runway 20. As we taxied to the FBO the gusts increased to more than 40 mph and we were lucky to get the plane turned into the wind and safely tied down.
The fellow operating the fuel truck advised, "If you don't like wind, you best not come north."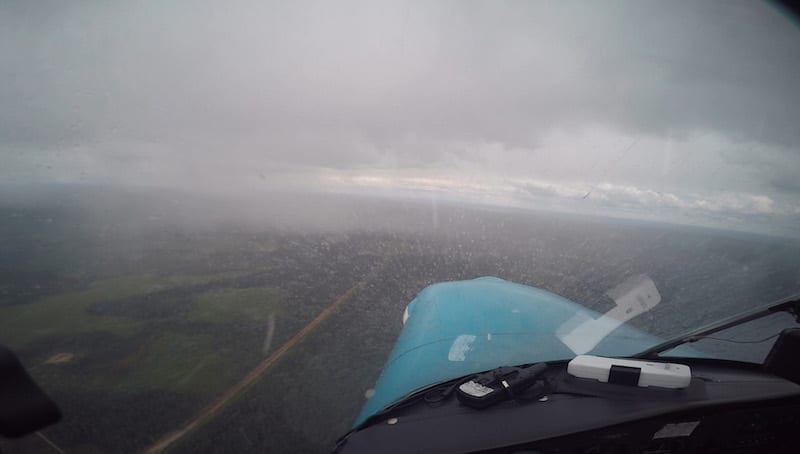 From there it was 196 miles to Fort Nelson, where the Alaska Highway heads into the Northern Rocky Mountains. Rain and low ceilings made the mountain sections of the highway up to Fort Nelson problematic so we took the back way, the railroad route, as outlined by Will Johnson, our friend in Fairbanks.
En route we encountered rain but visibility was good. On both sides of the railroad, we saw the smoldering remains of fires that had burned thousands of acres in the past weeks.
At Fort Nelson (CYYE) the approach brought us in over the broad, muddy junction of the Muskwa and Fort Nelson Rivers and we touched down showing 1.8 hours for the flight. From our tie-down spot, we could clearly see the imposing outcroppings of the Northern Rockies 40 miles west.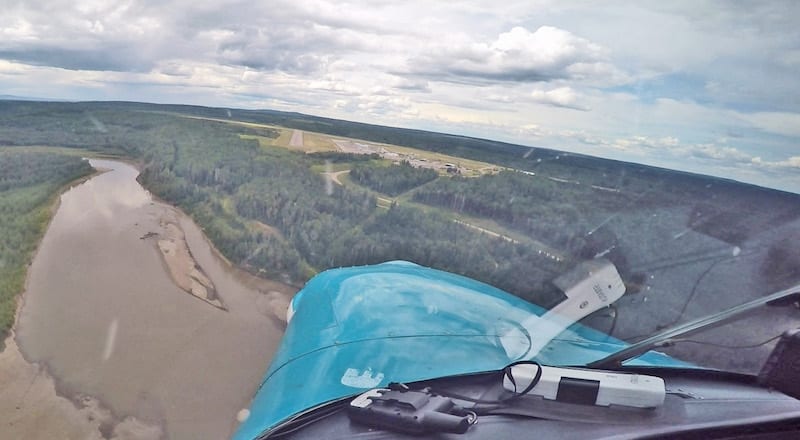 This location made Fort Nelson a key staging area for construction of the Alaska Highway in 1942 led by troops of the U.S. Army Corps of Engineers. And to this day it remains an important jumping off point for both road and air travelers along the highway.
Our telephone briefer at Fort Nelson warned of thunderstorms and turbulence in the first passes of the highway, so we opted to remain overnight in town, a couple of miles away.
In six days of flying we had crossed the Great Smokies, flown through rain at least a dozen times, skirted some truly mean thunderstorms, bounced through all kinds of turbulence and landed in 10 airports new to us while altering several times a detailed flight plan carefully crafted over months.
All that predictable, fair weather flying in the Carolinas, Georgia and Virginia was a couple of thousand miles behind us.
And the wildest parts of the Alaska Highway through the Rockies and on to the Yukon and Alaska were still ahead.