This is part three in a series of stories about flying to Alaska. Read about Bill's trip planning, Flying to Alaska and Return from Fairbanks.
It took four days flying from South Carolina to reach Fort Nelson, British Columbia, 283 miles up the Alaska Highway from its starting point at Dawson Creek. And more than 1,100 road miles — two good days of flying — remained to the end of the Highway at Delta Junction, Alaska.
My co-pilot, retired U.S. Army aviator Albert Finocchiaro, filed the flight plan from Fort Nelson to Watson Lake, Yukon Territory, on July 16 while I preflighted N3245G, my 1956 tailwheel Cessna 172.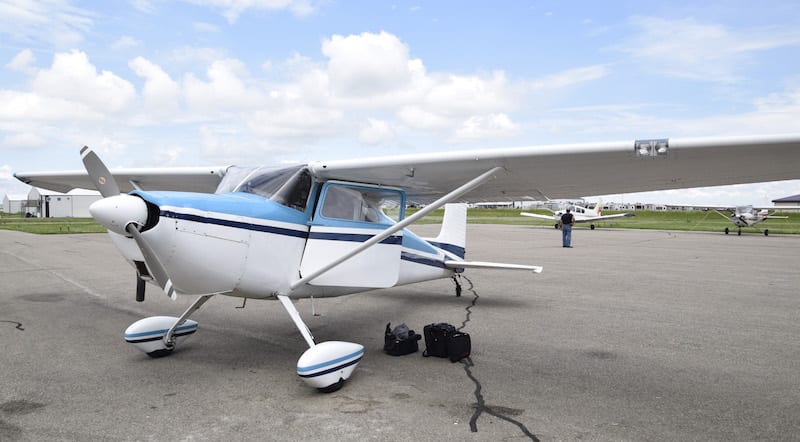 We lifted off at 9:44 local time and crossed the lowlands of the Muskwa River while climbing to 4,500 feet and heading directly into the Northern Rocky Mountains.
Our route — Fort Nelson-Watson Lake-Whitehorse-Northway-Tok-Fairbanks — would span 945 miles, across a part of the vast Yukon that covers 186,661 square miles total, about six times as large as South Carolina, which has nearly 5 million residents. The Yukon population is 35,000. Alaska, by comparison, totals 663,268 square miles and has approximately 738,000 residents.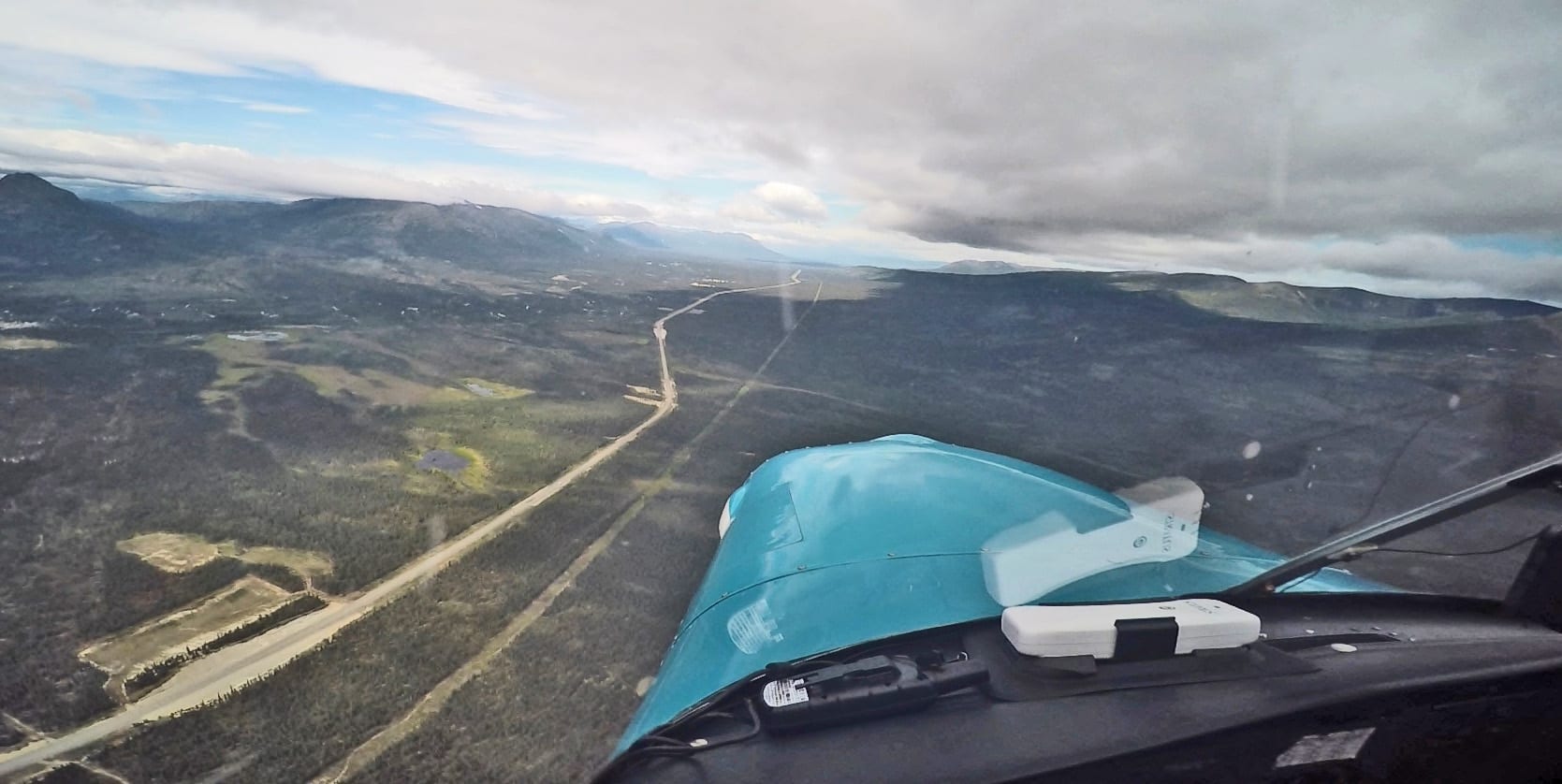 Visibility was unlimited as we crossed 3,694-foot Steamboat Pass. There, turbulence began to rattle the plane and Albert tried the south side of the valley, then the north. Up 500 feet, down 500. Nothing stopped the buffeting so we rode it out.
We crossed Toad River, CBK7, at 1 hour nine minutes out of Fort Nelson, then turned from west to northwest at 1:19, cruising at 120 mph, thanks to a great tailwind.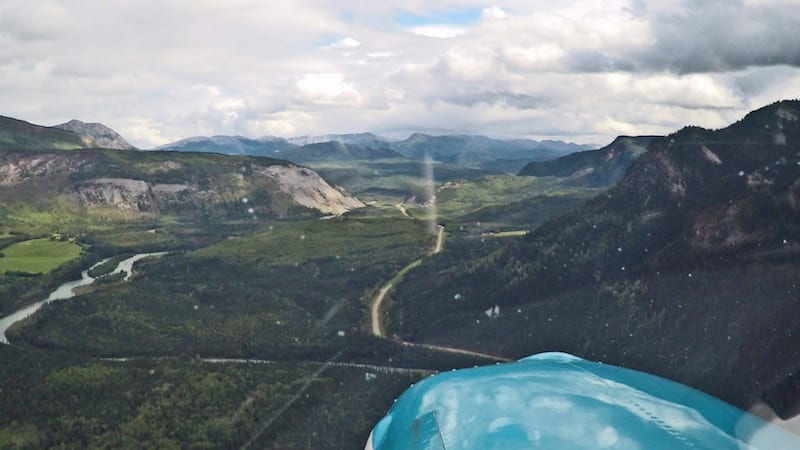 Shortly afterwards, the green-blue waters of Muncho Lake stretched out below. The lake, set between 6,000-foot ranges, is a mile wide and seven miles long with CBF8, a water runway, near Highway mile 462.
At 1:54 from Fort Nelson the wild Liard River passed under our right wing. Shortly afterwards we crossed over Liard Hot Springs and 11 miles later were abeam the ragged outline of the 4,000-foot Liard River Airstrip, an emergency airfield for World War II operations.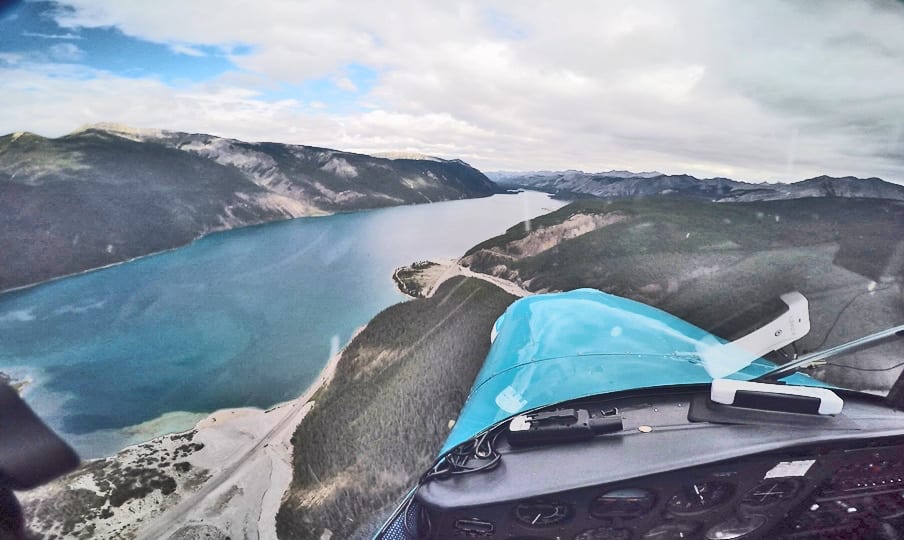 We spotted Watson Lake 15 miles out and the approach to runway 27 was a five-mile straight-in with the last two miles over the lake. Daniel Lilja from Plains, Mont., landed behind us in a CubCrafters Carbon Cub EX, a high-end kitplane he built.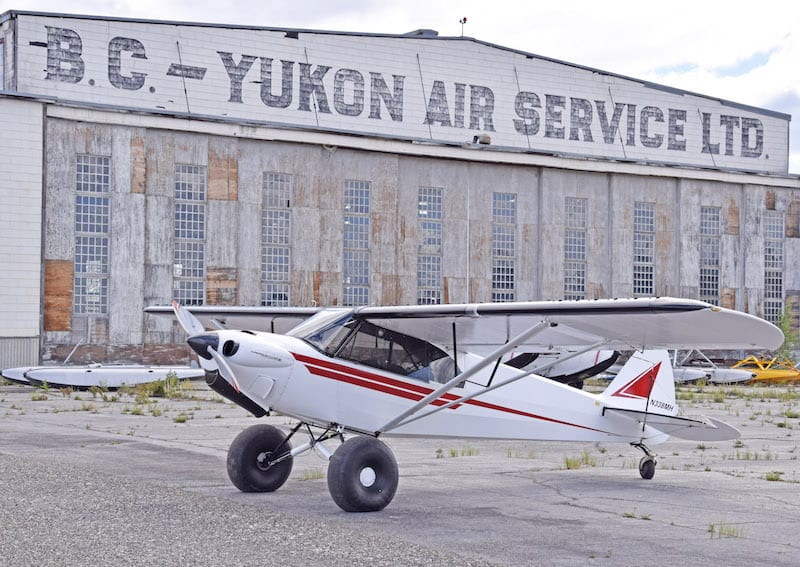 Lilja's route to Watson Lake had been the Rocky Mountain Trench, a valley that stretches nearly 1,000 miles from Montana to the Liard River. "The longest stretch for me was about 400 miles," he said.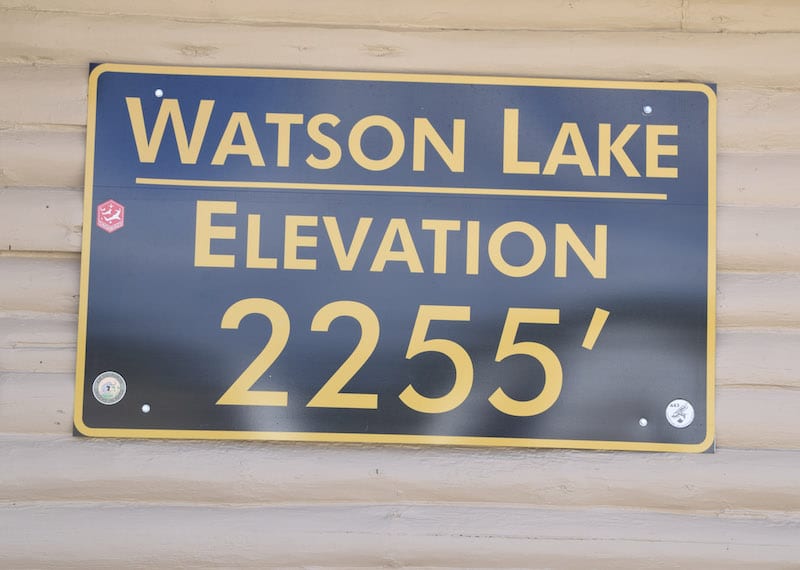 We opted not to visit Watson Lake, eight miles away, so Albert settled for my description of the chief attraction, the Sign Forest. According to legend, it all began in 1942 when a lonesome American soldier nailed up a sign with the mileage to his hometown. Another followed and another. Today there are an estimated 76,000 signs displayed.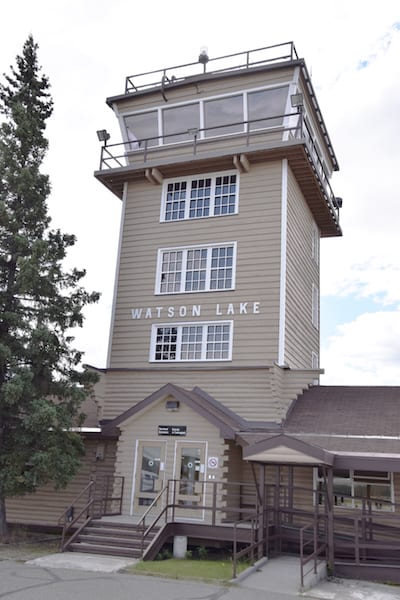 In an hour we were airborne in rough air again and hit our checkpoint alongside 4,986-foot Rancheria Mountain 44 minutes after Watson Lake. Bad weather along this section forms first in the Rancheria Valley, Alaska pilots told us. But the sky continued clear. Twelve miles later we checked off Pine Lake Airport, CFY5, another emergency strip apparently still usable.
After Pine Lake the Highway dipped back into British Columbia passing alongside 4.5-mile-long Swan Lake, then Morley Lake, which is split by the British Columbia-Yukon border. We were back in the Yukon 1:10 after departing Watson Lake and the lower end of 75-mile-long Teslin Lake passed under us minutes later.
At Johnson's Crossing near the end of the lake, the course swings west southwest to Jake's Corner, which we passed over at 1:55 out of Watson Lake. At Jake's we banked west northwest directly toward Marsh Lake and Whitehorse.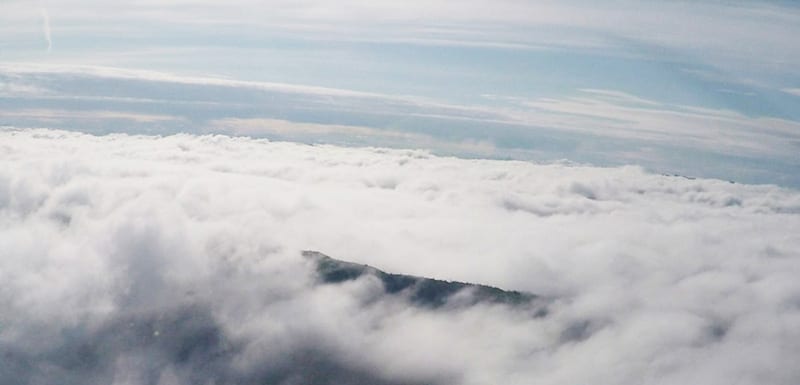 The 20-mile-long lake, out of which the mighty Yukon River flows on its nearly 2,000-mile course to the Bering Sea, was a part of the Trail of '98, the Gold Rush Route from Skagway, Alaska, to Dawson City, Yukon.
We knew from our last briefing that crosswinds would be howling at Erik Nielsen Whitehorse International Airport (CYXY). The plateau airport has two long runways, 14L-32R (5,317 x 100) and 14R-32L (9,500×150) and the radio chatter indicated they were being used by all traffic despite a variable crosswind gusting to 30 mph. Luckily we were offered the third runway, 1-19, all of 1,798 feet, and quickly accepted.
We turned final about 1.5 miles from the runway, crossed the Yukon 800 feet above the water and continued to descend over downtown Whitehorse as the controller offered a warning. "Three Two Four Five Golf," he said, "Be advised downdrafts reported off the end of the runway. Winds 14 gusting 20 at 220."
I felt the downward movement of the plane and indicated airspeed dropped from 75 mph to 55 even as I added power. One moment I was looking at the nose pointed toward the 100-foot-high plateau cliff and the next the numerals 1 and 9 filled my windscreen. The wind crossing the numbers was probably the full 24 mph, but only a few degrees off the nose and we touched down gently no more than 200 feet down the runway.
Whitehorse, the capital of the Yukon, is the biggest and best stop along the Highway. But we were just passing through and hiked across the adjacent Alaska Highway to the Airport Chalet Hotel.
Next morning our first tower advisory reported winds 24 gusting 40. "Cleared for takeoff," Whitehorse Tower reported after our run-up, and added, "Wind 24 gusting 44 at 130." That 44 mph blast was straight down the runway and we lifted off in five seconds.
Twelve minutes out of Whitehorse near Takhini Hot Springs we could see snow on the distant mountain tops to the southeast. Visibility was unlimited, perhaps 100 miles down a 50-mile wide valley split by the Alaska Highway, which stretched out into an intermittent collection of pavement strips, appearing and disappearing along the high points in the rolling landscape.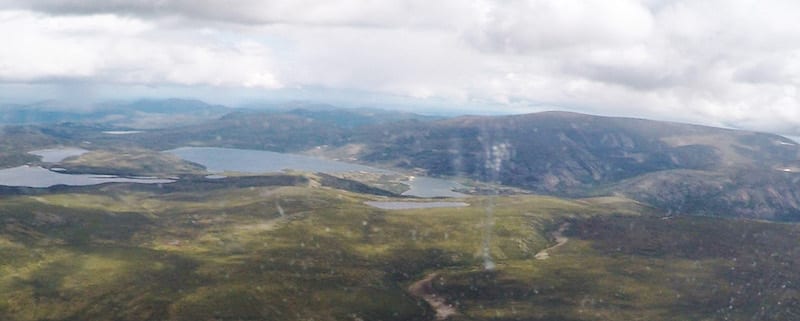 We crossed off the hamlets of Ibex Valley, Champagne and Canyon en route to Haines Junction where the Highway intersects Yukon Highway 3, the Haines Highway down to Haines, Alaska. Haines Junction (CYHT), a 5,002 x 100-foot gravel strip, is on a line with nearby Pine Lake (CFE8), a water runway.
Haines Junction is on the Eastern boundary of Kluane National Park and Reserve of Canada, for me the single most beautiful area along the Highway.
The front range of the Kluane Mountains off our left wing was studded with peaks towering over the Kluane Ice Fields. The towering St. Elias Mountain Range is behind the Kluane Range and somewhere back there was Mount Logan, at 19,551 feet, second only to Denali in North America.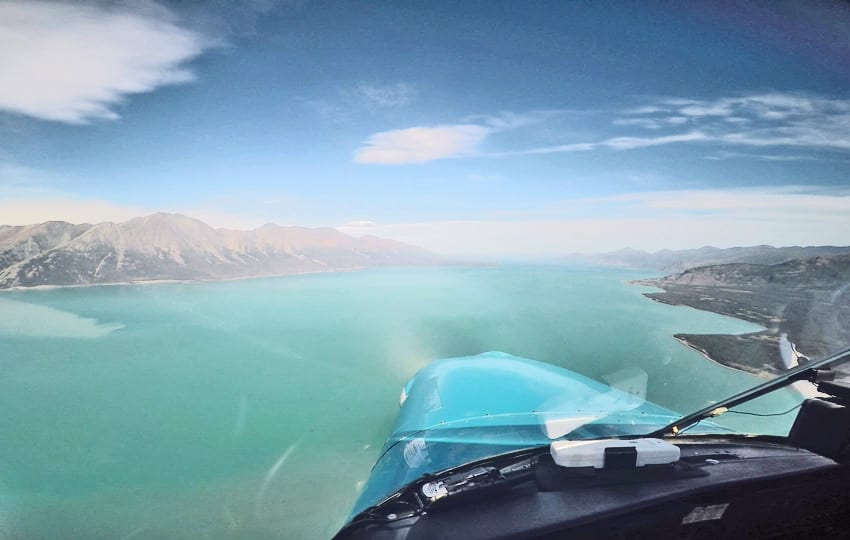 We were 19 miles out when the outline of 50-mile-long Kluane Lake emerged slowly from the horizon between the Kluane and Ruby Ranges.
At 1:09 from Whitehorse we crossed over Silver City Airport (CFQ5), a 3,000- x 75-foot gravel and sand runway, also a World War II emergency strip. The runway is active, but there are no services.
The next check point, Destruction Bay, is a settlement about halfway up the lake where I overnighted on a 1990 driving trip. The top attraction is Dall Sheep viewing excursions.
When I drove the Highway in 1990, the recreation complex beside the lake at Burwash Landing was a convenient stopping point. Burwash (CYDB) is a 5,007- by 100-foot gravel strip located about one mile from the settlement and the Burwash Landing Resort, which dates from 1944. We crossed over CYDB at 1:22 out of Whitehorse and reentered the United States near Beaver Creek, Yukon, at 2:17 en route.
The landscape changed slowly with high mountains now to the southeast and a green wilderness ahead, with countless ponds, bogs and streams, all part of a vast expanse of muskeg and boreal forest that continued until touchdown on Northway's 5,100- x 100-foot runway (PAOR) at 2:42 since Whitehorse.
We arrived five minutes ahead of our announced time and a Border Patrol officer was waiting. He said he appreciated our being prompt, then checked the plane with a device we understood could detect bombs. Five minutes later we were cleared.
Northway has a Flight Service Station but no fuel, so we flew 36 miles to Tok Junction (PFTO) to refuel.
There, Vanessa Thompson, who ran the front counter at 40-Mile Air, said, "The hunting season, August through September, is the busy time. Then I'm surrounded by testosterone and camouflage."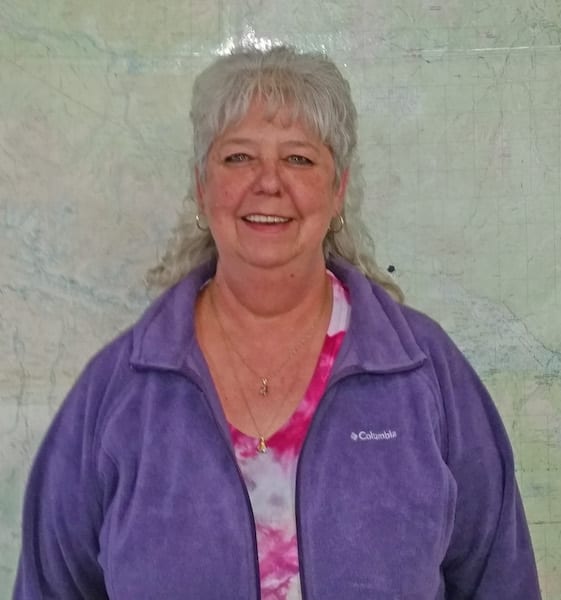 Her recommendation of Fast Eddie's Restaurant across the Highway was a good one.
Our bush pilot friend in Fairbanks, Will Johnson, warned via telephone of high winds coming out of the mountains near Big Delta. Swing to the east and fly the far side of the Tanana River, he advised.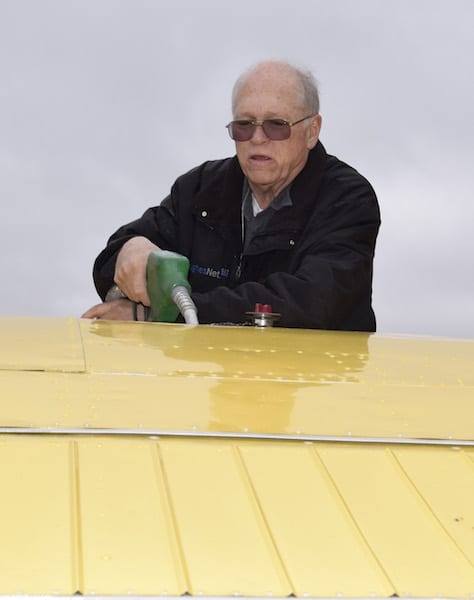 So when we lifted off for the 158-mile flight into Fairbanks, we flew an arc wide of Delta Junction and Allen Army Airfield. An Allen controller assigned us a squawk code and we crossed through three MOAs without incident.
The Tanana unfolded as a scenic, braided river flowing to the northwest beyond Fairbanks where it joins the Yukon. The Alaska Highway ends at Delta Junction, 96 miles southeast of Fairbanks, and an extension of the Valdez Highway continues into Fairbanks.
Now, for the first time in probably a thousand miles, we occasionally saw farm fields, outbuildings, and houses. Airport approach vectored us direct Fairbanks International at 4,500 feet and we passed Eielson AFB off our right wing at 1:28 from Tok.
"Descend to 2,000 feet and cross the runway at Fairbanks International," the controller said as we sighted the airport. Our destination, AK 28, Chena Marina, was there on the sectional, in the shadow of the 11,800-foot main runway at Fairbanks. But as we crossed over Fairbanks International, I still hadn't found the runway.
"I've got it," Albert said. He stabbed his right index finger toward the windscreen until I nodded. We were heading toward a long, wide pond and paralleling the water was a narrow gravel track. Will Johnson had described Chena Marina as a nice little runway from which he flew charters. But from 2,000 feet and a mile away it looked like an extended golf cart path.
I could now see the gravel track with hangars, trees, and houses on one side and water on the other and turned downwind, looking toward a slightly rising landscape with houses dotting the incline. The base turn was away from the houses, but toward the international airport which we could not overfly again.
The sharp turn to final brought us onto short final where I could finally see the whole runway clearly. No sweat, I realized.
The runway looked to be 5,000 feet and the center gravel strip was at least 40 feet wide with perhaps 10 feet of grass and rocks on each side.
A brisk crosswind pushed us toward the tree boundary but it died away as we dropped below the trees and the landing became routine, but noisy, as we crunched over the gravel. Will and his mechanic Todd Murray waited at the hangar as we rolled up.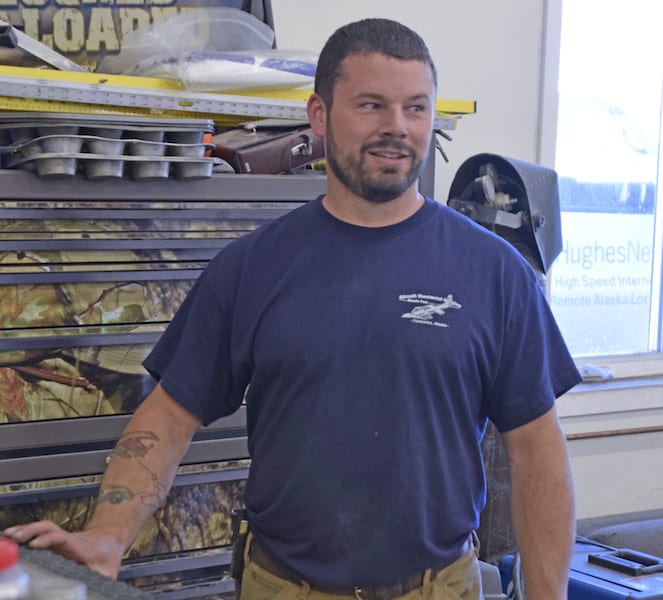 Thirty minutes later we were at the International Airport making small talk at a cookout surrounded by pilots telling Alaska-size flying tales we had no reason to doubt. The hamburgers were provided by the local dealer who Will said was keen to sell Cessna Caravans, each priced at $2 million plus.
Compare that to N3245G, which sold for $8,995 in 1956. One of the pilots inquired if I wanted to sell my plane, but I could not name a price.
After all, it had carried us safely to Alaska. And that was priceless, as they say in the advertisements. Plus, it still had to get us home safely later in the month.
That trip, filled with more up country adventures for a flatland pilot, continues here.