If you doubt one person can make a difference, doubt no more.
Salem, Oregon pilot Chuck West watched as Salem's NcNary Field (KSLE) airspace was re-drawn, and re-drawn again. There was a problem. Portions of the instrument approaches were no longer protected and that violated FAA Order 8260.26F.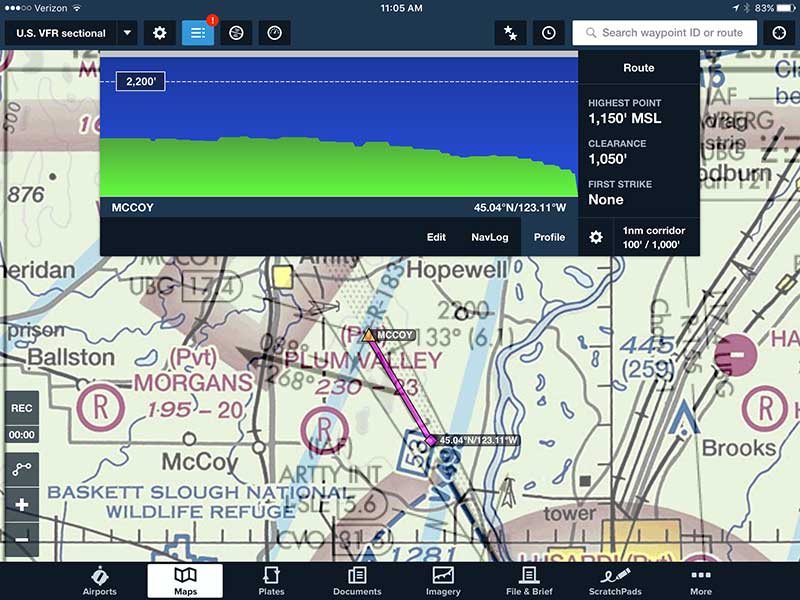 Chuck found that a pilot flying inbound from MCCOY on the LOC/DME BC RWY 13 at KSLE will descend into Class G – uncontrolled – airspace.
That isn't allowed according to page 9 of FAA Order 8260.26F:
2-1-3. Service Area Operations Support Group, Flight Procedures Team must:
e. A requirement for minor adjustment to existing controlled airspace to fully encompass an instrument procedure does not necessarily form the basis for withholding procedure publication provided no less than the basic required 700-foot/1,200-foot Class E airspace has been established. An approach procedure may be published prior to obtaining the optimum configuration of controlled airspace when all of the following conditions exist:
The centerline of all procedure segments and terminal routes are located within existing controlled airspace.
The procedure turn area, out to and including the specified completion distance, is contained within existing controlled airspace.
The final approach fix is contained within existing controlled airspace.
After dogged efforts to schedule a meeting with those responsible for the changes to Salem's airspace, Chuck met with FAA airspace staff on May 10 to outline his concerns.
Eight days later on May 18, Chuck received the following email from Mindy Wright, FAA Manager, South Airspace & Procedures Team, "The FAA has reviewed the Terminal Airspace Data Requirements (TADR) worksheet for SLE LOC/DME BC RWY 13 and found that the information originally provided to the Operations Support Group (OSG), for the design of the airspace, was incorrect. Tracey Johnson, Manager, Western Service Center, OSG has directed the Airspace Specialists to design and implement airspace changes consistent with the new information received from Aeronautical Information Services and the new TADR. It is anticipated this new airspace will be effective November 2016."
As Chuck relayed the details during a phone call, I applauded his singular focus on righting this wrong. I believed his being local to the approach was key to his time and energy on this.
His voice dropped a bit as he admitted his reason for his efforts.
"Once upon a time, I knew a guy who had a Cessna 182 who was having some control issues that I could have helped with. But, my CFI ticket wasn't current, so I didn't step up. That guy ended up killing himself and three passengers."
He vowed to himself to never again remain silent when he saw safety was at risk.
This isn't over, but I have every confidence Chuck will see this through to the end. Stay tuned.
In the meantime, the LOC/DME BC RWY 13 is not authorized for use. Oh, and thank you Chuck.