Dispatch from KTRL, Terrell, Texas: I pull my mixture control knob all the way back, turn the key three clicks to the left to shut off the mags, and reach up to flip the master switch down.
Race 53's engine doesn't like to stop running, but finally sputters, coughs, stops. The spinning prop makes one last lazy arc, then is still.
I sit in the hot, damp cockpit, too tired to fully open the doors, unbuckle my seat and shoulder belts, or even remove my headset.
Racing is hard work.

I should be elated. I won. I know I won the race without having to wait for the awards ceremony.
I launched third in my class 59 minutes ago and I passed both the other planes on the first leg of the course. Last to go. First to come home. I'm the winner. But I feel…nothing.
Nothing but exhausted.
I should be happy because it was anyone's guess if one of the other planes, also an Ercoupe, was faster or slower than my plane. And I should be thrilled because I flew against more planes than my closest competitors did, which gives me more points toward the factory year-end trophy, closing the gap in point totals between us.
But nothing penetrates the exhaustion, and I sit like a stump in the cockpit.
My exhaustion is both mental and physical. Flying, in general, requires a lot of concentration. Racing even more so.
To win, you must fly precisely. You need to really nail your course, and the slightest deviation costs you seconds.
You also have to keep a mental checklist, maybe more of a mental chessboard, of where all the other race planes are on the course by listening to the turn calls.
You must stay alert for traffic — both fellow racers and other planes that aren't part of the race.
On some courses we fly low. You need to keep a sharp eye out for cellphone towers. And birds.
And, of course, as you are pushing your plane to its redline limits — or beyond — you need to pay special attention to its health. You need to keep sharp eyes on the engine's gauges, keep one ear cocked for changes in its throaty roar.
While concentration itself can be physically wearing, racing can take a direct toll on the body, too. At least for me.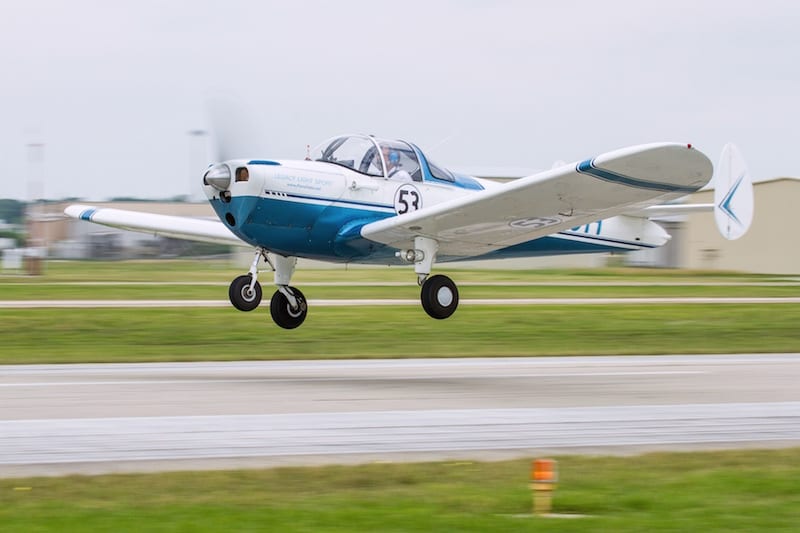 Race 53 is a very hands-on aircraft. Yes, she has trim controls, but they are ineffective. Any time the plane is in the air, my hand is on the yoke. In fact, I've developed a callus on my left hand from holding the yoke and making constant corrections on the long cross-country flights to the first five races.
Also taking a toll on the body, at least on these last few races, is heat. We're all too low to be cool, and opening a window slows you down. My "cool air" vent was acting more like a steam cleaner today.
And then there's the noise. I wear a traditional headset, not a modern noise-cancelling one. I like to hear what my engine is up to, but the price I pay is that sometimes my ears ring for hours after a race.
So it was hard work. Exhausting work. But I'd just won my Class at the Mark Hardin Memorial Air Race.
Mark Hardin and his historic Ercoupe
For its first four years, the air race at Terrell, Texas, on Memorial Day weekend was simply called the Memorial Day Air Race, but last year it was renamed the Mark Hardin Memorial Air Race by the Sport Air Racing League.
Mark Hardin, who passed away in 2013, was described to me as the heart and of soul of the Terrell Municipal Airport. He and his wife Melissa — whom he met at the airport — ran the FBO there together for many years.
Melissa is still running the FBO, with the help of their grown son Mike. Mike was born in a hospital practically across the street from the airport and literally grew up on the airport grounds.
He told me the family has baby pictures of him on an airplane wing when he was only two days old. Like his father, Mike is both a pilot and a mechanic. Unlike his father, he is largely focused on multiengine instruction.
I mention Mike here, because he flew against me in his dad's plane, a famous Ercoupe.

Mark Hardin was big into Ercoupes. He loved the little twin-tailed planes and for years went to every national convention. Melissa recalled driving the rest of the family in a recreational vehicle as "ground crew," as Ercoupes can't carry much.
When he was older, Mike replaced the family's RV with an airborne chase plane in the form of a twin Piper Apache to carry the family out to conventions while his father flew the Coupe, and to haul back all the auction goods his father would purchase at the conventions' benefit auctions.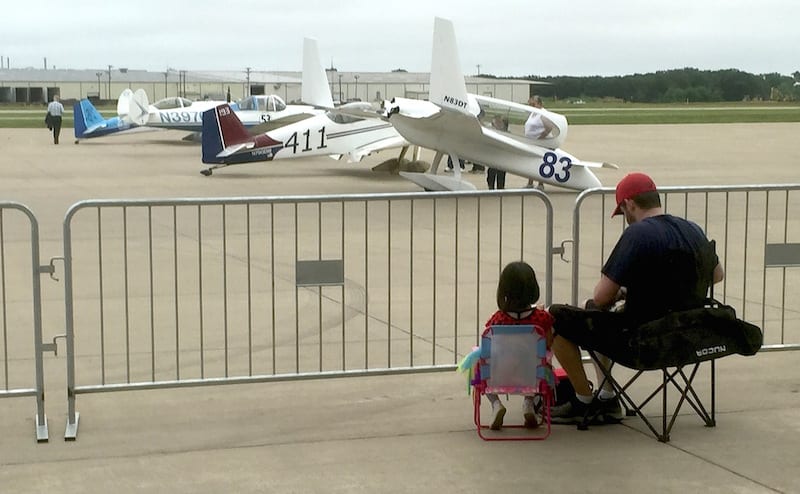 Mark's pride and joy was Ercoupe serial number 110, one of three honest-to-God Ercoupe warbirds, and the only surviving example.
In 1941 the U.S. Army Air Force bought three Ercoupes to evaluate. In the end they were turned into crude drones, controlled by jeeps on the ground bristling with radio antennas, and put to work for antiaircraft gunnery training.
When the Hardins bought this particular Coupe, they didn't realize what they had at first — not until they found the bill of sale from the Army among the plane's papers. Then they spent years researching the archives at the Smithsonian in order to restore the plane's appearance to exactly what it looked like during the war years, even matching the paint colors.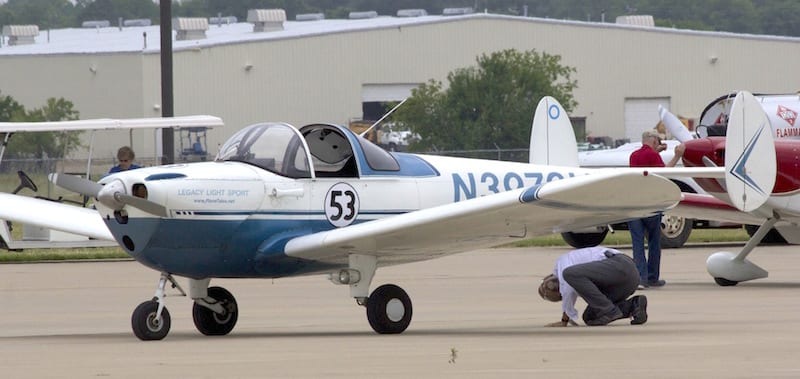 The War Coupe hadn't flown since Mark's death, but Mike decided to enter it in the race named for his father, a decision I didn't hear about until the morning of the race itself. While we waited for low ceilings to rise, I spent a lot of time on the apron studying the little War Bird, trying to figure out which plane would be faster: Mine or his.
Both of the planes had climb props, although the Hardin plane has the original wood prop. The warbird also had a smaller engine than Race 53. I have an 85-horse engine, and the Hardin Coupe had a 65.
But power isn't as important as you'd think. The Hardin plane was fully original, and that means it has no electrical system and still has cloth-covered wings, making it heaps lighter than Race 53. Less weight means more speed.
And just as before, when I compared Jack Stanton's Ercoupe with mine at the Texoma Race, there were dozens of small differences, some giving one plane an aerodynamic edge over the other. I honestly didn't know if I could fly faster than it or not.
But I was sure gonna try.

Mark used to race it a lot, with lower speeds than I generally get, but everyone on the ground agreed that Mark was pretty laid back and most likely didn't "push the plane hard."
Mike struck me as less-laid back than his father.
Passing history by
Out on the course, it was easy to spot Mike ahead of me. The wings of his Ercoupe were AAF mustard-yellow, with burnt burgundy trim, emblazoned with the famous blue and white star with the blood-red centers on each side.
As I gained on him, I pulled off course to the right, as we were at the same altitude, and I tried to make a passing call on the radio so he'd know I was coming around him.
But there was a problem. We use 123.45 as an air-to-air race frequency, unless a race turn is over an airfield, in which case we use the airport's CTAF. But apparently, in this part of Texas, our race frequency is used like some sort of CB radio between good ol' boy pilots.
Instead of silence interrupted by brief turn calls of race planes, I was hearing something like this: "Yeeeeah, Ralph, I'm at 9,000 feet… No wait, I guess it's 9,000. But boyyy, I gotta tell ya all, there's sure a lot of boats down thar on the lake today. They all are gathered around at that sand bar. I donna know if it's a party or if they all are fishing, or what. Yes sirrie, it's a sight to see. Anyway, I'm not sure if I'm gonna go to Sherman for gas or go further. I guess I'll make up my mind in a wee bit. Where are you fellows at now?"
And before I could get a word in edgewise, his more talkative companion responded.
If I weren't so busy flying, I would have beaten my head against the dashboard in frustration. I wanted to radio Mike when I pulled into his 5 o'clock, and I was now at his 4 o'clock.
I finally broadcast, "stepping" on the chatty pair of pilots, but I had no way of knowing if my signal was strong enough to punch through the chatter or not.
I radioed again at Mike's 3 o'clock. I don't know if he heard me or saw me, but he gave a friendly wave as I passed. I waited until I was well ahead, then pulled back onto the race course.
I had lost more than a few seconds, but it was a beautiful sight, passing the other plane. Both because I knew in that very second that I was definitely faster, and because it's just a damn fine looking airplane, even more so in the air than on the ground, where it won the people's choice trophy.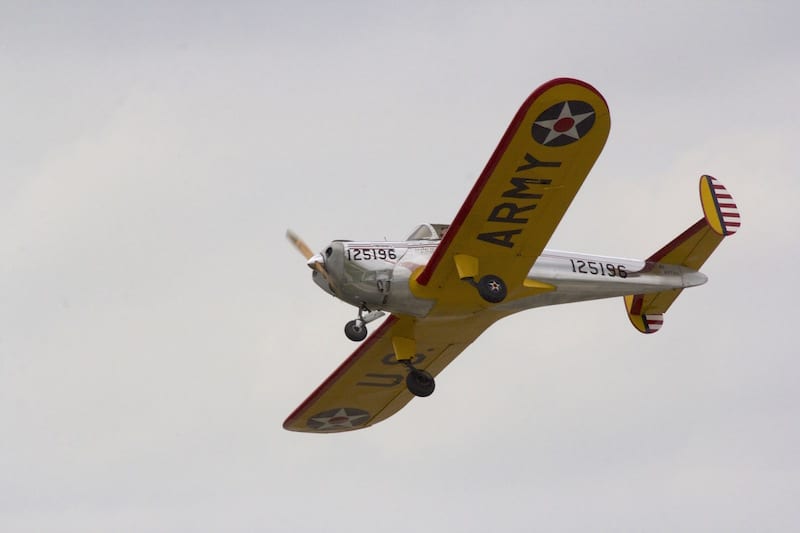 The rest of the race was just hard work. Keeping on course. Looking for the landmarks. Being alert for a new tower we were warned wasn't on our charts yet. Keeping my turns as tight as possible, but not so tight as to "cut" a corner and be penalized 15 seconds, as there are both ground observers and GPS trackers to keep the racers honest.
Not that anyone ever cheated at a race.
The work doesn't end at the finish line
I can hear the pinging noises of my engine beginning to cool down. An open-cab fuel truck is making its way down the line of recovered race planes. I need fuel for the voyage home tomorrow. I have to get out of the damn plane and place an order with the lineman.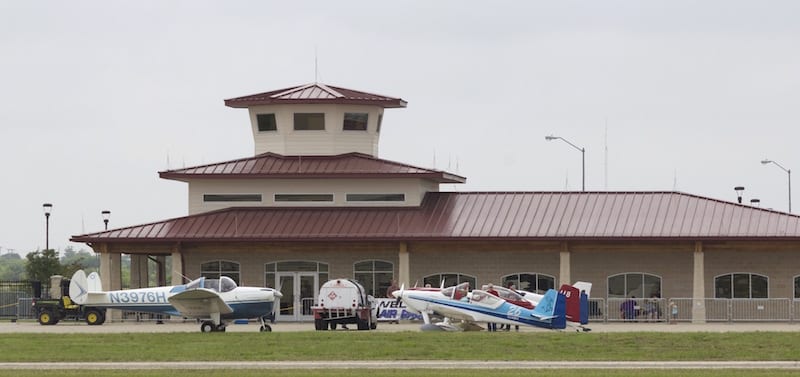 I pull off my headset and wipe the sweat from my ears. I run my hands though my hair, try to shake off the exhaustion, reach above me, and slide the copilot door downward into the belly of the plane.
I reach up again and slide the pilot's door down, unhook my shoulder belt, open the latch of my waist belt, and haul myself up and out of the cockpit. I stand on the seat and step up over the cockpit wall onto the wing.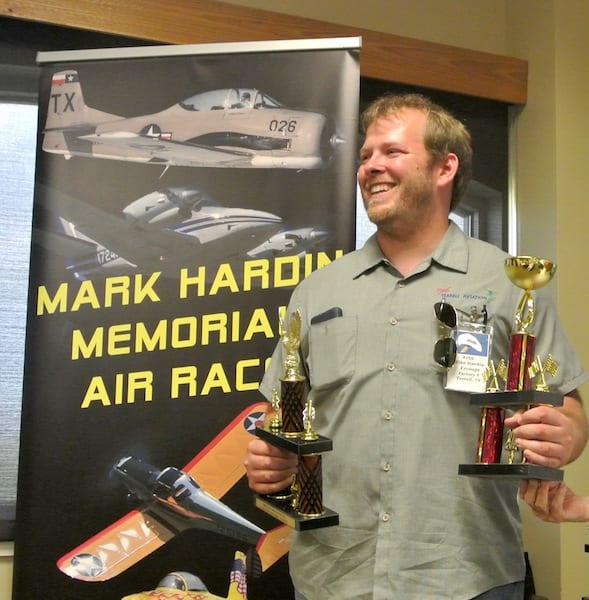 Being outside brings little relief from the damp heat. The sun is hidden behind a cloud deck, thankfully, but it's close to 80° and the humidity is nearly 80% as well.
I jump off the wing and walk around Race 53. She's a bug-splattered mess. A thick matt of the tiny creature's carcasses cover the leadings edges of the wings and the horizontal stab, the cowl, spinner, and prop, and the forward edges of the twin rudders — nearly turning the white surfaces brown. The landing gear fairings haven't escaped either, and we're not even going to talk about what the windshield looks like.
I sigh. A racer's work is never done. The awards ceremony won't be for another hour, so I climb back onto the wing to fetch a microfiber cloth, kitchen dish scrubby, and a half-pint bottle of distilled water from behind my seat. It's time to get to work cleaning the plane.
My League Points: 530. I've added 100 points for my first place finish in the race, plus 20 additional points for besting two other airplanes in the FAC6 Class on the course. It's my biggest single-race score of the season! My speed for the course was 114.32 mph, the second-best time of the season. Mike Hardin came in at 101.84 mph.
My League Standing: Team Ely now tops the leader board for the entire League at 560 points, but I've closed the gap between us by 10 points. I'm still in second place behind them in the Factory Category, but the third-place factory plane is far behind me with only 250 points.
And not that it counts for anything, but I'm now tied in second place overall in the league with one other racer from the Experimental Category.