In my many years in aviation, I've learned this about light aviation pilots: If 80-horsepower is good, then 100-horsepower is better, and even more is best of all.
It explains why interest was so high when Rotax announced its new 915iS that will provide 135 horsepower. It also illustrates why the 180 horses of the Titan X-340 is succeeding in the Light-Sport industry.
Interest from LSA producers started with CubCrafters adopting the engine several years ago. When that company's boss, Jim Richmond, held a press conference at SUN 'n FUN, the reception was somewhat cool. Of 10 people in the audience, only four of us were journalists. The other six (yes, 6!) people were from FAA.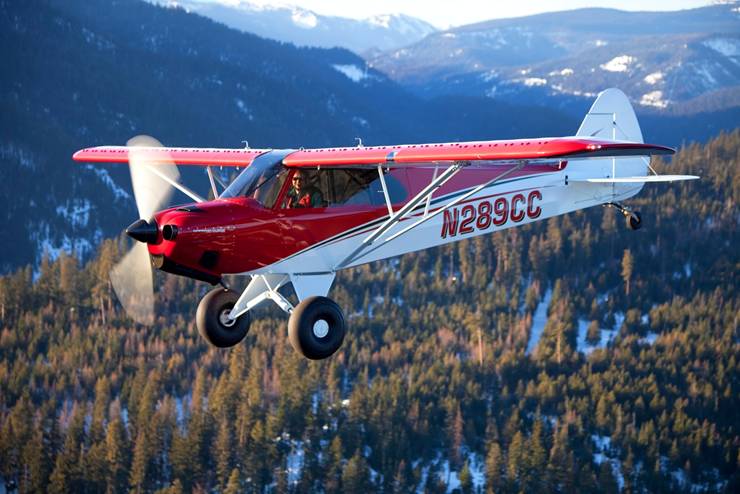 No wonder, perhaps, as ASTM standards at the time brought questions to mind regarding the use of such a powerful engine. Those standards have since been modified somewhat.
Indeed, the western producer instructed users that the engine could only be used at full power for takeoff or climbing, but otherwise had to be set to lower power.
Of course, you would not run many engines at full power for all phases of flight, but my guess is many users put the noise lever where they wish and don't worry too much about what standards or regulations state.
Flash forward to 2016 and interest in the Titan engine is clearly revved up all the way.
Let's see… this list may not be complete as new brands seem to be regularly considering bolting on the powerhouse engine: CubCrafters Carbon Cub, American Legend Super Legend, Zlin Outback (Shock Cub in Europe), Just Aircraft SuperSTOL, Kitfox STi, Rans Raven, and the Vickers Wave LSA seaplane.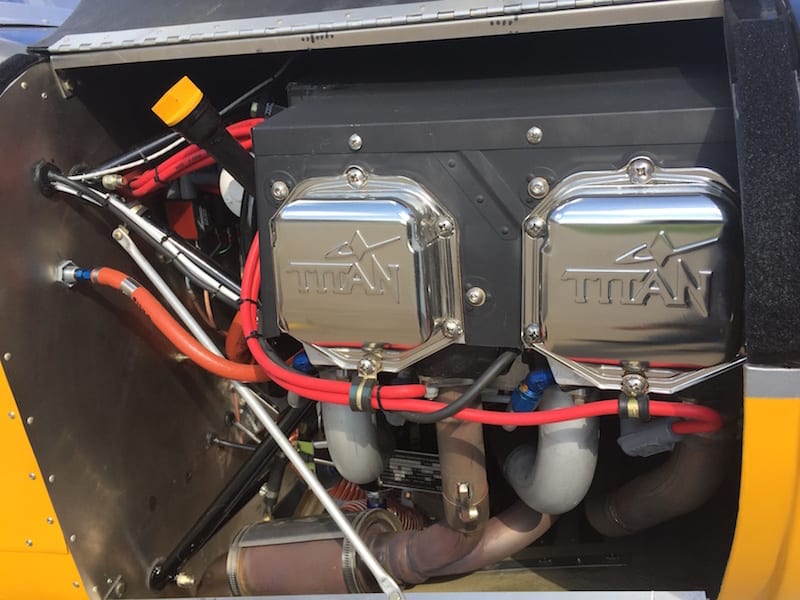 Why do these leading companies use a more costly engine?
What pilots doesn't love plenty of power for performance, climbing strongly without straining the engine. With an excess of power, pilots can thrill to short takeoff rolls, exhilarating climbs north of 2,000 fpm on some models, and somewhat higher cruise speeds, though the latter depends much more on airframe and wing shape than horsepower. It may also provide a safety factor in some situations.
Continental Motors said, "The Titan 340 is unlike any other engine we offer. This little stroked 320 can put out over 180 horsepower and is 20 pounds less than a stock 360. ASTM certification has proven this engine to be reliable and a great performer."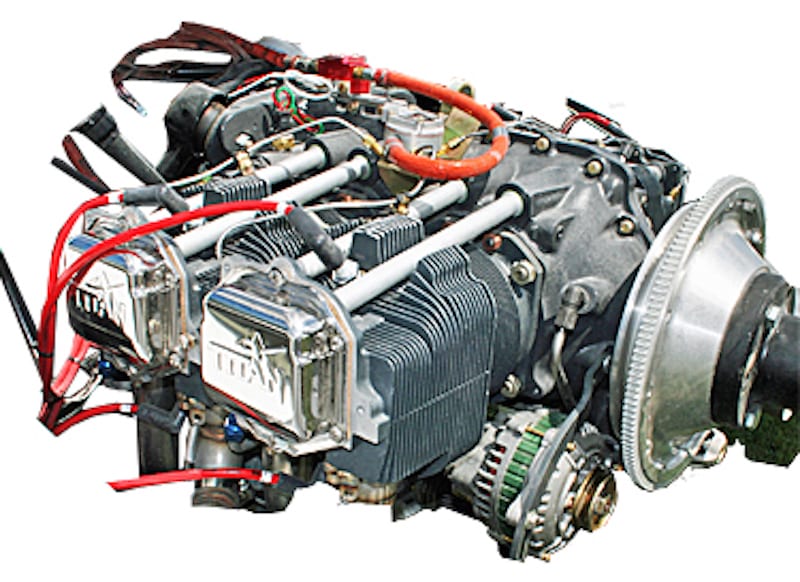 Titan Engines remains based where ECi was founded in San Antonio, Texas.
The company reported, "Titan's 340CC engine has been tested and is manufactured in accordance with ASTM F2339-06."
This is the standard for the design and manufacture of reciprocating spark ignition engines for LSA.
The 340CC engine is a four cylinder, direct-drive, horizontally-opposed, and air-cooled engine, differentiating it significantly from the gear-box-equipped, liquid-cooled Rotax 9-series. To help reduce weight, heads are made of aluminum alloy castings.
"The cylinder barrels are made of thru-hardened steel that have a Nickel+Carbide coating for additional corrosion and wear prevention." Pistons are machined from aluminum alloy. The engine is "designed to be cooled via air pressure forced from the top of the engine to the bottom of the engine during flight. Air is directed over the cylinder heads via baffles."
Titan's carburetor is a single barrel float-type equipped with a mixture control and an idle cut-off.
Operationally, Titan is somewhat different from the ubiquitous Rotax that asks pilots to assure a certain temperature before takeoff.
Continental said, "The engine should be warm enough for taxi as soon as it takes throttle with no hesitation."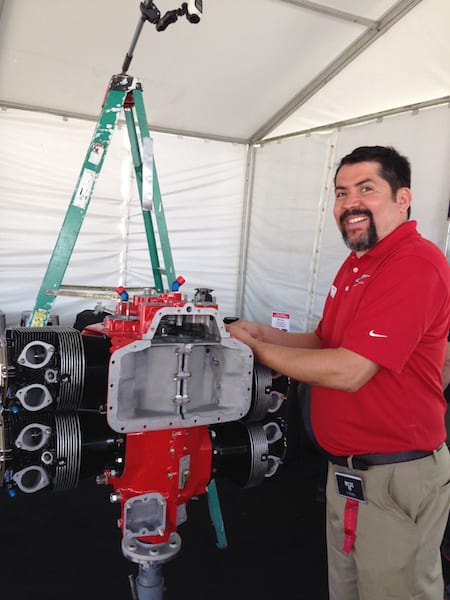 Pre-takeoff runup is similar to most American made engines where you spin the engine to 1,700 rpm and check left and right mags, plus exercise the carburetor heat control. Although you can use the full 2,700 rpm for launch, Titan advises reducing engine revs to 2,500 when an acceptable climb is established. LSA manufacturers may add further instructions.
Descent for landing calls for slightly decreasing power and letting the airplane decelerate.
"Chopping the power should be avoided unless there is an emergency," said Titan. Abrupt power reduction can cause the cylinder barrel walls to receive cold air cooling while the piston is still hot and this can cause problems.
Final engine shut down is done by pulling the mixture control, not by switching off as on a Rotax.
Regarding fuels, Titan advised, "All 340CC engine series are designed to use 100/100LL aviation grade fuel. In the event of an emergency, automotive premium grade fuel may be used." If you operate from airports, 100LL is easily obtained across the U.S.
For those preferring auto gas, another engine may be preferable.
An old line in car racing used to go: "Speed costs money. How fast do you want to go?" You can buy a Rotax or a Jabiru for less investment and engines like UL Power or Viking for homebuilders can be even better deals.
The potent Titan X-340 is a shade under $26,000 at present. One advantage over most others is that it is Made in the USA and you deal with a U.S.-based company. Power on!
Specifications for the Titan X-340 powerplant:
Maximum Continuous Horsepower: 166/180
Maximum RPM at Full Power: 2,700
Recommended Time Before Overhaul (TBO) in hours: 2000 / 2,400 (ASTM)
Number of Cylinders: 4
Displacement: 340 cubic inches
Compression Ratio: 8.0/9.0
Fuel Delivery: Carb/injection
Fuel Grade, Aviation, Octane (recommended): 93 / 100 / 100LL
Dimensions in inches: 20.63-23 height X 32.27 wide X 29.07 long
Estimated Dy Weight:260 pounds
Available with a wide range of colors