I apportion the blame this way: 40% goes to Jack Nicholson, while a slightly lesser share, 30%, goes to Morgan Freeman, with Rob Reiner picking up the remainder.
All three did a magnificent job of portraying men staring eternity in the face, in the 2007 blockbuster hit, "The Bucket List."
The story was excellent, the acting superb, the direction was flawless and, of course, there was Sean Hayes…all of which propelled the movie to epic status.
Unfortunately it did something else that very well may fall into the category of unintended consequences. It gave massive numbers of people the mistaken impression that it's a good idea to jot down your greatest dreams on a piece of paper so that someday, somehow, they'll find a way of making them all happen.
An entire nation of dreamers has adopted a bucket list manner of being – to their great detriment, I fear.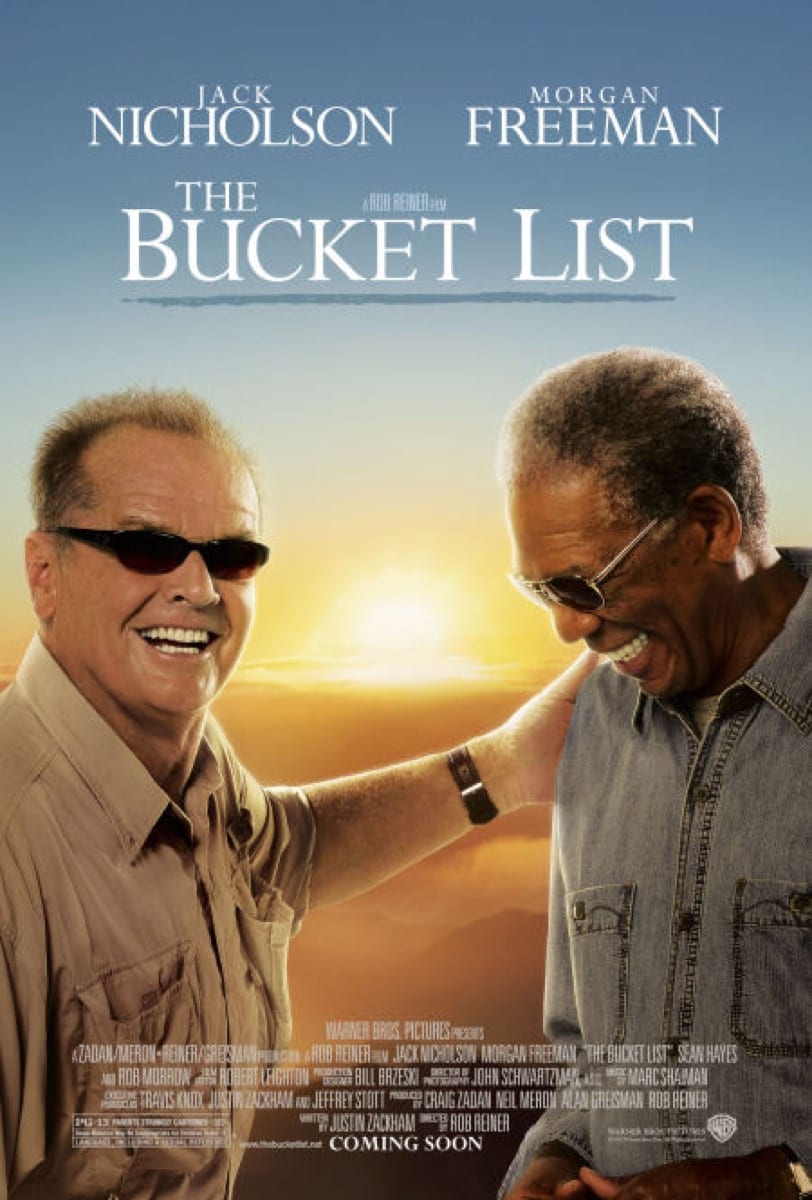 I don't know about you, but my physical presence comes with a limited lifespan. There's no expiration date, per se, but there is an absolute limit to the amount of punishment my body can take. The day will come when it just gives out entirely.
That may happen in 30 years, or it may happen later today. I really don't know.
Something tells me you're facing a similar situation. Call me psychic if you will, but I'm pretty sure you're not quite as bulletproof as you might like to be.
The clock is ticking for all of us. Given that awareness, it might be wise if we recognized this simple truth: Life is not a movie. There will be no second takes.
As usual, I spent the early part of my morning in a coffee shop, socializing with friends and preparing to face the day.
One member of my regular crew is no longer able to drive. For the purposes of this story, let's call him Bill.
When the revelry began to die down and the members of our little group began to slip off to their offices and various professional commitments, I loaded Bill into my car and gave him a ride home.
On the way he related a story of how intriguing he found airplanes and aviation to be, and he shared one particular experience that scared the beejeezus out of him. Enough, in fact, that he dispensed with the idea of becoming a pilot. He never took the first step to learning how to control an aircraft in flight.
Today, he regrets that reticence to try, even as he realizes the opportunity has passed him by. He never will do what dreamed of doing. His bucket list contains at least one item that will never be checked off. Never.
That's tragic, for while it only represents a single unfulfilled dream, it suggests there may well be more things he's left undone. His life will never be as full and as rich as he hoped…and in retrospect the reason for that hole in his life experience looks to be awfully anemic.
Don't be Bill.
It's been my great fortune to have lived a life that others considered to be irresponsible, hedonistic, selfish, and misdirected. Yet here, late in life, I seem to have found validation for my misspent youth, and similarly unconventional middle-age.
I have no bucket list. Rather, I have a great collection of photographs, memories, friends, and adventures that populate my memory. Those adventures have become stories my children know, and those friends have become the people who corroborate them when someone expresses disbelief.
But this isn't about me. It's not even about you. Not entirely, anyway. It's about somebody else. Maybe somebody you haven't even met yet.
Whether you've seen The Bucket List or not, you might want to give it a look in the near future and notice something that so many of us miss in life.
In many ways, life isn't really about us at all. It's about what we can do for others. Truly, that's the magic we've been gifted with. Each of us can bring a little bit of joy into the lives of others if we choose to. And with very few exceptions, our own lives improve when we make that choice.
Both Nicholson and Freeman's characters offer the other something they didn't have previously. In Freeman's case, it's the advantage of ready access to financial resources. In Nicholson's it's the immense value of having a true friend to share one's life experiences with.
With your indulgence, I'll offer this recommendation. Don't make a list. Rather, live your life.
Your life, not the life you think others expect of you. And should there be any doubt in your mind about what your life should be, look around you, find someone who wants to do something that you already do, and help them do it.
Maybe that's flying, maybe it's something else. It doesn't matter. Helping them may be the most deliciously selfish and selflessly gracious thing you can do.
Get zealous about living. In the long run, you'll be so much more satisfied with the fruits of your labor – and so will those who are fortunate enough to be around you.