In the center of my town there is a park. In that park is a large blue chalk board where passersby are encouraged to finish the sentence, "Before I die I want to…"
That's a big statement. It's got weight to it. A sentence that starts with those words begs for serious consideration.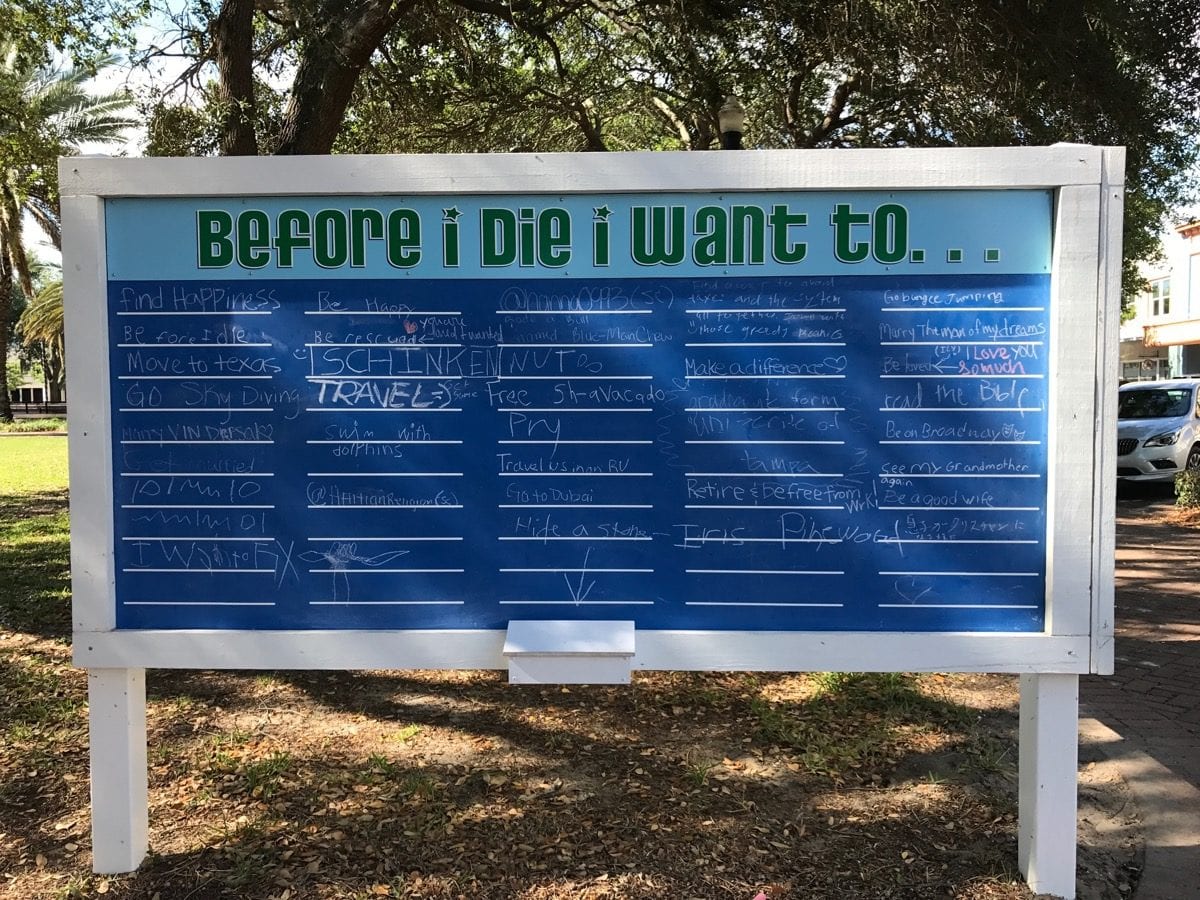 It's not a requirement, of course. You don't have to think about it. But when someone takes the time and makes the effort to open the door to such an inquest, and even provides the means for filling in the blank…well, there's practically a moral imperative there. You've got to do it. You just have to.
Don't get me wrong. I love this idea. It's totally open-ended. People can write anything they want. Anything. Whatever idea pops into their head at the moment, they can put it in writing for all the world to see. Well, for the inhabitants and visitors in my town, anyway.
What surprises me most about this quirky little social experiment is the number of wishes expressed seems to far outweigh the number of goals. There is a difference between a wish and a goal.
On the big blue board downtown, "Before I Die I want to…" is often followed by statements like, "win the lottery," "fall in love," or "make a difference."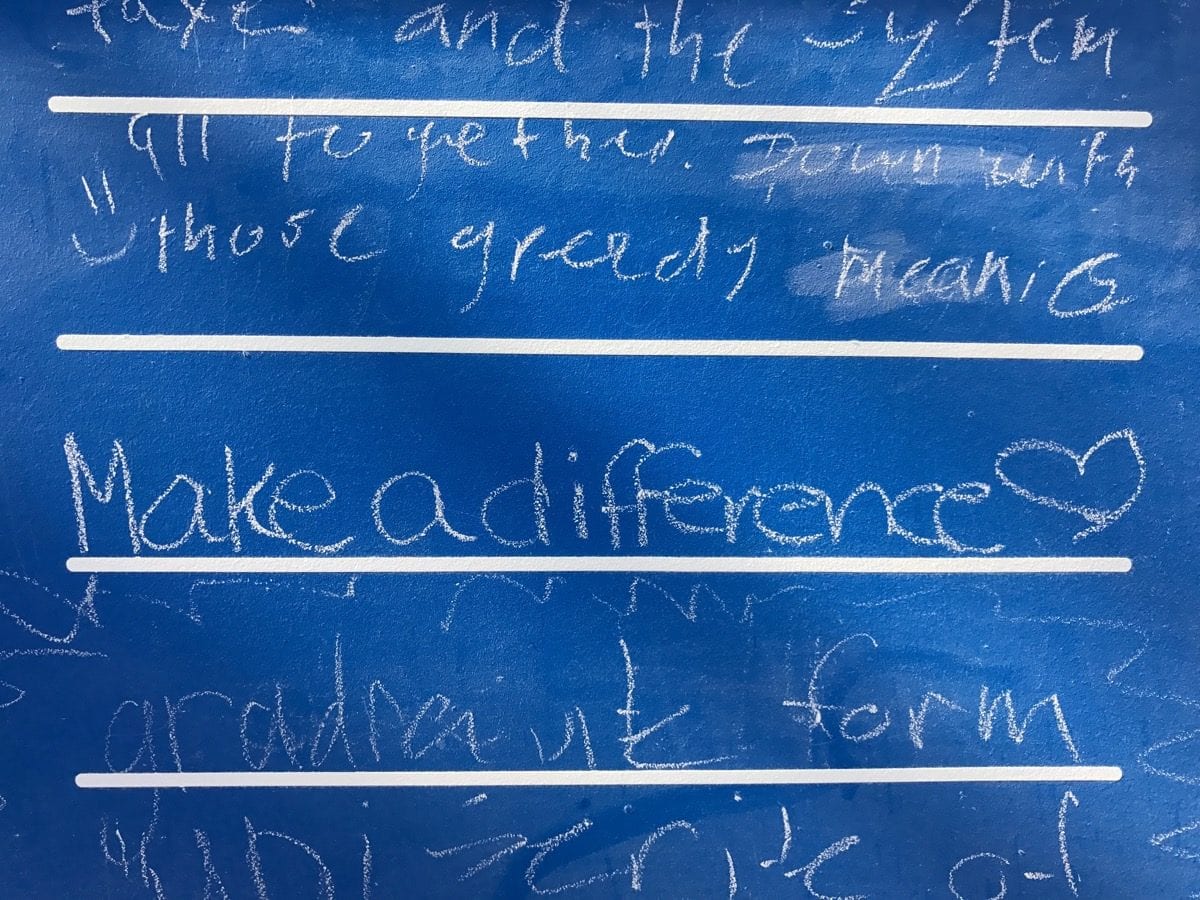 That's all well and good, but how exactly does one go about winning the lottery? Is there a strategy that's been proven to work? Is there some mystery technique to the ticket buying process that might enhance one's chances of winning?
And lest I remind you, Timothy McVeigh made a difference. Not in a good way. Not a difference anyone would have wanted. But he did in fact make a difference.
Are some of us really aiming so low? Are we aiming at all? Have our most fervent hopes been reduced to simply slapping random words together that sound good but mean almost nothing? Without any thought as to how we might achieve these statements, what's the point?
"Before I die I want to win the lottery" is a wish, not a goal. Wishes are for children. Wishes are totally random ideas that we have little to no jurisdiction over. Even some of the great wishes of history and literature are in fact nothing more than heartfelt yearnings for something that is completely, totally, irrevocably beyond our control.
A goal, on the other hand, is something else entirely. A goal can reached. With effort and imagination, a plan can be concocted, a path can be followed, adjustments can be made, and a foreseeable result can be achieved. Goals have worth.
Wishes are only good for providing the motivation to blow out the candles on a birthday cake. And let's hope you don't have a cold when you do that. Germs. Yuck.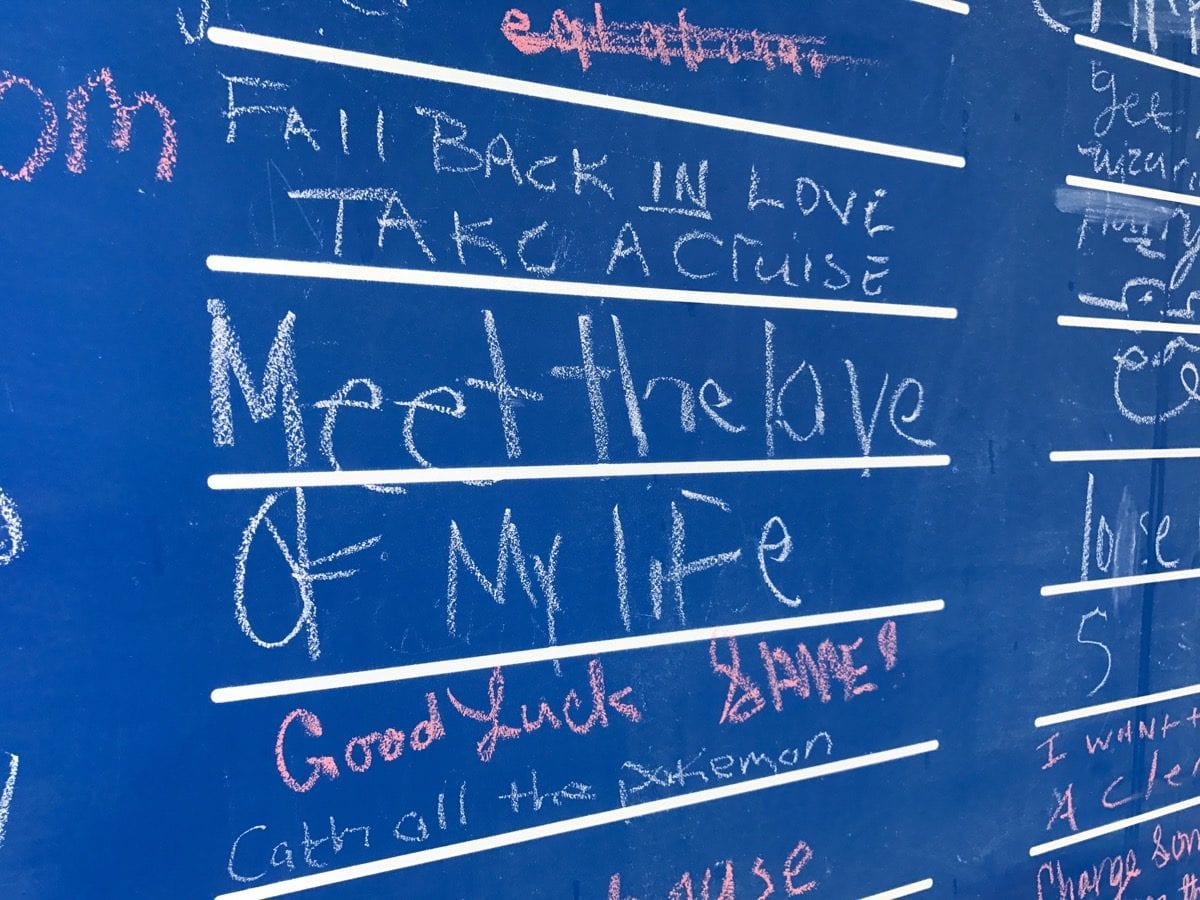 I mention all this because of a real life example I've encountered over the past year. A young man, a smart young man filled with energy and big dreams, has shared with me repeatedly his intent to become a professional pilot. He wants to earn his living in the air, at the controls of an aircraft, charting his own destiny as he plots a course that will take him over the horizon and across time zones.
He's dreaming big, but planning small. He's lost and he doesn't even know it.
Over the course of nine months, long enough for some people to make a baby from scratch and move it into its own bedroom – my young friend has managed to make exactly no progress toward his wish of being a pilot.
He's been invited to ground school sessions that would cost him nothing, but he is persistently absent. He's been offered employment at the airport, but ignores the opportunity. He's been introduced to a wide assortment of folks who live and work on the field, all of whom could help him become a pilot and get his start on a career in aviation, but he has yet to follow-up with any of them.
In short, my young friend has mistaken a wish for a goal. He's got an idea in his head that he will one day wake up and magically be the thing he hopes to be. His persistent refusal to actually participate in the activity he claims to want to make his profession is baffling.
This sort of behavior truly mystifies me. However, it is not rare. You can see this disassociation with reality everywhere you look. At times, you can even see it in the eyes of the person staring back at you from your bathroom mirror.
I know that's been the case with me. Years ago I was not unlike the young man who is so resistant to giving aid to his own dreams. I was a bit lost, a bit dimwitted, and not entirely aware that time does indeed march on. It would gladly leave me behind if I let it.
As a mentor and hopefully a force for good, my fix is to be persistent. To continue to issue the invitation. To continue to make the introductions. Because one day, he may wake up, as I did, and recognize the great gift he's being offered.
There is nothing wrong with wishing for your ship to come in. But it would be wise for any of us to put enough thought into its arrival that we can recognize it when it appears.
That ship will set sail again, and if we aren't mindful of it, we will not be on board when it disappears from view — possibly forever.