A dozen years after the FAA created aviation's newest sector, we have a new leader among manufacturers of fully built Light-Sport Aircraft.
CubCrafters has been moving upward, with several years hitting 50 deliveries. In 2016 the west coast builder finally topped perennial leader Flight Design, which slipped to second place.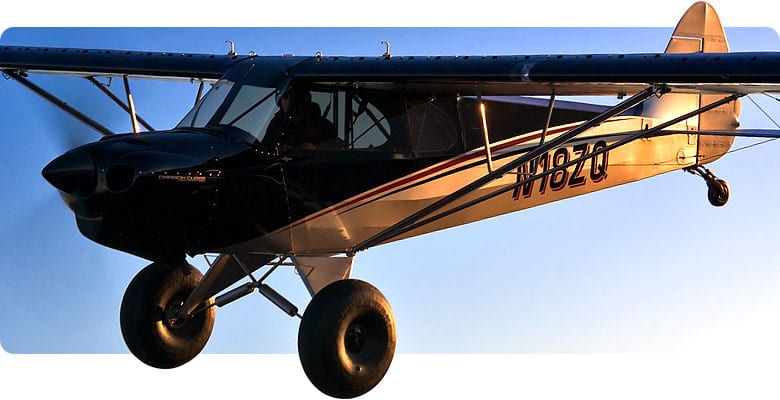 The CT builder had occupied the #1 position since the beginning of Light-Sport Aircraft. Only four aircraft separate the two brands.
In the single-year race, Czech Sport Aircraft won convincingly with almost double the next closest producer. The Czech builder performed well in 2015, but significantly increased last year.
To explain further, our "whole fleet" market share chart — the one we have published going back to 2006 — keeps track of all Special LSA (SLSA) airplanes in the U.S. fleet.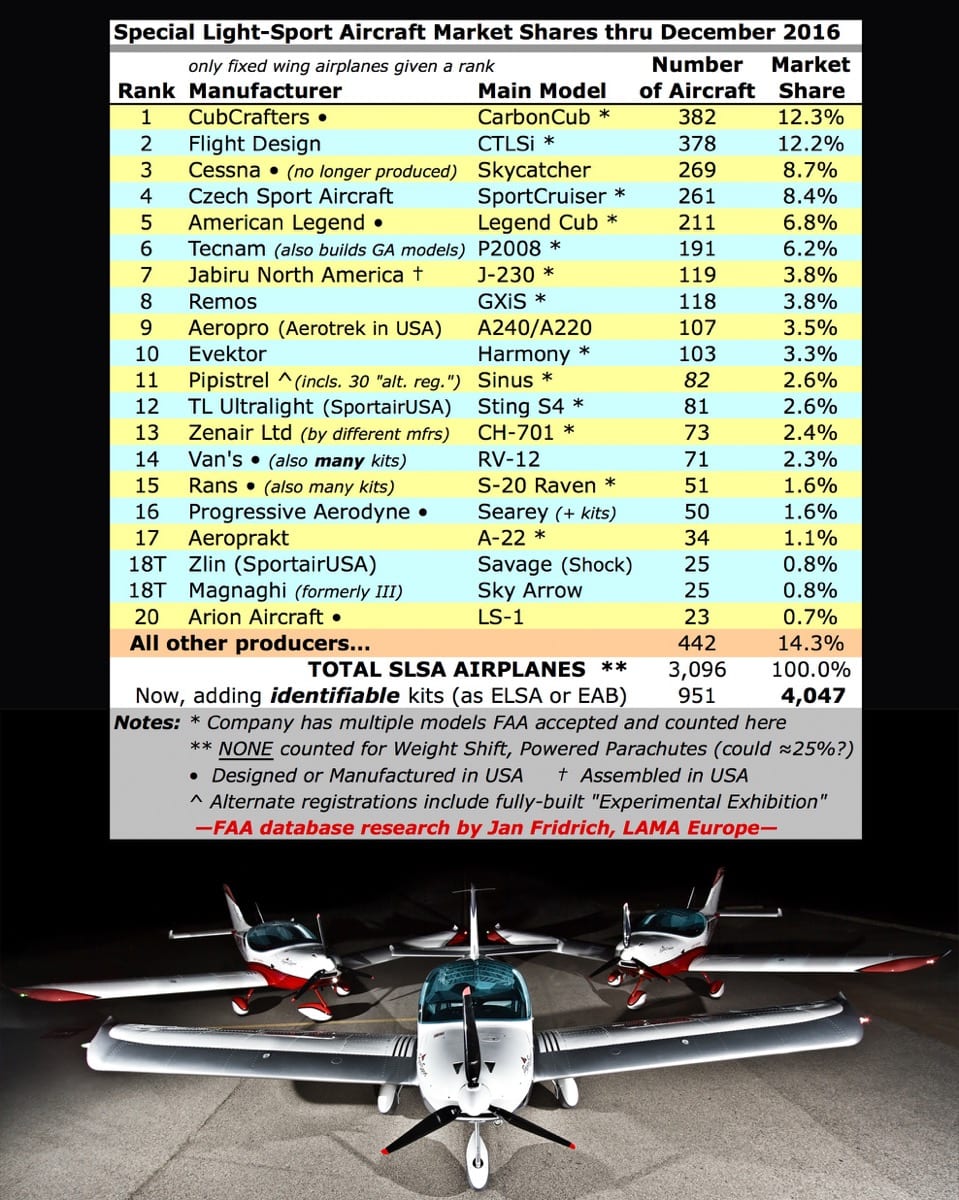 Regretfully, we are unable to properly account for weight shift trikes, powered parachutes, gyroplanes, or motorgliders because the database is too variable.
This does not mean to criticize FAA data entry clerks; for example, how should they list a trike that uses a different ASTM-compliant wing? Does it deserve a different model name?
[contextly_auto_sidebar]Also, gyroplanes must be sold as kits in the USA (for now), even while fully built models are selling strongly overseas.
We believe all the sub-categories of LSA could increase the fleet count by an additional 25%, but we only show fixed-wing airplanes in our chart.
Likewise, we give a small reference to Experimental LSA (ELSA) when we can account for them with good accuracy.
Finally, many two-place ultralights converted to ELSA before 2010 are not counted.
Add all these types and the U.S. market for LSA or LSA-like aircraft probably exceeds 10,000 flying machines and even that does not include ultralights.
The numbers come directly from the FAA's registration (N-number) database. Besides the difficulty for FAA officials to correctly identify many makes and models, mistakes or changes happen. Entry errors can occur.
Airplanes may be sold out of the USA. Mishaps can remove an aircraft from the database. These possibilities can cause our numbers not to identically match what a producer may show as American sales.
Despite these disclaimers, we know our information is the best available and we work hard to assure the most accurate information we can find. For this effort, I am deeply grateful to Light Aircraft Manufacturers Association (LAMA) Europe director Jan Fridrich, who has faithfully maintained this information for more than a decade.
Jan expertly does this tedious database work even as his job with the Czech Light Aircraft Association has taken him to China nearly two dozen times in the last couple years as he and his nation attempt to help China grow its recreational aircraft community.
After producing the fleet chart for several years, people wanted to know how various companies had done only in the last year. For the last few years, we have broken out these figures in our calendar chart. Of course, this list faces the same challenges and our numbers may not exactly agree with what producer records show. Over time, both charts tend to get closer.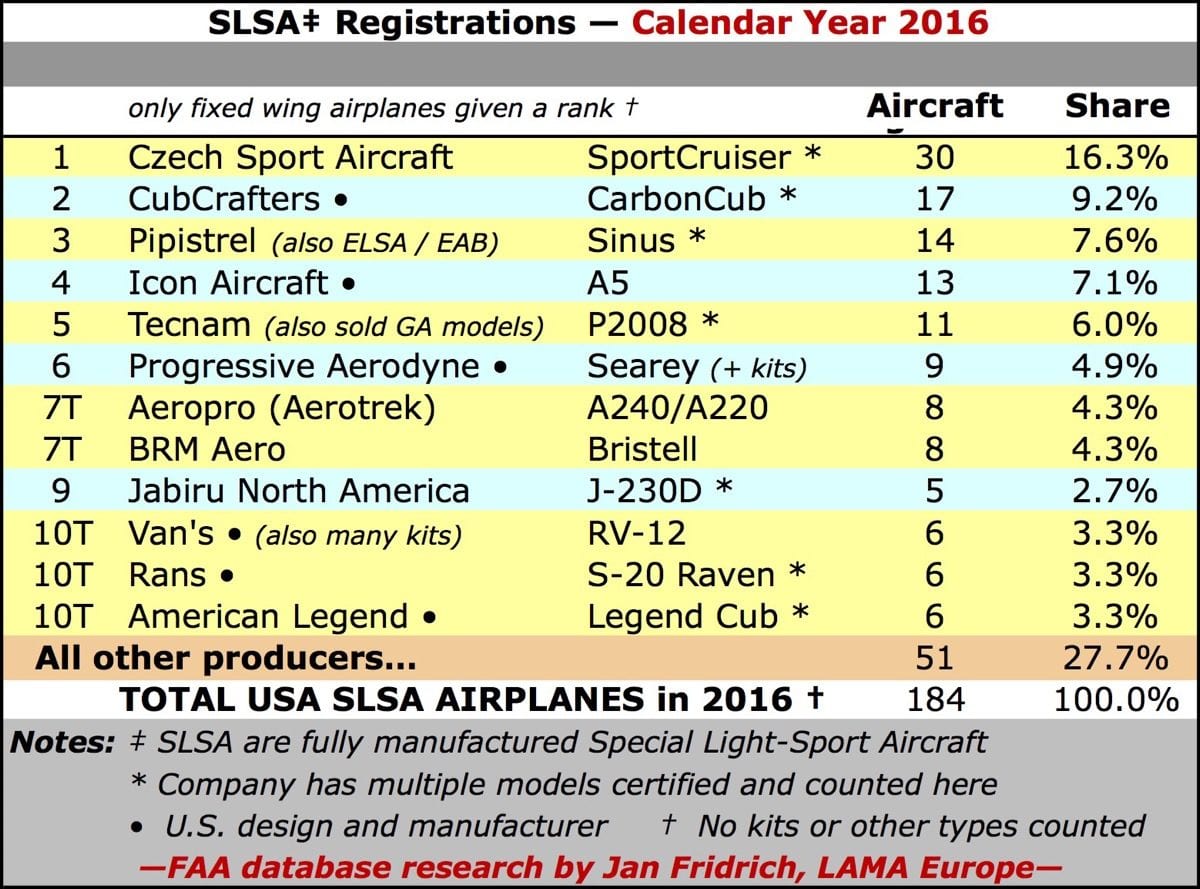 We have and will continue to omit some brands from our Top 20 market share ranking if the supplying company leaves the business and no one absorbs its production.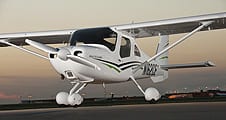 For example, Cessna has nearly 300 LSAs flying in America. However, since you can no longer buy a new one, even this famous brand may one day be dropped from the list.
Changes in the Rankings
Besides the leaders, the Top Five brands remained steady with CubCrafters, Flight Design, Czech Sport Aircraft, American Legend, and Tecnam holding the highest rankings.
Jabiru moved up one notch, while Remos slipped one. Aerotrek (another year-after-year gainer) climbed another rank, while Evektor fell one.
Nonetheless, the top five, these last four, and Cessna are the only brands breaking into triple digits.
Although Pipistrel gives us challenges to count (some are registered as Experimental Exhibition), the Slovenian company has also exhibited an even climb and now ranks 11th in the fleet or third for calendar 2016.
One fooler is SportairUSA, which markets both TL Ultralights and Zlin. Neither has broken 100 yet, but when combined, SportairUSA has and that's before fresh excitement over its new Outback Shock.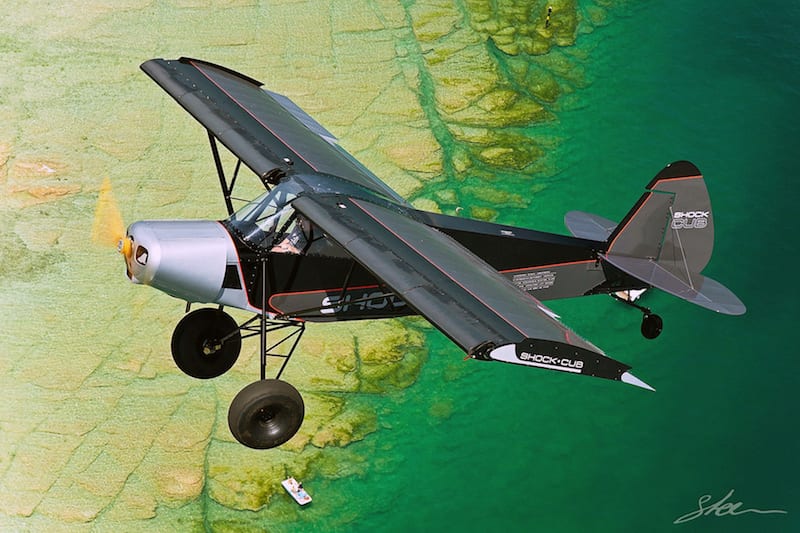 Van's continues to make more fully built RV-12s with its partner Synergy Air.
Progressive Aerodyne, builder of the Searey approved in both the USA and China, has had and still boasts solid years. The central Florida company is the clear leader in LSA seaplanes even while Icon's A5 finally began to show up with 13 new registrations in 2016.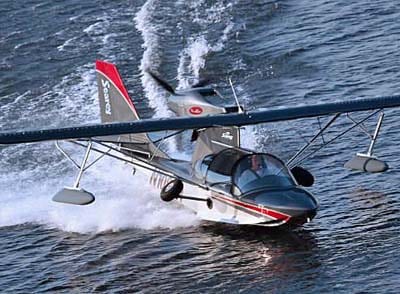 Finally, while our main chart focuses on the top brands, note that the largest single percentage are registrations from "All other producers." The same is true in our calendar year chart. Sometimes called "boutique brands," these companies continue to find customers.
Even as Light-Sport Aircraft matures as a niche in the aviation industry, its promise remains strong.
As our ongoing reporting from AERO and SUN 'n FUN shows, new models continue to be developed and governments in more countries are embracing the ASTM standards to approve these aircraft. No wonder the general aviation world wants what LSA has.
Unlike legacy aircraft producers — those making general aviation aircraft that have changed little over half a century — the LSA space continues to supply interesting, innovative, modestly priced, good performing, superbly equipped, and — yes — safe aircraft.
Now that most manufacturers have seen BasicMed has not materially affected their business, the American LSA segment grows steadily while worldwide sales continue to eclipse new GA single engine piston deliveries by multiple times.