In the back of my hangar sits the skeleton of a 1949 Piper PA-16 Clipper. It hasn't flown in many years. That's kind of sad. Hopefully, somebody will take on the task of restoring it to its former glory one day and it will become airborne again. I can only hope.
In front of the Clipper sits the Air Cam, an experimental twin-engined adventure machine that has become my favorite thing to fly. Regular readers of this column are becoming familiar with my affection for this big green machine.
Those two airplanes are the large, obvious, aeronautical objects in the hangar. There's also a good-sized tool box, a couple bicycles, and an assortment of peculiar odds and ends.
But perhaps the most important accouterment to my hangar is a red leather couch tucked off to the side.
Yes, a couch. A place to sit, to relax, to visit with friends or visitors to the hangar. Often, visitors who have been short-changed in life by a very limited exposure to general aviation.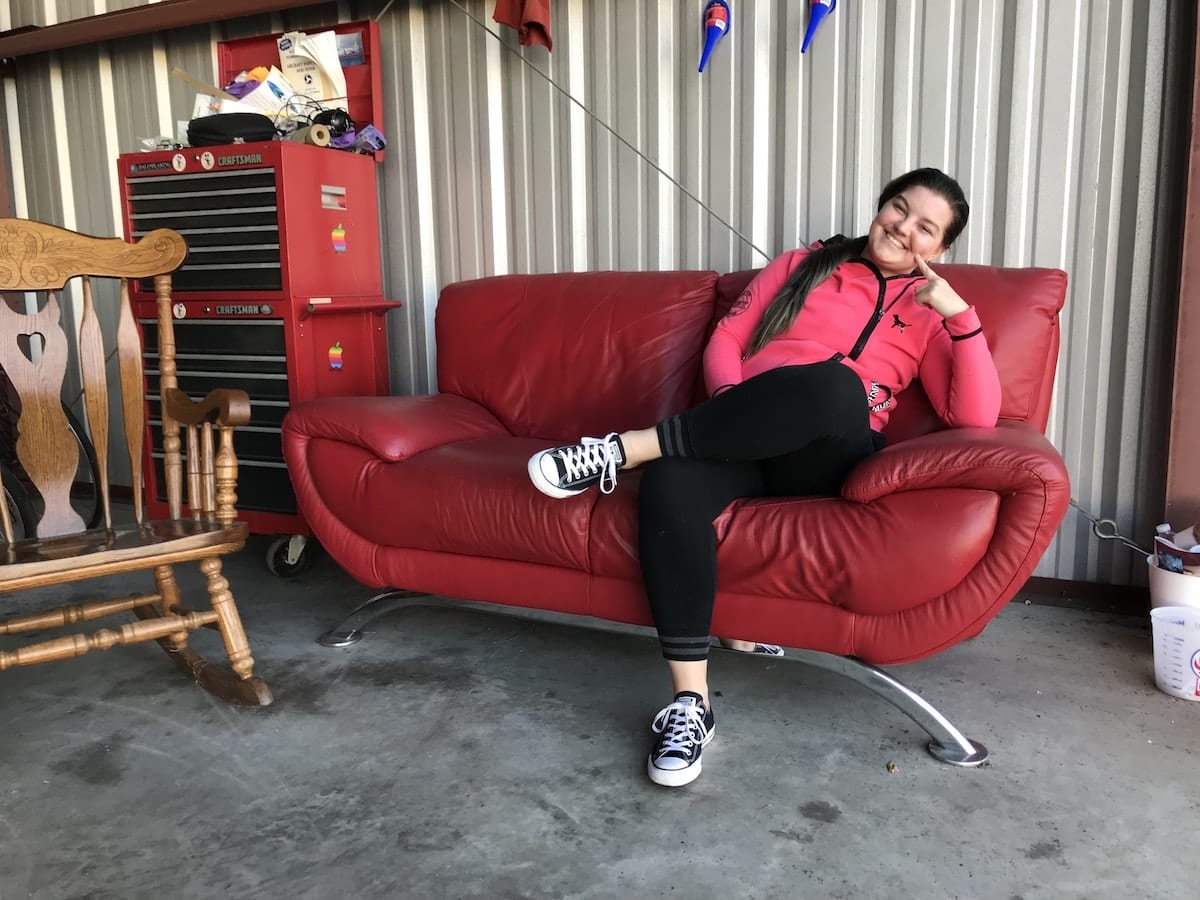 It struck me one day that some of the most enjoyable times I've spent with people at the airport didn't have all that much to do with flying. Rather, those times involved conversation, a cold drink, and a sort of bonding experience.
The couch is an integral part of that experience. Perhaps that's why I have one and use it so frequently.
It seems I'm not alone in this belief. When I posted a picture of my couch with a comment on the Aircraft Owners and Pilots Association Flying Club Network's Facebook page, it wasn't long before others were posting photos of their own hangar furniture.
Chuck Kohlermann popped up a shot of his seating arrangement, which makes great use of a couch, two very comfy looking chairs, and a coffee table, all tucked into a corner under the wing of the airplane that takes up the bulk of the hangar space.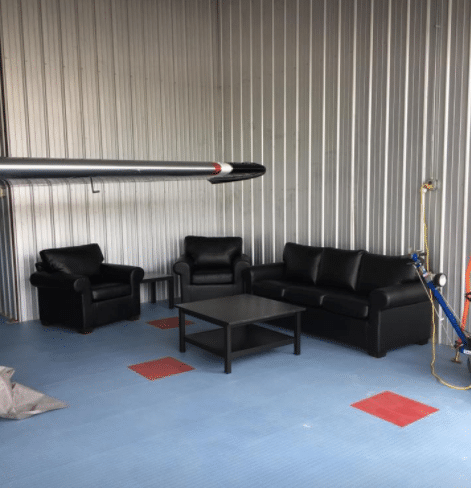 If you're just west of Philadelphia and want to see for yourself, maybe Chuck will have pity on you and extend an invitation.
Up in Kalamazoo, Michigan, Joseph Oram shared a more individualized seating arrangement in a far larger hangar that affords a fine view of the sort of airplane that will give any general aviation aficionado visions of being a fighter pilot.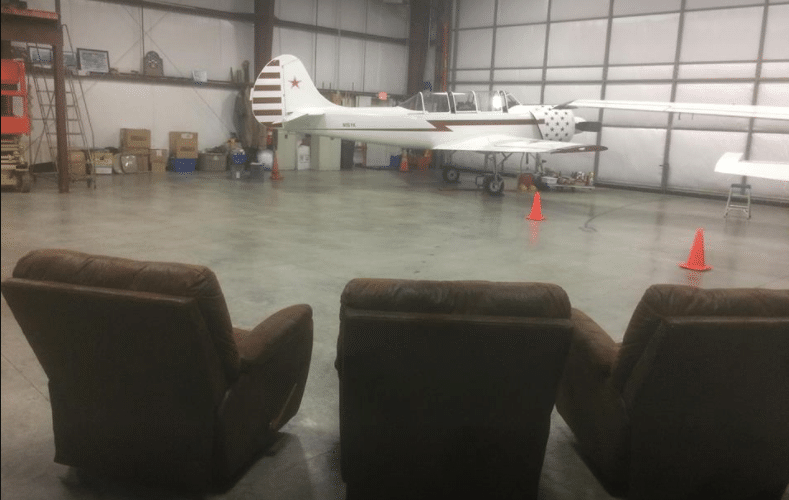 My pals the Gville Flyers up in Gainesville, Florida, were once foolish enough to allow me to wander into their hangar unsupervised, which gave me the opportunity to capture their hangar based relaxation center for posterity.
I'm somewhat ashamed to admit their setup is nicer than my own living room at home, but then they only house a single airplane in their hangar.
I, on the other hand, shelter four dogs, three cats, and two daughters in my house. I never had a chance.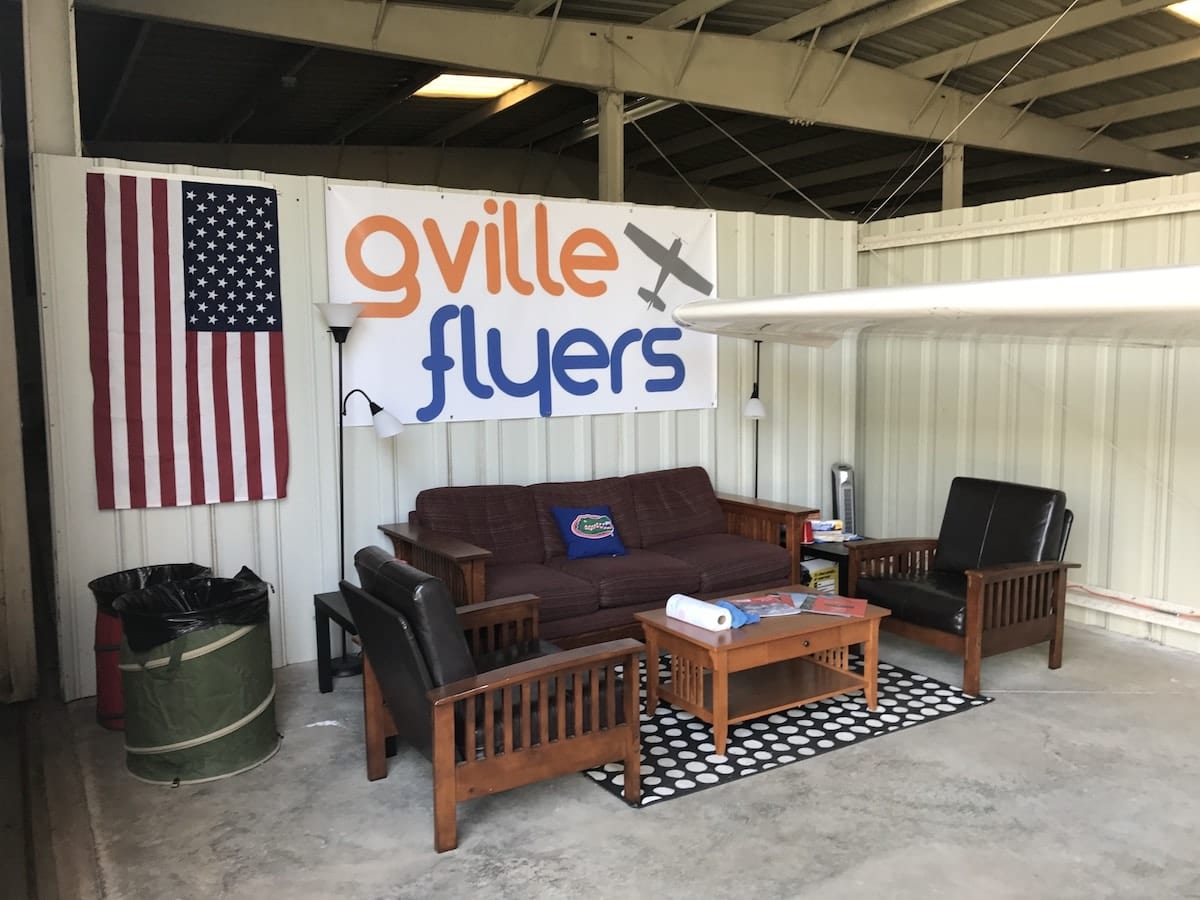 So why, you may ask, is this guy so interested in furniture? Well, I'll tell you.
In my experience there is a lot of idle time to be spent at the airport. At least, if you do it right there is.
Many a foggy morning has given me the opportunity to sit on that red leather couch waiting for the ceiling to rise and the visibility to improve. There have been rainy days when I've spent a scheduled flight time chatting with a student or a pilot who came out for a flight review only to find the weather below minimums.
So we talk. We grab a cup of coffee — because the flying club hangar next to mine has a coffee maker in it, and another couch, and I like coffee.
As you may have guessed, I occasionally welcome a non-pilot to the hangar, too.
On that last point, I often assure those non-pilots that we won't be going flying when they visit. In fact, I guarantee that we're not going flying. There's not even the slightest risk of us leaving the ground. It's just not going to happen.
That assurance is sometimes enough to get a nervous but curious non-pilot down to the airport where they can see the sights and get a feel for what general aviation really is.
Often, it's not at all what they thought it would be. It's more friendly, it's inviting, and there are remarkably few wild-eyed cowboys preparing to do something stupid.
Perhaps most important of all, they find out that a visit to the airport doesn't require the constant application of hearing protection. Nothing happens quickly. There's nothing to be scared of, yet there is plenty to be drawn to. It's a fascinating place populated at any one time by a relatively small but seriously interesting group of people.
You see, those newbies almost never want to come down to go flying right away. They come down to find out if their fears are too big to overcome.
Thanks to the couch, the coffee maker, and maybe a diminutive refrigerator filled with cold drinks, they find the airport isn't at all what they thought it would be.
Over a friendly chat on a rock solid piece of furniture that doesn't present the slightest risk of becoming airborne, I find the new faces at the airport start to get curious. They ask a lot of really good questions and in the end they find themselves saying something to the effect of, "So we could go flying, if I wanted to?"
The answer to that question is the clincher. "Yes," I say. "Let's wait for a really nice morning when the wind is calm and the air is still. We'll pick a day when you can really enjoy yourself, and then we'll go." And we do.
Who knew something as simple and ordinary as a couch in the hangar could have such a profound effect?
I mean, other than Joseph and Chuck and myself. And the guys who belong to Gville Flyers.
And you, maybe.