The art and science of aerial firefighting is at once simple and not so simple.
The concept is easy: Use aircraft to release water or fire retardant liquid on or next to wildfires for suppression.
The application has evolved. In 1937, the U.S. Forest Service experimented with 10-gallon tins filled with fire extinguishing chemicals that were dropped from aircraft. Upon impact, a membrane in the tins ruptured, mixing and spilling the fire-quenching chemicals. The test results were less than satisfying.
After World War II, Forest Service and Air Force crews tried using large aircraft drop tanks filled with water, released from a B-29 Superfortress and a P-47 Thunderbolt. Still no go.
By 1954, tests of a TBM Avenger torpedo bomber modified by Hollywood pilot Paul Mantz showed the way toward installing liquid tanks in aircraft bomb bays, allowing the fluid to free-fall to earth instead of arriving in a tin or a tank.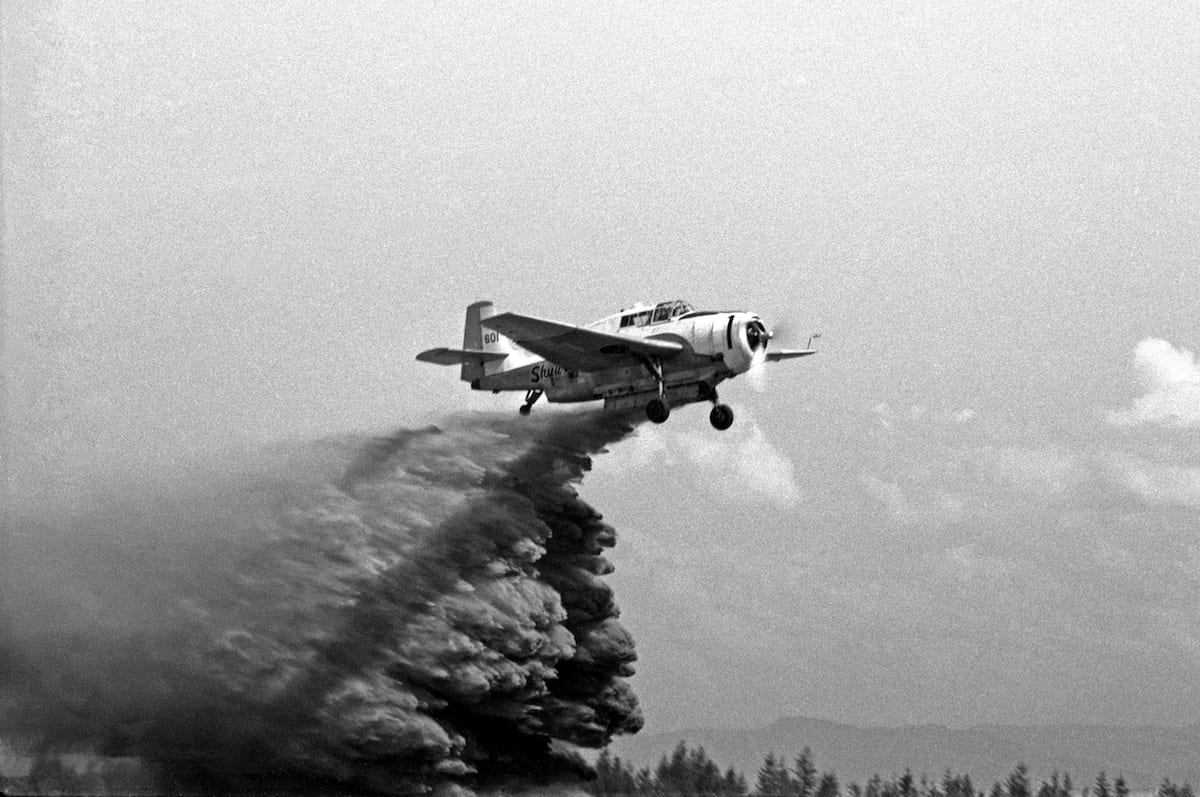 The last half of the 1950s saw the development and deployment of a variety of air tankers, mostly surplus World War II bombers.
Water has obvious immediate effects on a wildfire and adjacent vegetation, but water also evaporates or runs off quickly. Testers worked with a variety of thickeners to make the water cling to vegetation and provide longer-lasting fire protection.
An early emulsion that used borate gave air tankers an alliterative name that outlasted its efficacy as a fire retardant. For many years, air tankers were often called "borate bombers."
But borate was supplanted with everything from bentonite clay to a kelp derivative to a phosphate-based slurry that replaced it in common use.
A typical deployment of air tankers would have the bombers drop their liquid near the fire's path to inhibit the spread of the flames, rather than directly on the burning debris, which could propel embers forward with the considerable force of the fire retardant.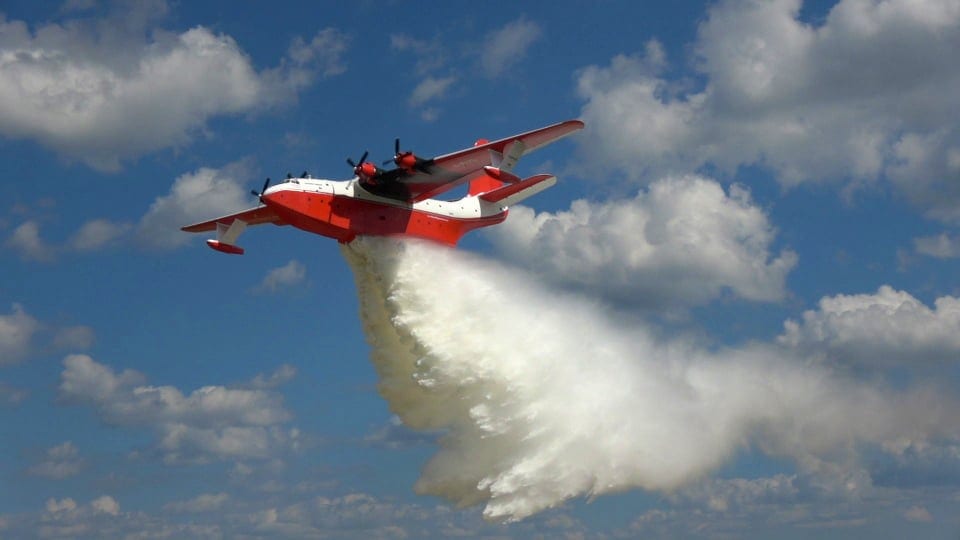 For many years, air tankers operated with loads in the 1,000- to 3,000-gallon range, notable exceptions being two huge Martin Mars seaplanes in Canada that could tank 7,000 gallons scooped from the water's surface by the giant flying boats in motion.
The aging of the American air tanker fleet was apparent, as devoted air tanker operators strove to keep their vintage machines airworthy. As the 21st Century began, the old bombers were retiring as newer aircraft — including jet airliners and turbine-powered crop dusters — took their place.
If some of the agplane air tankers had optimum drop heights of 80′ above ground level, many others dropped at altitudes between 150′ and more than 300′. The goal was to achieve vertical motion of the retardant by the time it reached the ground to preclude forward movement of debris, and to more gently soak the intended ground and vegetation beneath the fire bomber's path.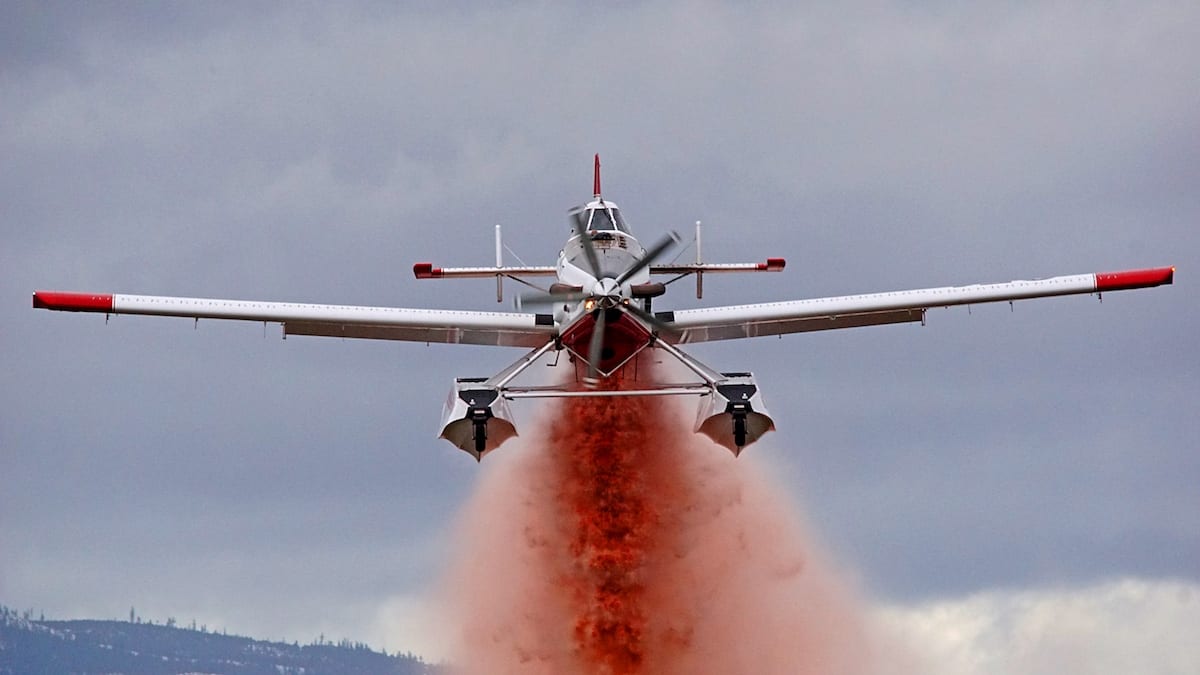 Air Tractor singles found favor at one end of the fixed-wing air tanker spectrum, while surplus jet airliners as large as the Boeing 747, Douglas DC-10, and MD-87 have entered service in recent years.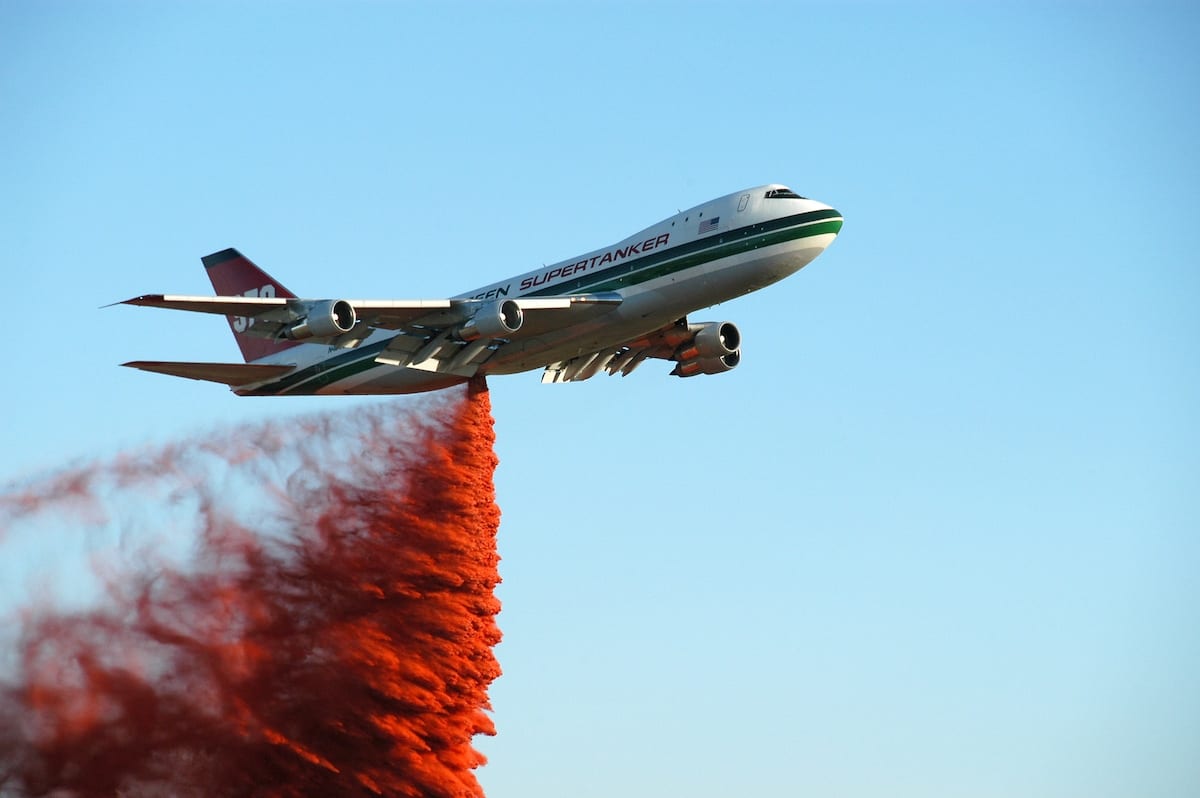 Air tankers typically are most effective for initial attack duties, before ground crews can arrive and cut fire lines.
Just as wildfire management rationale has evolved over the decades, so have the aircraft used to fight fires.
More Air Tanker Photos