FAA rebates are quickly being claimed by general aviation owners equipping their aircraft with Automatic Dependent Surveillance-Broadcast avionics.
A month after the FAA relaunched its $500 rebate program, 1,438 rebates have been taken from a total of 9,792 available through Oct. 11, 2019, as long as supplies last. According to FAA officials, 30 to 40 rebates are claimed on an average day.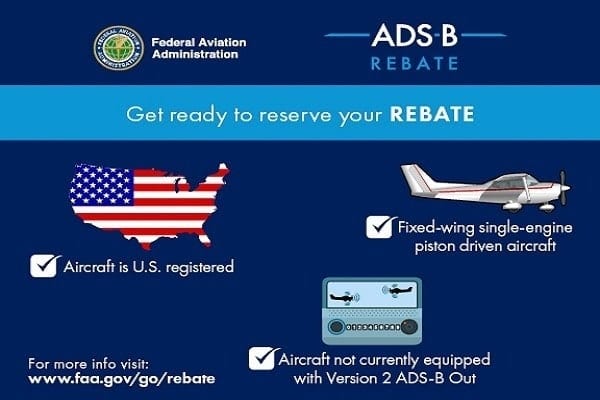 The FAA relaunched the program to encourage owners of fixed-wing, single-engine piston aircraft to equip with ADS-B Out avionics, which will be required in certain, controlled airspace beginning Jan. 1, 2020, which is less than 14 months from now.
Aircraft owners need to follow five steps to receive the $500 rebate:
Purchase the equipment and schedule its installation.
Obtain a Rebate Reservation Code by reserving a position online.
Have the equipment installed.
Conduct the required equipment performance validation and get an Incentive Code.
Claim the $500 rebate online using the Rebate Reservation Code and Incentive Code.
As with the earlier rebate program, the relaunched rebate program is available only to those who have not yet equipped their aircraft.
In addition to the ADS-B Rebate reservation portal, the FAA's Equip ADS-B website lists FAA-certified ADS-B equipment and features an equipage database searchable by aircraft type and model.