Based on a review of my elementary school report cards and personal interviews with family members and lifelong friends, a uniformly accepted message becomes painfully clear. I could use some guidance.
From the age of nine until we moved to the sticks a few years later, I frequently rode the city bus. My usual trek took me from the suburbs on the East side of the Connecticut River into the not quite bustling capital city. Hartford is not famed for its excitement or rapid pace, but it was the home of a classic old-style YMCA where I was an enthusiastic member of the swimming and diving teams.
Returning home from a day out was always a terror. Not for me. For my mother. You see, when the bus door opened at my stop, I had the unfortunate habit of rushing down the steps, out the door, and doing a quick U-turn to run across the street. The same street that was filled with cars moving at normal speed. Nobody stops for a city bus and I was all go in those days. No waiting for me.
Amazingly enough, this almost always worked out. There was no tragedy. Sure, there were a few close calls, but somehow I always made it across the street unharmed.
This held true until that time when a gang of neighborhood kids were riding our bikes. And by "gang" I mean more than three but less than five kids. Some of the specifics escape me, because while my fellow riders stopped at the intersection across the street from my house, I continued on as usual. I have a vivid memory of rolling merrily across the pavement on my Schwinn, only a few dozen feet from my own driveway on a beautiful summer day.
My next memory involves waking up in the hospital as a doctor was sewing closed a large gash above my eye. He appeared to be miles away, while his hand zoomed in to fill my entire field of vision with each new stitch. It was like viewing the world in a huge convex mirror.
A concussion and a plethora of stitches was my reward for going it alone.
My downfall came at the bumper of a car. The driver apparently stopped, walked up to my front door, knocked, and addressed my mother when she answered.
"Do you have a little boy?" he asked. "Blonde, about this tall?"
"Yes, I do," she answered.
"Is that him lying in the street?" That is when my poor mom's attention shifted to my unconscious body, bleeding from a head wound.
My mother laughs when she tells that story now. Her reaction was different back then. Way different.
Clearly, I need some hand-holding. Someone to guide me through the perils of life. To help me make good decisions. To point out potential conflicts and keep me away from places I would be best to avoid.
Thankfully, I became a pilot where such a service is available 24/7. You know it as VFR Flight Following. I use it as a standard practice. Pretty much anytime I'm going over the horizon in an airplane, I'm taking ATC with me.
It's just a flat-out good idea.
Not long ago I ferried a Cessna 152 from West Houston Airport in East Texas to my home field in Winter Haven, Florida. This journey of approximately 800 nautical miles starts with a departure from the non-towered West Houston Airport, followed by a quick turn to the east and the task of threading a path through the most complex Bravo airspace I've ever encountered. Two large airports constitute the heart of this airspace. George Bush Intercontinental lies to the North, and Houston Hobby to the South.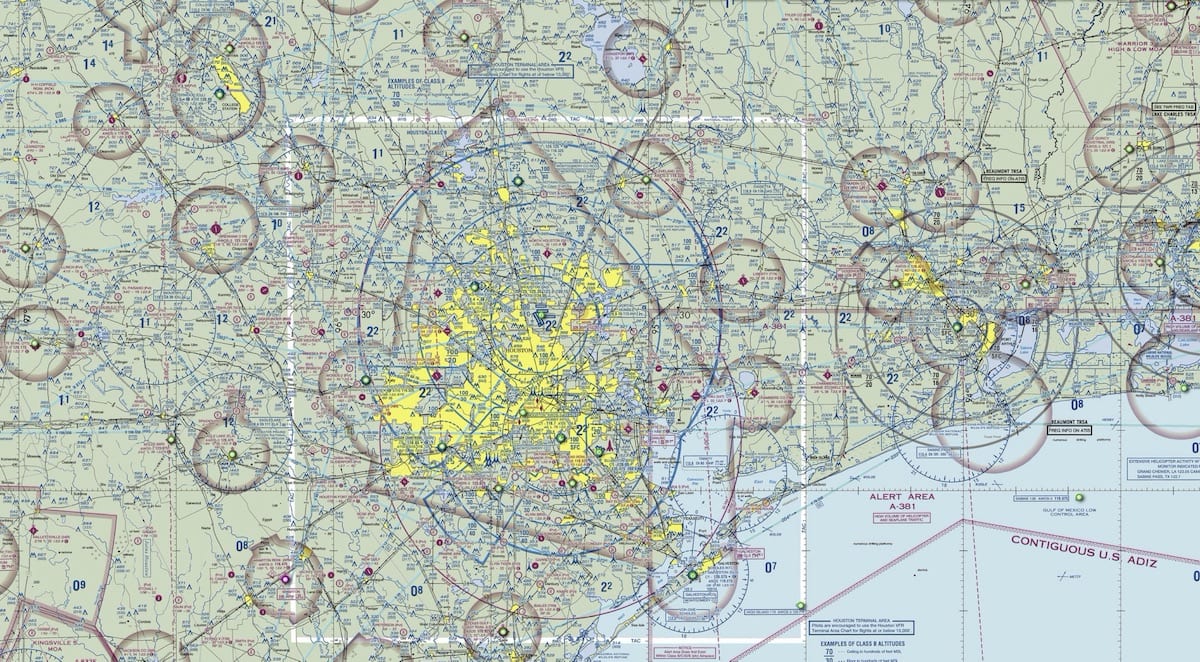 I suppose it is theoretically possible to navigate the airspace without talking to anyone on the radio, but I'm lazy by nature. Why would I put myself under that kind of stress and strain when I can simply dial in a frequency, wait my turn, then ask for someone at ATC to hold my hand and guide me through this mass of blue lines and altitude restrictions listed on the sectional chart?
It is with enthusiastic appreciation I find that not just one Air Traffic Controller comes to my aid, but a whole team jumps into the game to assist me. They hand me off as necessary from one to the next, always taking the time to give me the information I need to make the transition seamlessly. They point out traffic I may not have seen with the naked eye. They provide altitude and heading information I can put to immediate use.
They essentially take the place of my dear old mother, making sure I get across the street or the continent with a minimum of fuss and bother. Thank goodness for the fine folks at ATC and the amazingly easy to use VFR Flight Following.
Just yesterday I made a much shorter flight. Just 124 nautical miles out, then the same back again. Or, it could be 145 nautical miles each way. The distance and my time in the air was all predicated on whether or not a certain Restricted Area was hot or cold. Is it in use or dormant? Only ATC knows for sure, so I ask, and they stick with me throughout the whole flight.
What's not to love?
I was flying from a non-towered field to a non-towered field, remaining in Golf and Echo airspace the whole way. There's no requirement that I talk to anyone. But by dialing in Orlando Departure, Miami Center, and Palm Beach Approach as each hands me off to the next, my entire flight becomes easier, safer, and more enjoyable.
Yeah, it's true. Even at this advanced age I could use some hand-holding. Thank goodness that level of personalized service isn't just available to me, it's actually encouraged.
And so, my adventures in the air and on the ground continue. I hope yours will, too.