In the last two weeks, the number of airparks in the Living With Your Plane directory has jumped from 674 to 687. No, 13 airparks didn't just materialize.
I become aware of them as a result of my last column, which is really all it takes. I've heard from a number of people seeking to both update existing information in our database and add previously unknown information to our database.
It's the epitome of "together we know much more than any one of us does alone."
One of the more unique airparks now on my radar is Flying Little River Airpark (FL10) in McAlpin, Florida. The airpark has two turf runways. That fact alone doesn't make it unique as a number of airparks have multiple runways.
In the case of FL10, there is no way to taxi from one runway to the other.
Both runways are turf. The north-south runway is 3,375 feet, while the east-west runway is 2,668 feet. They are separated by the Little River. The original idea was to build a bridge over the Little River. Alas, the powers that be declined to permit such a bridge.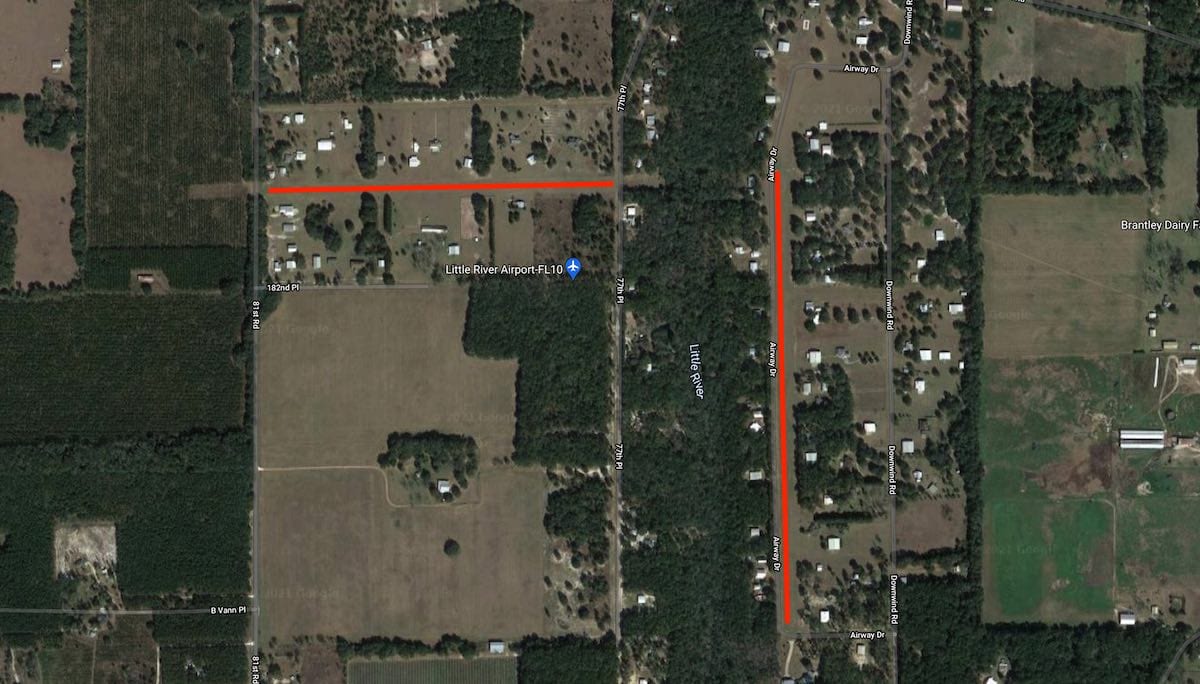 I heard about Flying Little River from resident John Cutrer. I asked about operations, as the runway set-up is not typical.
"We announce takeoffs and landings from either runway. The north /south runway is lighted and we are supposed to turn the lights on for takeoff or landing on either runway as notification," says John. "The east/west side takes off to the west if possible."
McAlpin, in Suwannee County, is rural. As the airport's FAQ page states, "This is the 'Old Florida,' the slower paced, more respectful, laid back, rural Florida."
Thanks for the note John. I'm happy to add FL10 and a dozen other airports to our airpark directory. And if you don't find your airpark or one you know about on our list, give me a call at 800-426-8538 x2 or email me at ben@generalaviationnews.com.
One fewer airport, soon
As I was finishing this column I took a call from a gentleman with the sound of resignation in his voice. He was calling to cancel his airport's subscription to General Aviation News. He will soon be closing the airport.
A prolonged legal battle with his neighbor culminated in a Meigs Field-type middle of the night action. His neighbor erected — under cover of darkness — a 10-foot-tall fence on the property line, immediately off the end of the runway.
"I'm done," the caller told me. "But I do believe in karma."
I'm purposely NOT sharing the caller's name and location because he didn't want to share his story with me. My only purpose in mentioning his sad tale is to remind us how precious airports are — as if aviators need that reminder.
This airport was rural. A turf strip outside of a small town. I can't image the daily activity was excessive.
But a sour relationship with a neighbor is oftentimes all it takes to create headwinds beyond an airport's ability to overcome.