Many years ago, when I was a wee lad, my dad would sometimes allow me to tag along when he motored down to the gas station. Those were in the days of full-service gas stations, which may be why we didn't call them gas stations. We called them service stations. Because they literally serviced every aspect of the automobile.
Our car announced our arrival as we pulled up to the pumps. It was automatic. A black pneumatic hose that stretched across the pump lanes reacted to the pressure of our tires rolling over it. Ding, ding went a bell inside the garage. The Francis brothers, twins who owned and operated the station we visited most often, would scurry out to the pumps to fuel the car. They checked the oil. They washed the windshield. They asked if there was anything else my dad needed. Tires? A front-end alignment? A tune-up maybe?
All those trips to the service station might have given a lad the impression they knew how those various services were performed. But that wasn't true. Nope. It wasn't true at all. Fueling a vehicle for the first time isn't nearly as easy as it might appear.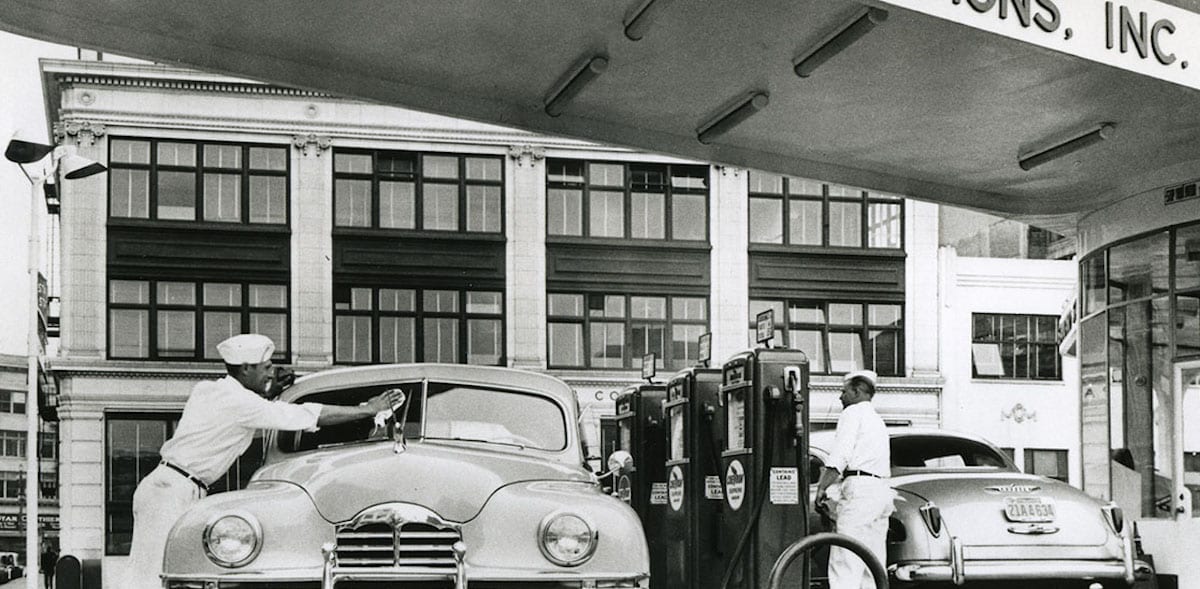 In the old days it seems to have been something of a personal challenge for automotive designers to find ways to hide the fuel filler on the cars they dreamed up. It might be found behind a sleek coverplate on the fender, or it might be laying in wait behind the license plate. In a few cases you had to know the location of a secret button that would allow a tail-light to pivot out of position, revealing the filler cap. Or maybe you owned an early VW Bug. In those little beetles the fuel tank was in the trunk, and so was the opening to fill it. 
And don't even get me started on where to put the oil. As a mechanic I have seen the unfortunate results of owners who didn't know the difference between motor oil, transmission fluid, and the light blue liquid used to wash the windshield. Yet even in the depths of their ignorance, they still persevered in putting whatever liquid they had access to into whichever opening seemed appropriate, to the desperate detriment of their car's functionality.
I share this trip down memory lane with you because of a story my buddy Eric related the other day. Eric is a CFI. He's a good CFI. I've enjoyed flying with him immensely. Yet for all his experience and talent, Eric related the tale of a younger version of himself stopping in at a new destination on a student pilot cross-country flight, and realizing he needed additional fuel to make the trip home.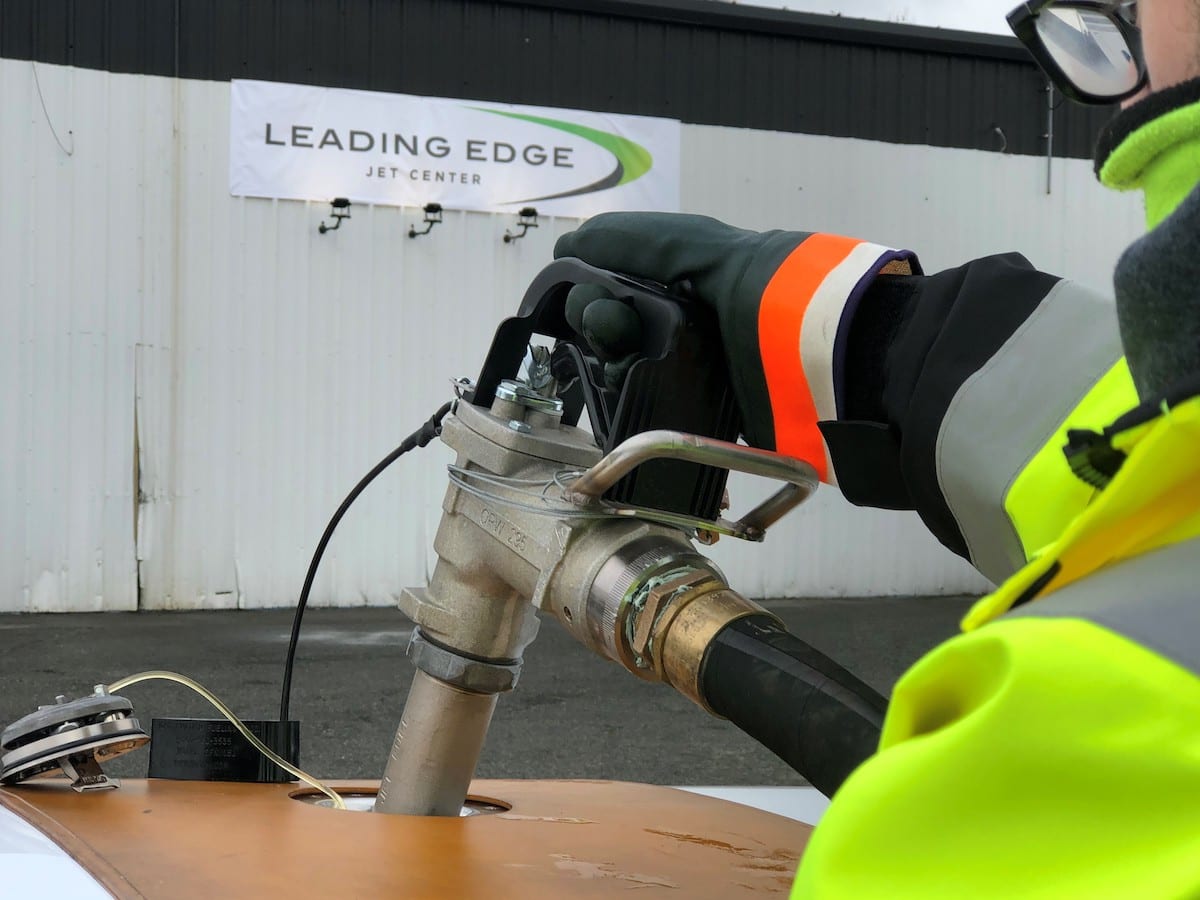 If he was at a towered airport with an FBO or two on the field, that wouldn't have been a problem. However, he wasn't at a towered field with an FBO or two to choose from. He was at a non-towered field where his only option was a self-serve fuel farm. Having never pumped his own fuel before, this presented a bit of an issue. It's a question many a flight student might find themselves asking — how do you fuel an airplane?
This is not an idle question. I learned to fly many years ago, but almost all my instruction took place at towered fields. This was well before the ubiquitous establishment of self-serve fueling stations at non-towered airports, as well as many towered airports.
The first time I landed at an unfamiliar field to discover my only fueling option involved the do-it-yourself method, I was as confused as Eric would be when his time came.
Confusion is not a good feeling. It's especially troublesome when encountered in an aeronautical setting.
Today, in the calm of my little office, surrounded by a plethora of comforting knick-knacks and various collectables, I have the time and the curiosity to investigate how this lack of insight might come to pass with pilots like Eric and myself. So, I go to the Airman Certification Standards (ACS) which is arguably the most important publication any CFI or student pilot should count among their library of reference materials. It's the book most flight training is tailored to.
For all its value, I think something is missing.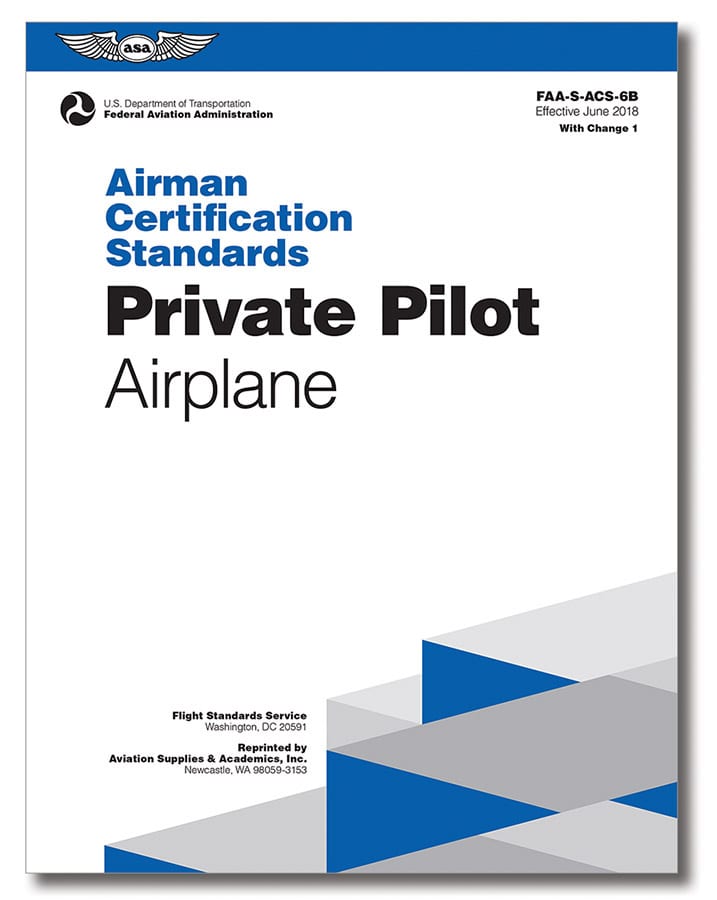 The ACS expects a pilot applicant to know about the fuel requirements for their aircraft, what the reserve fuel requirements are, and proper fuel planning for any flight. It wants the applicant to be able to recalculate fuel reserves on the fly should some unforeseen event require them to deviation to a new destination.
But the ACS doesn't say a word about how you actually get fuel from the pump into the airplane. Also missing from the text is any reference as to how one might pay for that fuel purchase.
The lack of instruction on how to do something that is an absolute requirement for flight in powered aircraft is an oversight that should probably be addressed. Maybe not in the ACS, but certainly by every CFI working with any student, toward the acquisition of any certificate or rating.
Thankfully, the information Eric and I could have benefitted from is available in text and video format these days. Now, you don't have to roll up all confused and looking idiotic like we did. The Aircraft Owners and Pilots Association (AOPA) has an excellent primer on how to pump self-serve fuel, written by the late, immensely talented Mike Collins.
For those of a more video oriented bent, my buddy Paul Duty has created an outstanding video for Gleim Publications that walks the viewer through every aspect of the purchase and pumping process.
With all that said, allow me to add in one tip that might make your experience more pleasant. When you taxi up to the self-serve pumps, don't pull nose in to the pumps. It's far better to roll up alongside the pumps, with one wingtip or the other pointed at the fueling station. Trust me on this. Someday you'll encounter someone who ignores this advice and it will become immediately apparent why it's a move you want to avoid, always, everywhere.