If all goes according to plan, I'll be launching off on another 800 nautical mile adventure this week. This time around I'll be headed to the mid-Atlantic states, ferrying that adorable little Cessna 152 I picked up in Texas a while back. In total that's roughly 1,600 nautical miles from where I started out with this particular machine.
"So what," you might say.
Airplanes fly from continent to continent on a daily basis. They fly legs thousands of miles long over and over again. What's the big deal?
Frankly, the big deal is that you can make a similar trip as easily as I can. Safely and enjoyably. Even an inexpensive, diminutive trainer like the C-152, or a PA28-140, or an antique like the Piper Cub can travel long distances at low altitude, providing an amazing view of the countryside below. They can do it on a budget, too.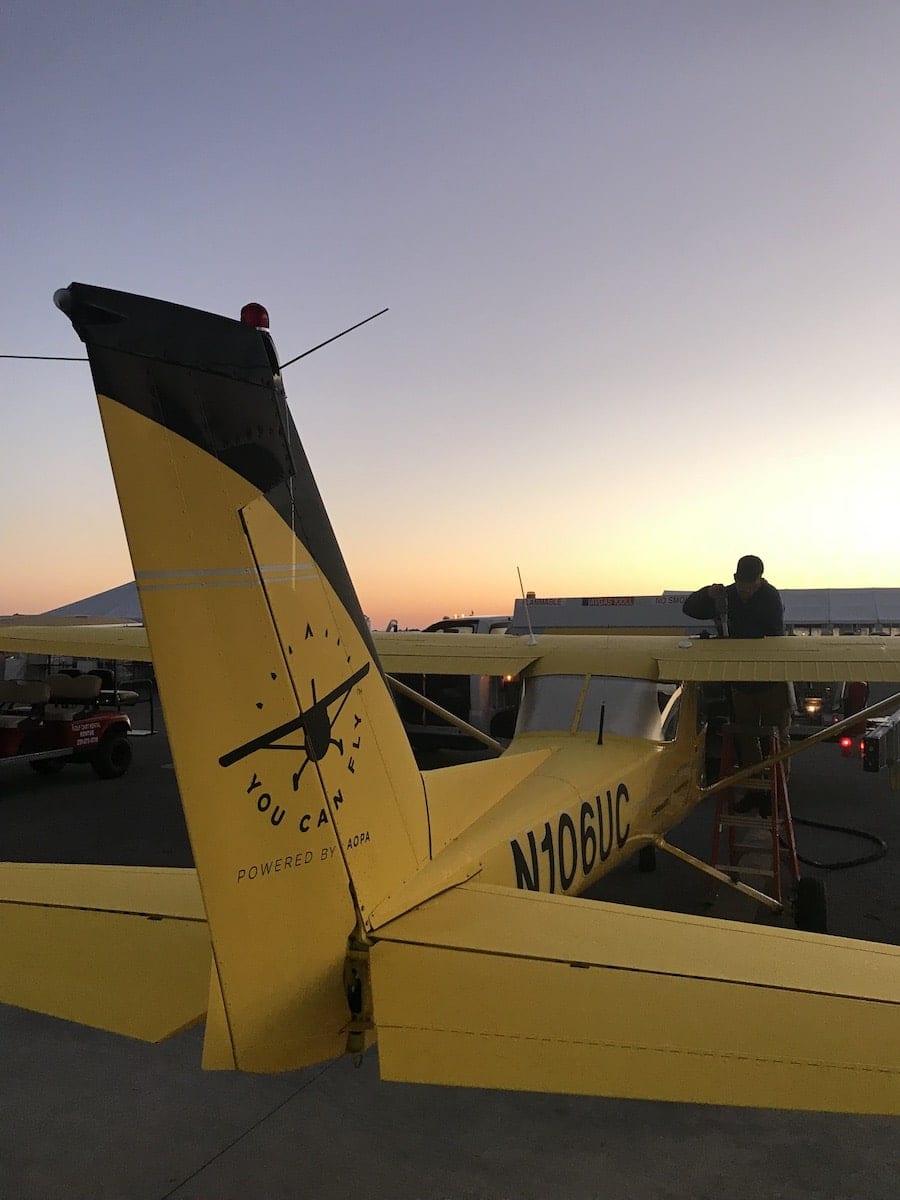 The question isn't can the airplane make it or can you or I take that leap to be a long-distance traveler by air. The question is are we willing to make the thousands of little decisions that have to be made along the way to make the trip safely?
That's the case for any flight, really — as it is for any significant aspiration in life. Are we willing to flesh out a bold plan, consider the risks, put together a viable strategy that could lead to success, and recognize that nothing ever really works out exactly how we hoped it would?
Here are just a few of the considerations I'll be focusing on while I get underway.
Weather
I've found no greater joy than cruising along the beach. From 1,000 feet or less on a crystal-clear morning, my view of the world just couldn't get any better as the sun rises off my wing. On the other hand, I can find myself in the same place with a far less serene attitude should storm clouds be building along my route or if fog is forming below me in the early morning.
I watch the weather like a hawk, with the heart of the most nervous of mice. When it comes to weather, I am a coward. Especially when flying a basic airplane designed for short training flights, not long cross-country adventure. Sure, it can serve both purposes equally well, but only if the individual at the controls treats the machine with the respect it deserves and makes decisions that are likely to lead to a fortuitous outcome.
Recklessness is not an attitude that works out well in the long run.
Maintenance
Over the course of my flying career I've never been a stickler for perfection. I don't actually think perfection exists in nature, so I don't seek it.
But I do have a hard and fast set of expectations that I adhere to with great determination. I take the walk around inspection seriously. While I've performed that particular task a thousand times (literally) I still inspect every fastener for a safety wire, cotter pin, or a properly installed self-locking nut. The brake pads and discs get sufficient attention to assure they'll work as advertised. The fuel gauges are of dubious reliability, so I personally remove the fuel caps, evaluate my fuel load, and verify I'm carrying good, clean fuel of the proper type.
I also avoid a messy cockpit filled with things I don't need. A Go-Box sits in the baggage compartment filled with oil, a funnel, clean rags, and cleaning solutions. I carry a set of chocks with me on most trips, and tie-downs when appropriate. But if it's not a practical tool or supply that will help me get to my destination safely, it stays in the hangar. There's no need to carry more weight than necessary across the country.
Routing
The trip I'm planning to take may stretch 800 nautical miles from A to Z, but my fuel supply and bladder capacity are of much shorter duration. The C-152 I flew previously had long-range tanks that allowed me to fly legs of 400 nautical miles or more. The current ride has standard tanks that limit me to legs of no more than half that distance.
Yes, the book says I can fly farther. Basic math suggest I can stretch each leg by maybe as much as 100 miles.
But math can be tricky. It doesn't consider the pucker factor that comes along when your fuel gauges are bumping on the bottom peg and the airport of intended landing just closed because the airplane ahead of you collapsed its nose gear and is stuck on the runway. Yeah, I've had that experience. It's not a happy one. So, I plan for a considerable fuel reserve that will allow me to wander far and wide if I feel the need.
I also plan for fuel stops that actually have accessible fuel and a place to stay if I need to stop for the night. If I can't get the fuel out of their tank and into mine, the number of gallons they have on hand is a moot point. Similarly, I've slept in the rough before. I'd prefer not to do that again. Not at this age, anyway. So I plan accordingly.
Time
My intention is to make this flight over the course of two days. But I launch off accepting the fact that it will take as long as it takes.
The calendar and the clock are not motivating factors in my planning. If the weather changes for the worse, I'm perfectly happy to hunker down for a few days until the situation improves. If a maintenance issue pops up that gives me concern, I'll get that issue corrected before I push on. Should I eat at a restaurant that leaves me with a grumbly belly or find myself unable to sleep because of the party going on in the room next door I'm not above taking a biological break to get some rest and fly when I'm healthy.
There are other considerations, of course. And you may have a few of your own that are worth passing on to others. Leave yours in the comments section, if you will. The lessons you've learned might be the exact information some other reader will benefit from.
Onward!