Coradine Aviation has released the second major update of 2021 for LogTen, a pilot logbook for iPhone, iPad, and Mac. This release includes an industry first: LogTen Widgets, according to company officials.
Pilots can now monitor vital information directly from their home screens on iOS devices. Upcoming flights, currencies, limits, and certificates, as well as any custom information are available at a glance.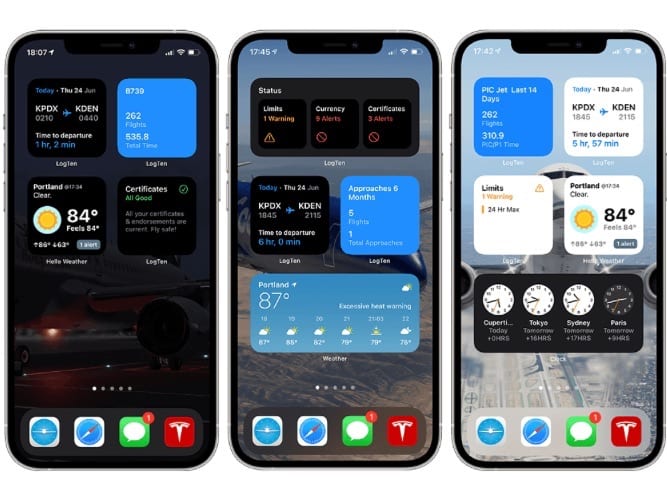 "This is a fantastic time-saving feature for pilots and adds an extra layer of safety," said Noah Lieberman, founder and CEO at Coradine. "Pilots can quickly and easily keep an eye on the essential information they need without even opening LogTen: How long until my next flight, am I current, am I within duty limits, and do I have any certificates expiring. Not to mention being able to display their own custom smart groups to show things like PIC time in the last 90 days."
This release also includes a time-saving feature for airline pilots using LogTen for Mac, he noted. Pilots can now have LogTen automatically estimate their duty times based on scheduled flights. Pilots import their schedule, or choose a selection of flights, apply Auto-Duty, and LogTen will predict duty periods and automatically add approximate Duty and FDP times.
This release also includes other improvements like updates to the Places and Types database, newly formatted Jeppesen Professional European Logbook Report, FAR117 upgrades, and more than 130 other improvements, company officials said.
LogTen for iPhone, iPad, and LogTen for Mac is available with a free trial in the Apple App Stores.