Backcountry airfields are valuable resources for everything from outdoor adventures to serving agencies and organizations that protect the environment, according to officials with Daher, who say they are continuing their support of remote airstrips with the recent deliveries of defibrillators across the state of Idaho.
In coordination with the Backcountry Aviation Defibrillator Project, Daher provided two Kodiak 100s, along with pilots, fuel, and logistics assistance, to deploy the automated external defibrillators (AEDs) at four airstrips, with one of these AED units sponsored by Daher.
The defibrillators were delivered to Cavanaugh Bay Airport (66S) in northern Idaho, not far from Daher's Kodiak production site at Sandpoint; to Big Creek Airport (U60) and Johnson Creek Airport (3U2) in the state's central portion; and to Smiley Creek Airport (U87) in south-central Idaho.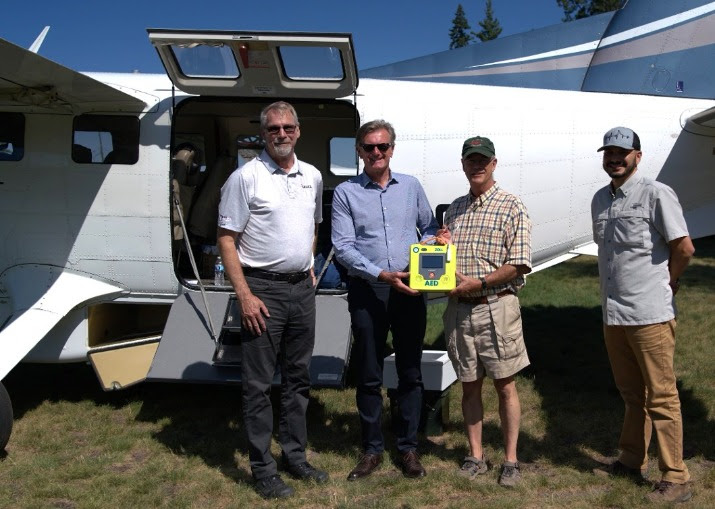 "At Daher, our philosophy is: 'We support those who care for aviation,' and the Backcountry Aviation Defibrillator Project flights are a continuation of this commitment," said Nicolas Chabbert, senior vice president of Daher's Aircraft Division and CEO of Kodiak Aircraft, who piloted one of the defibrillator delivery missions.
Chabbert said this month's flights are a complement to Daher's ongoing support of the Recreational Aviation Foundation, for which it recently used a Kodiak to airlift U.S. Forest Service personnel and equipment into two isolated grass strips in the mountains of southeastern Idaho.
"The Idaho Aviation Association is exceptionally grateful for Daher's generosity and support of our mission to install these lifesaving defibrillators in Idaho's remote backcountry airstrips," said Sam Perez, the Backcountry Aviation Defibrillator Project's organizer. "We could not have done so without the help of Daher and our many donors who helped pay for defibrillator units. Now, aviators and general aviation enthusiasts who use these remote airstrips will have a fighting chance should a cardiovascular event occur."
According to technical advisor Sam Sandifer, the project's goal is to position AEDs at high-traffic remote airstrips by deploying ZOLL 3 units that communicate via Wi-Fi to display their operational status. In the future, the defibrillators are expected to broadcast their availability and status using flight planning applications, officials noted.
AEDs are acquired through donations to The Gem State Aviation Fund, a non-profit that promotes aviation-related charitable and educational activities, primarily within the state of Idaho.
In addition to the Daher-sponsored defibrillator that was installed at Cavanaugh Bay, the other AEDs were donated by Lynn and Shirley McCullough (owners of a Daher TBM 910) at Big Creek; Dr. Jon Berman (at Smiley Creek); and Rick Bosshardt (at Johnson Creek).
For more information: BackcountryDefib.wordpress.com, Kodiak.aero