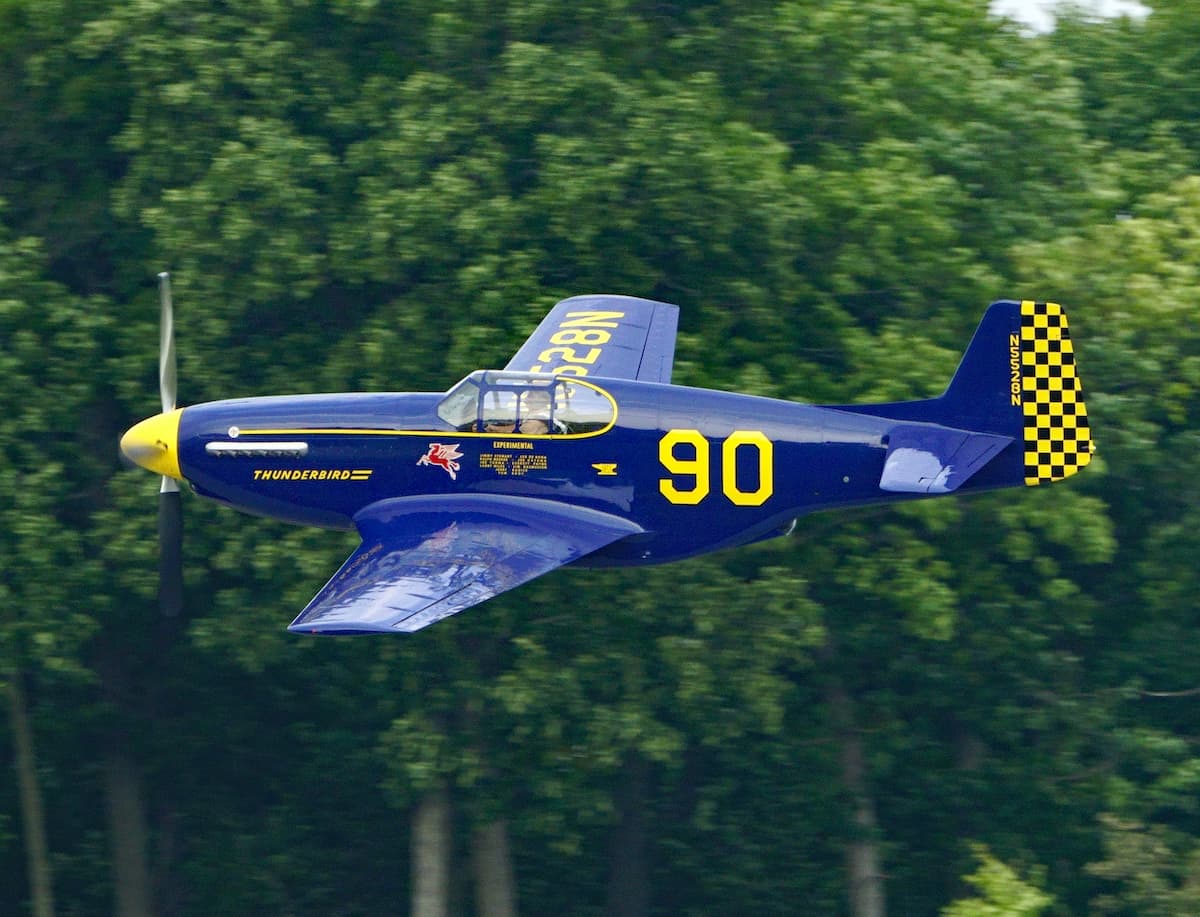 Take a beloved actor from the Golden Age of Hollywood, add a favorite fighter covered in accolades from World War II and converted to an air racer, and the result is a story that sounds like it should become a Technicolor blockbuster coming to a theater near you.
Only this story is flying to an air show near you — if you're lucky.
The P-51C Mustang called "Thunderbird" emerged at EAA AirVenture Oshkosh 2023 in paint so fresh some said they could still smell it drying.
Thunderbird, Race Number 90, was entered in the Bendix trophy race after World War II by owner Jimmy Stewart, with Joe De Bona flying to victory in 1949 at a record-setting 470 miles per hour.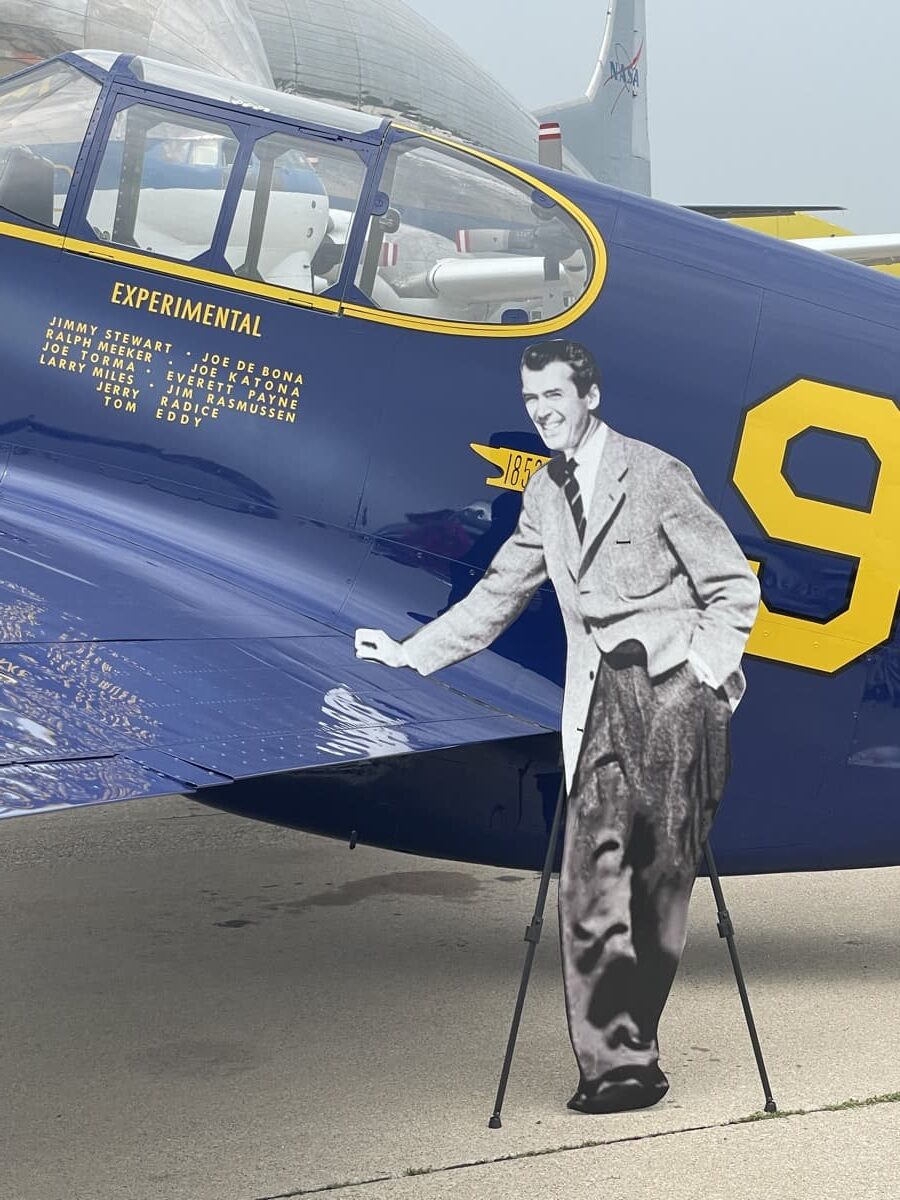 The Bendix race was a cross-country event envisioned in the 1930s to stimulate the design of better, faster, safer aircraft. For the 1949 race, aircraft launched from Rosamond Lake, a dry lakebed near Muroc Air Force Base in California's Mojave Desert, and ended in Cleveland, Ohio.
Jimmy Stewart's association with aviation included a tour of dangerous B-24 Liberator bombing missions as a pilot in World War II, followed by the post-war bloom of his movie career in everything from westerns, to Hitchcock suspense, to flying films like Strategic Air Command, The Spirit of St. Louis, and Flight of the Phoenix.
Carrying civil registration number N5528N, Thunderbird ownership passed back and forth between Jimmy Stewart, Jacqueline Cochran, and Joe De Bona over a period of several years. Cochran set some records with Thunderbird in 1949.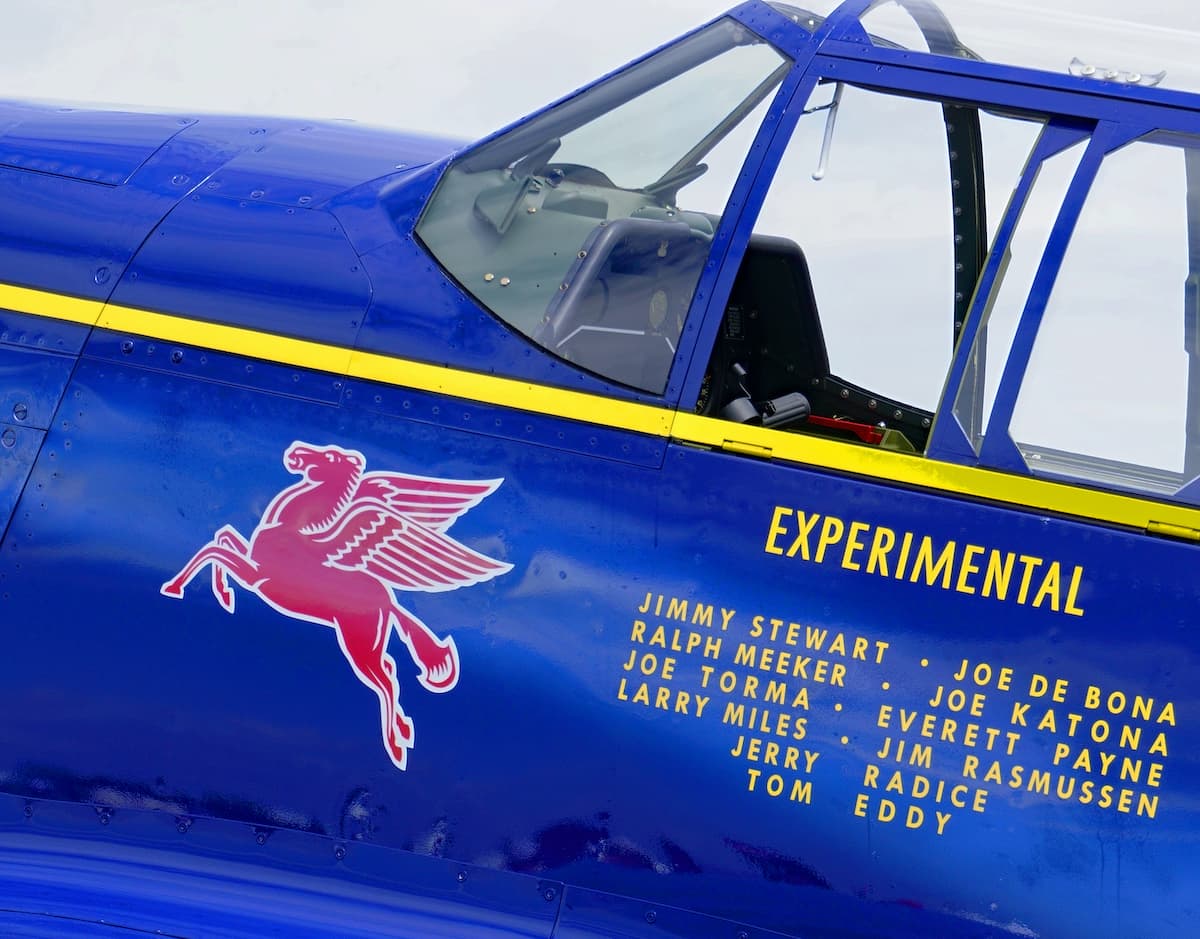 The slicked-up Mustang had one more moment in the sun in June 1953, following the coronation of Queen Elizabeth II. American television networks needed film coverage quickly, so the reels were flown across the Atlantic to Newfoundland where De Bona, flying N5528N, raced the footage into the U.S. as did one of Paul Mantz's Mustangs.
From being a racer with Hollywood cachet, Thunderbird was sold by De Bona to Texas flier James Cook in March 1955. Cook was engaged in hail suppression flights over Nebraska, using the by-now repainted Mustang to chemically seed clouds with silver iodide.
On June 22 of that year, Cook was aboard the Mustang with a dilemma — one main gear had retracted, the other remained extended.
With a heavy load of fuel, including the fuselage tank behind him, Cook elected to bail out of the Mustang when all efforts failed to get the stuck gear to extend. The P-51 came to earth northeast of Morrill, in western Nebraska, and was described as "smashed beyond recognition" in a contemporary news account.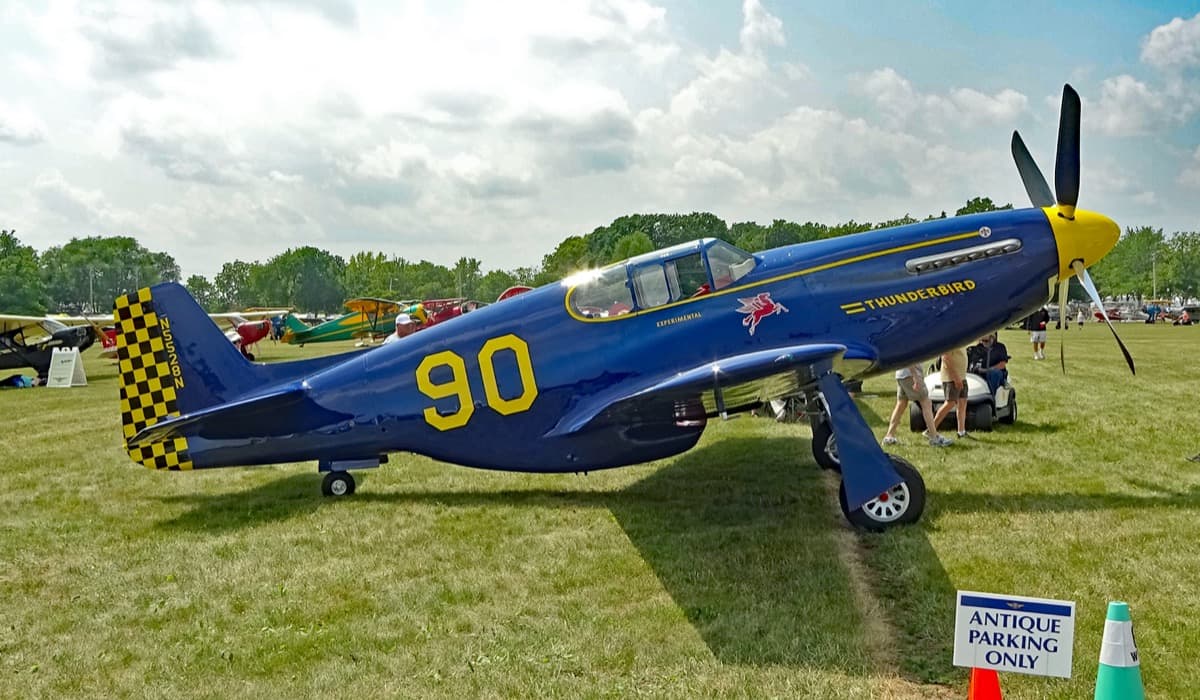 That might have been it for Jimmy Stewart's P-51. But famed North Dakota warbird pilot Warren Pietsch followed a lead on some Mustang parts that turned out to be salvage from that aircraft.
With sufficient identification to claim it as Stewart's airplane for FAA purposes, Pietsch enlisted the warbird restoration team at Aircorps Aviation in Bemidji, Minnesota, to make Thunderbird come back to life in all its Bendix air racing glory.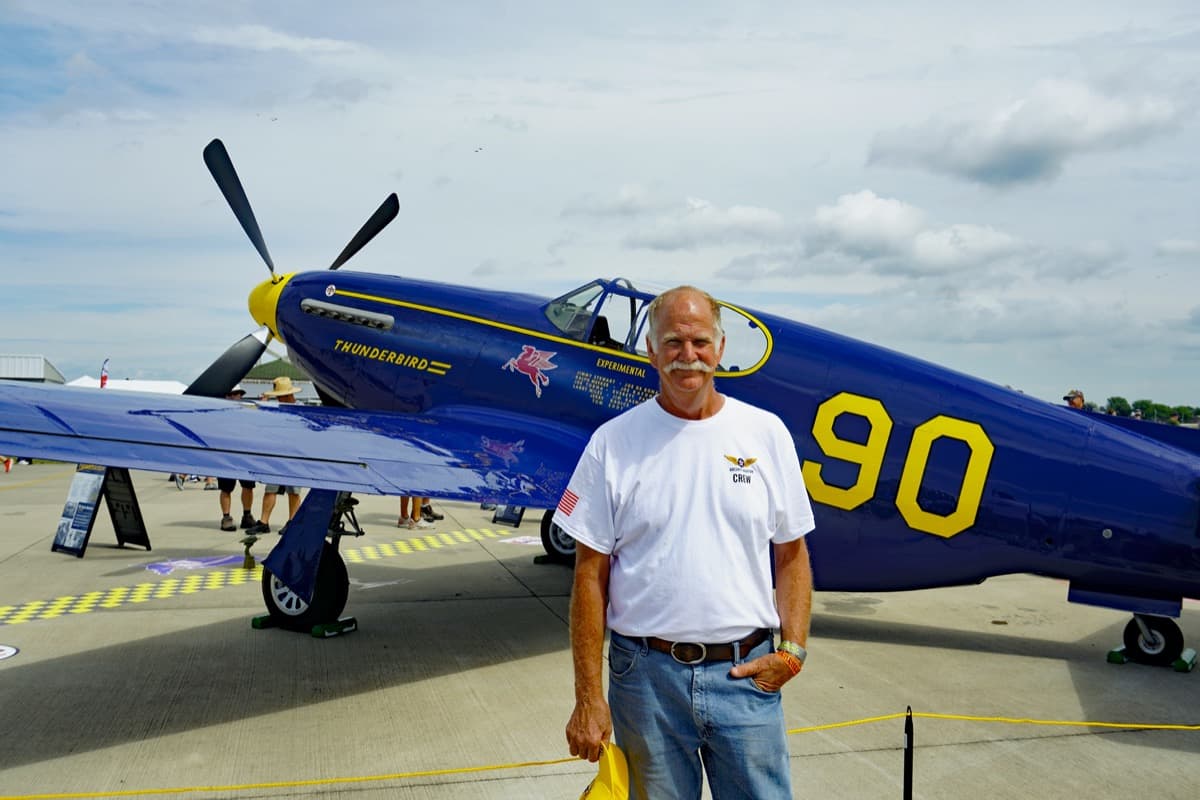 There is a vital and magic alchemy in modern aircraft restorations that replaces missing and worn-out old materials with new. The former curator of the National Museum of the U.S. Air Force, Jack Hilliard, was fond of characterizing restorations by saying "We have the original ax George Washington used to chop down the cherry tree, only the handle's been replaced and the head is a replica."
With custom shops manufacturing nearly all P-51 Mustang assemblies from scratch, the reborn Thunderbird uses a new-build fuselage from the North Dakota business of the late Gerry Beck, mated to a wing also built in North Dakota by Bob Odegaard's company.
Warren Pietsch allows that a fair amount of original P-51 parts are in this rebuild, but not much from the actual Thunderbird wreckage.
And true to N5528N's original setup as an air racer, the reborn Thunderbird shuns a lot of military equipment.
This airplane's very light, says Pietsch, who also flies the Dakota Territory Air Museum's combat-authentic P-51C in full-up wartime gear.
"Thunderbird is 10% lighter, and it shows in its handling characteristics," he says.
Pietsch credits Roy Kieffer's Custom Aircraft Refinishing in Casselton, North Dakota, with the glass-smooth finish on Thunderbird.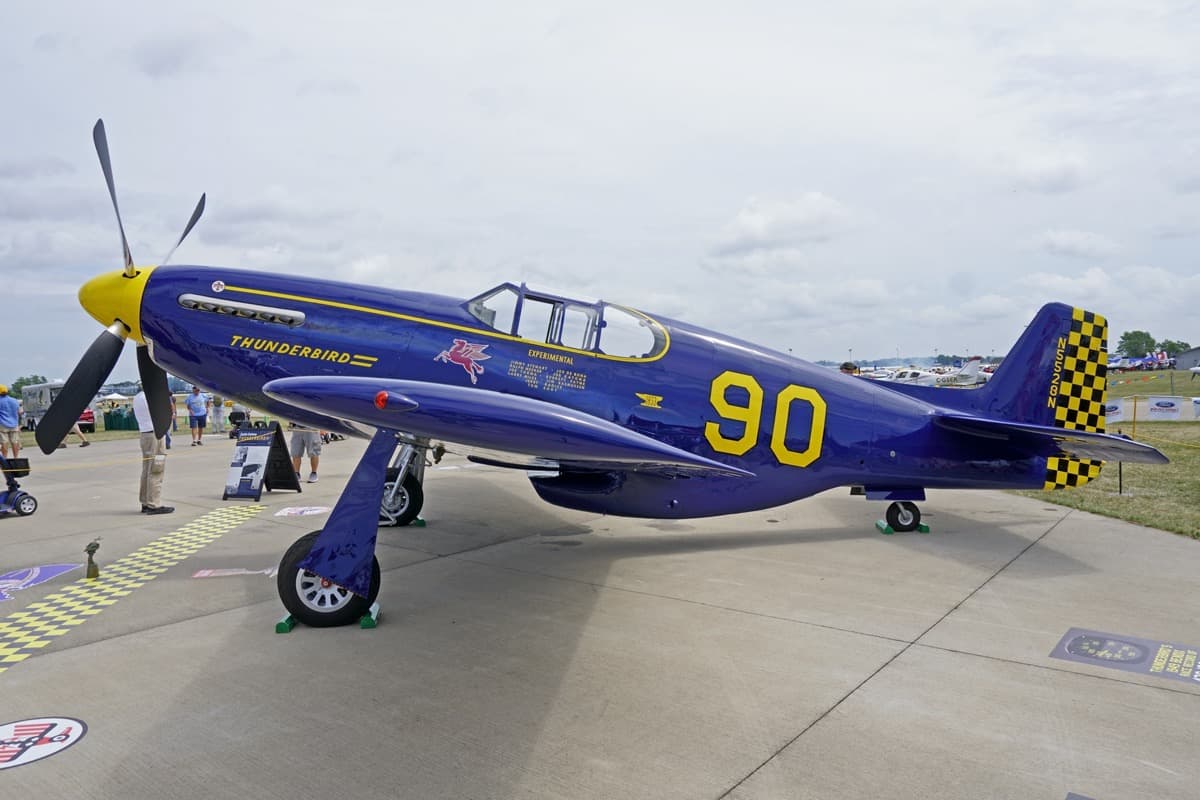 The evolution of the warbird reconstruction and restoration movement includes acknowledgment of warbirds whose chief claim to fame is in the civil aviation arena, like the gloriously beautiful post-war Thunderbird. If judging the masterful reincarnation of Thunderbird at AirVenture was difficult to categorize, the airplane was acknowledged with a "Keep 'em Flying Award" in the Warbird category.
It's a wonderful life for this Mustang, now ensconced in the Dakota Territory Air Museum in Minot, North Dakota.