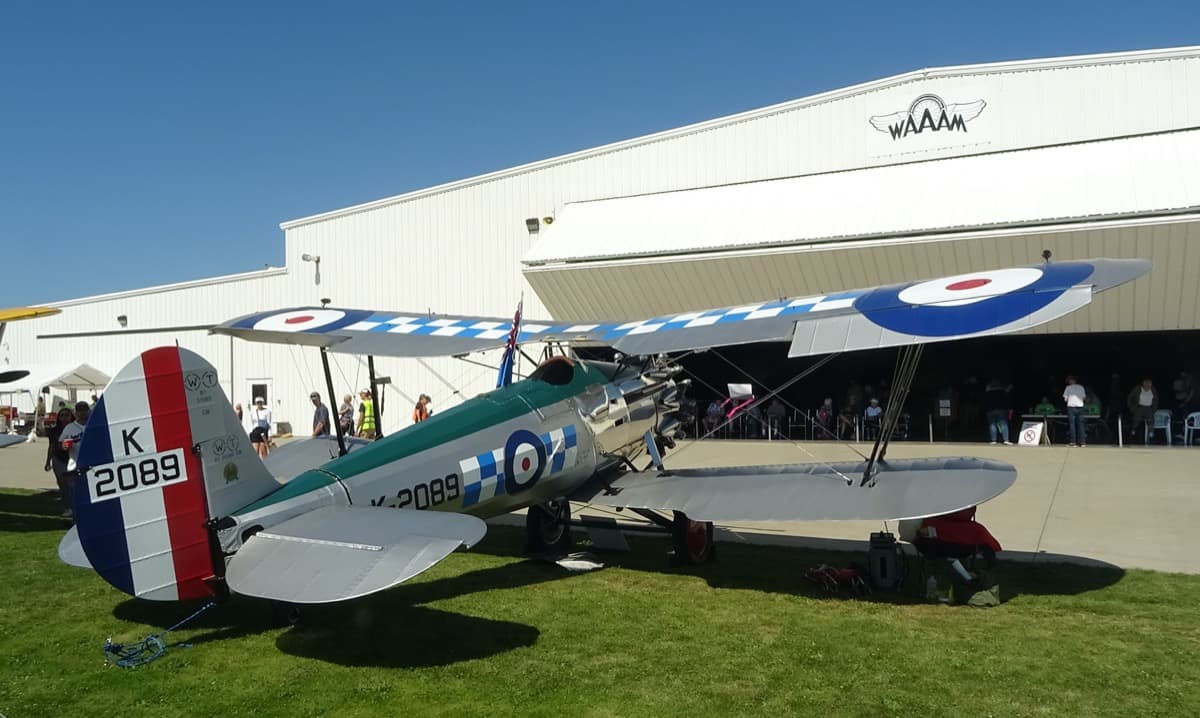 Visitors to the recent Western Antique Aeroplane and Automobile Museum fly-in at Hood River, Oregon, did a double-take when they discovered a pre-war Bristol Bulldog biplane fighter, looking fresh off a Royal Air Force flying field, glinting in the Oregon sun.
Only two of these biplanes, in Royal Air Force service from 1929 to 1937, are said to exist and both are in Europe.
What greeted people at Hood River was Ed Storo's passionate and skillfully inventive full-scale replica of a Bulldog, looking every bit the prewar machine that divided World War I airframes from the fighters of World War II.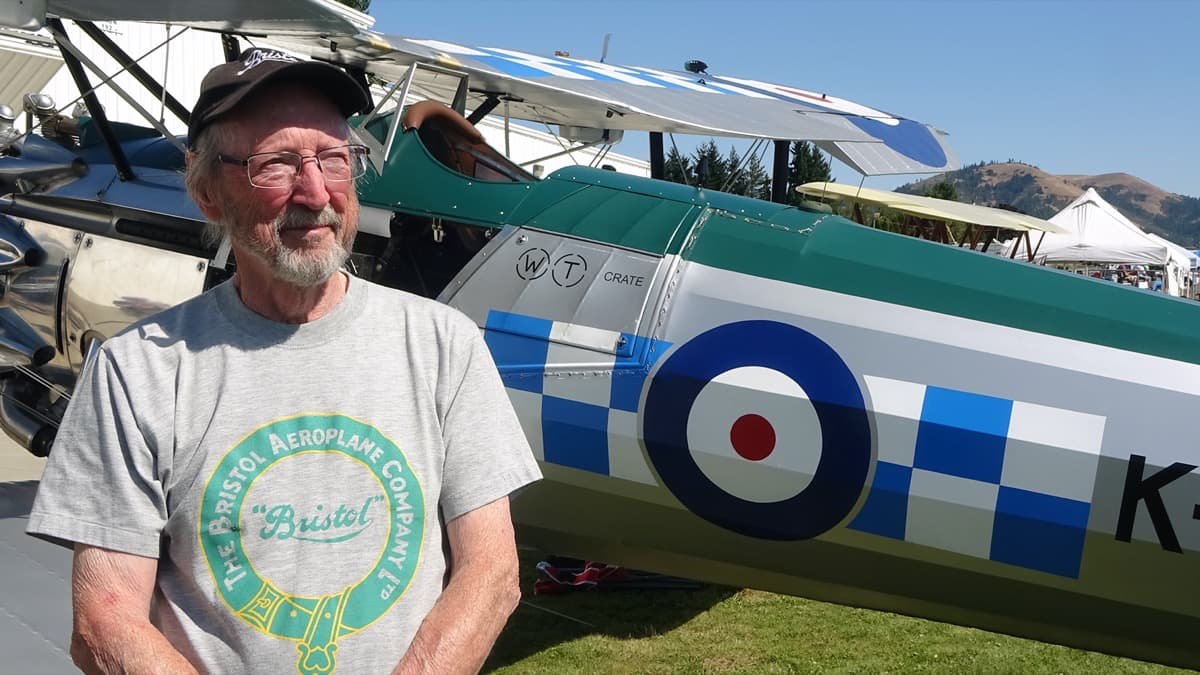 Storo is quick to admit British aircraft designs can be so ugly they are beautiful. His paean to the Bristol Bulldog embraces all of the interwar construction techniques, including laced fabric panels on the fuselage and cockpit clutter that looks like a marriage of steam gauges and steampunk.
Ed has a thing for old British fighters. He sized up the Bulldog, and launched the project figuring on rolling it out 10 years later. He now says he was "being very naive" since his creation took two decades to reach fruition in 2022.
Homebuilders and restorers work in the classic airframe construction materials of the 1920s and 1930s all the time — why not turn those skills toward replicating a 90-year-old metal-and-fabric fighter?
Ed says his Bulldog is as close as possible to the real thing for a reasonable amount of effort. Some quirky cross section steel assemblies under the aft fuselage fabric he replaced with regularly available steel tubing, and he substituted wooden wing ribs for the built-up steel used in the originals.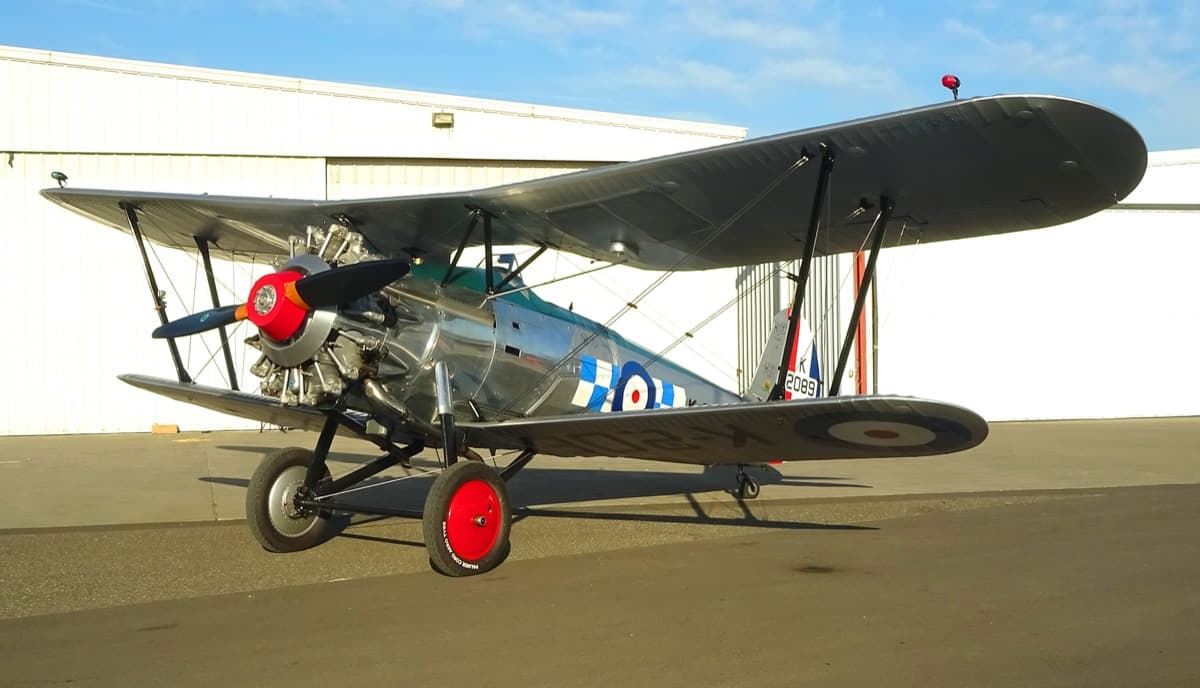 A set of wheels like one would expect to find on a Navy N3N biplane fit the bill for the Bulldog project. The first Bulldogs lacked wheel brakes and used tailskids for operations from large open sod fields. Later, Bulldogs acquired wheel brakes and tailwheels, and this is what Ed uses to make his Bulldog more airport-friendly.
The Bulldog employs about 100 fasteners to attach aluminum fuselage panels, and these are not something as easy as American Dzus fasteners to locate. Ed employed a mix of water jet cutting and subsequent welding to make a run of the fasteners for his Bulldog.
And water jets aren't the only modern construction technique used on this time machine — the teardrop wingtip navigation lights are 3-D printed.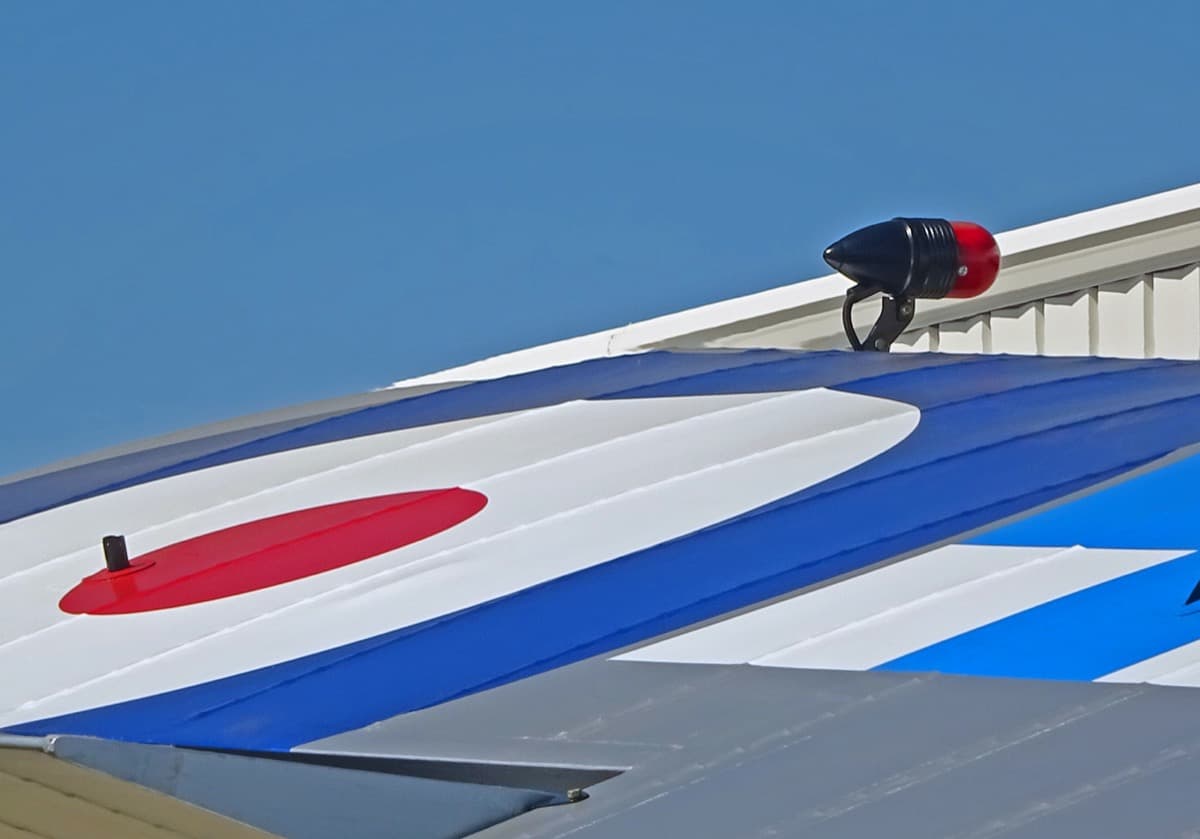 While the cockpit has some appropriate vintage instruments, this Bulldog replica does not include original Bulldog parts in its construction.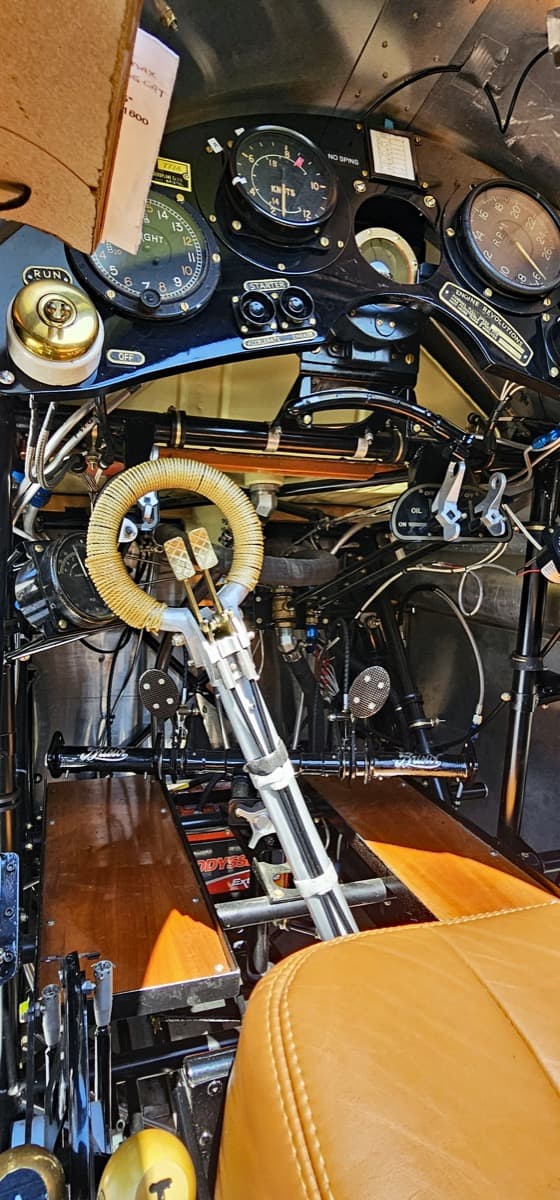 Fabric on original Bulldogs was frayed at the edges, not pinked with shears, so Ed set about hand-fraying the Stits fabric covering his biplane to give it the right look.
With an airframe that defied detection as a replica, when it came time to power his Bulldog, Ed had to get creative. The Bristol Jupiter engine of original Bulldogs was not available. But the doughty Pratt and Whitney R-1340 Wasp engine, a nine-cylinder contemporary of the Jupiter, was built by the thousands and can be had today.
The Wasp turns in the opposite direction of the Jupiter, so Ed needed a carefully carved wooden propeller with a broad spinner hub that looked like a Bulldog prop in mirror image. He said American wooden propeller makers declined to undertake such a project, but a British shop was up to the task.
Wasp and Jupiter exhaust ports are differently designed, but Ed was able to create convincing long exhaust stacks on either side of his Wasp in the style of the Jupiter Bulldog layout.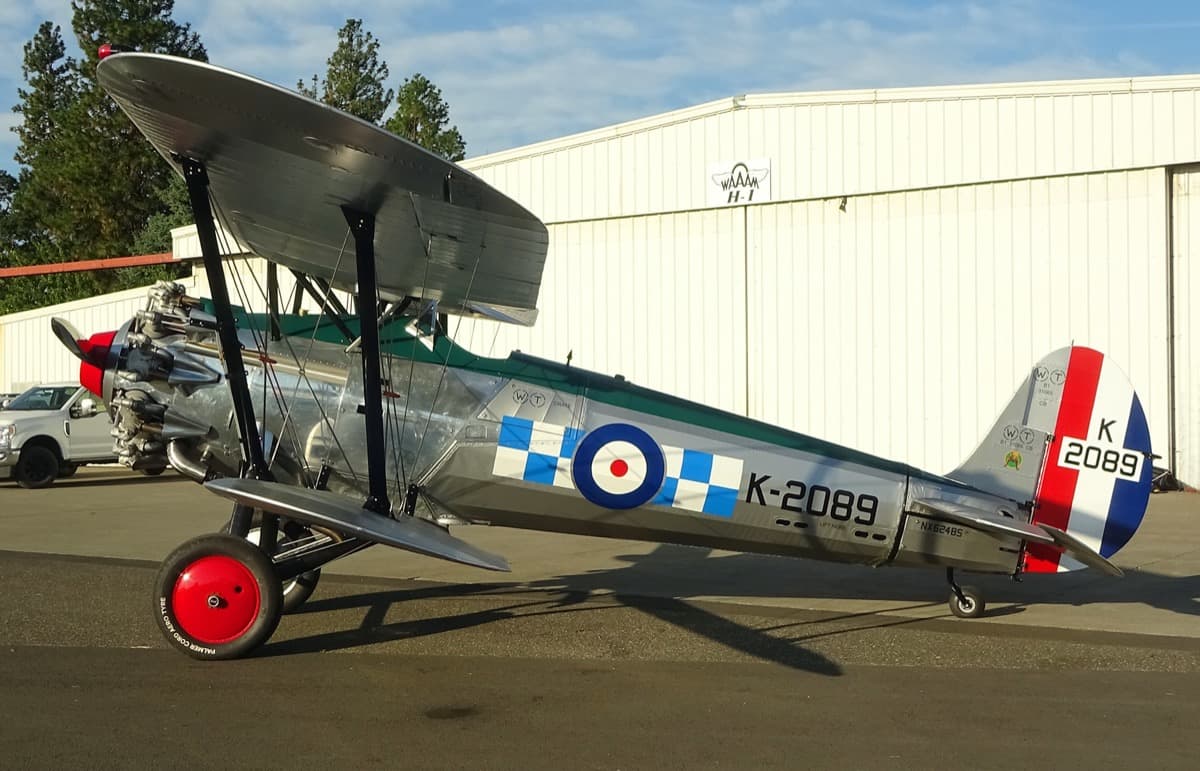 On the original Bulldog, the prop rotation direction presented asymmetrical airflow around the cockpit that Bristol baffled by extending the right side panel of the windscreen. Ed faced the opposite airflow with his Wasp-powered replica, so he crafted his fighter's windscreen in reverse, with the longer side panel on the left.
The Bristol Bulldog has anachronistically steep wing dihedral, which Ed reproduced faithfully. Fighter maneuverability and responsiveness — key assets for this type of warplane — are typically reduced by the need to overcome the stabilizing effects of dihedral, yet Ed says his Bulldog is still sprightly.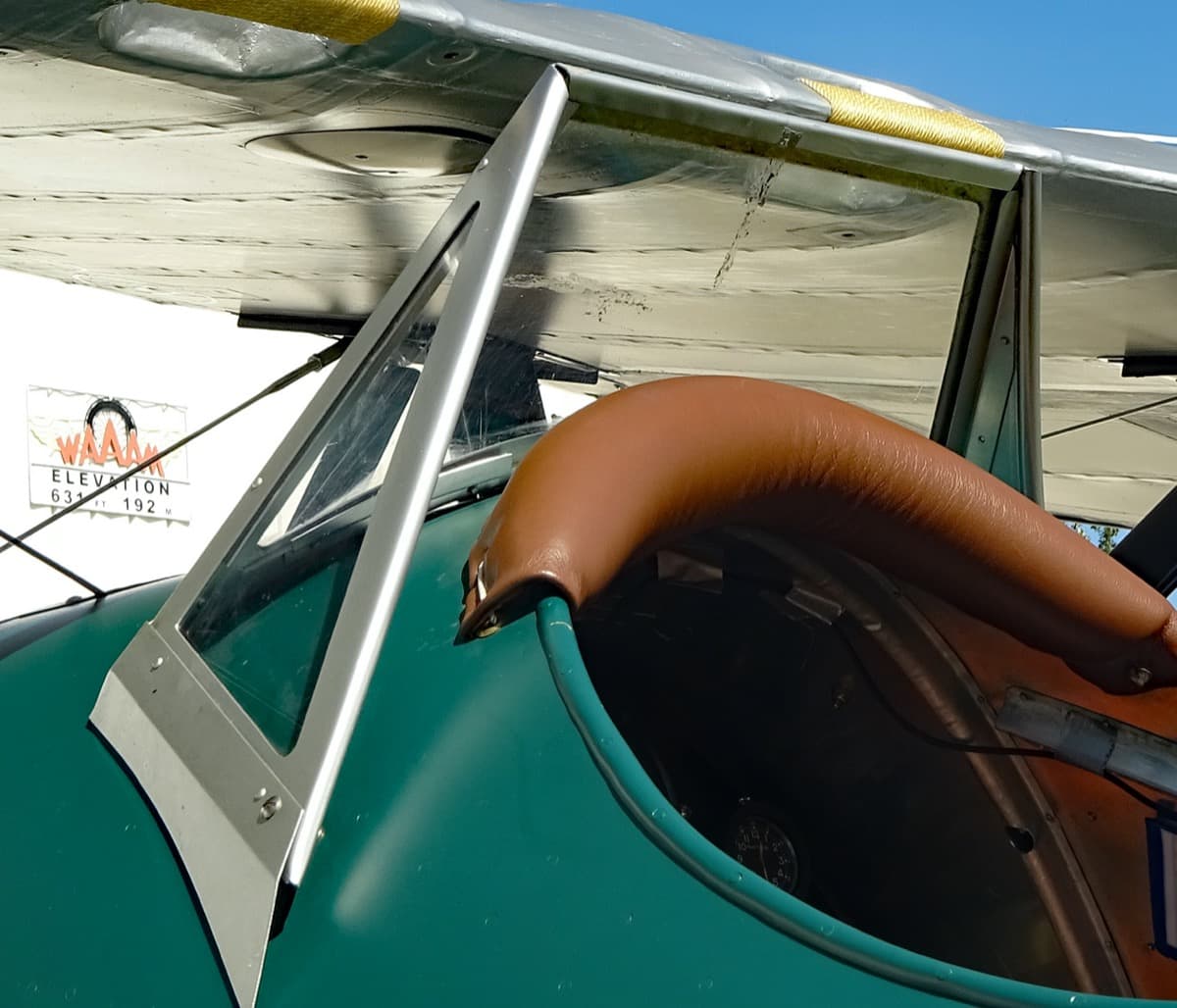 The original Bulldogs were said to top out at around 175 miles per hour. Ed's machine cruises at 115 mph, and he says "I'm not in any hurry to push it."
The replica Bulldog is eager to get airborne, he adds.
"This thing takes off like a bat out of hell," Ed explains, saying he gets airborne "before I can get in trouble."
His first landing was a thrill, he recalls. Figuring on a three-point touchdown, as he was flaring the biplane, the tail quit flying and the resulting bounce convinced him to throttle up for a go-around, followed by a judicious wheel landing.
A pair of fuselage-mounted .303 machine guns armed the Bulldog, and non-firing replicas grace Ed's machine.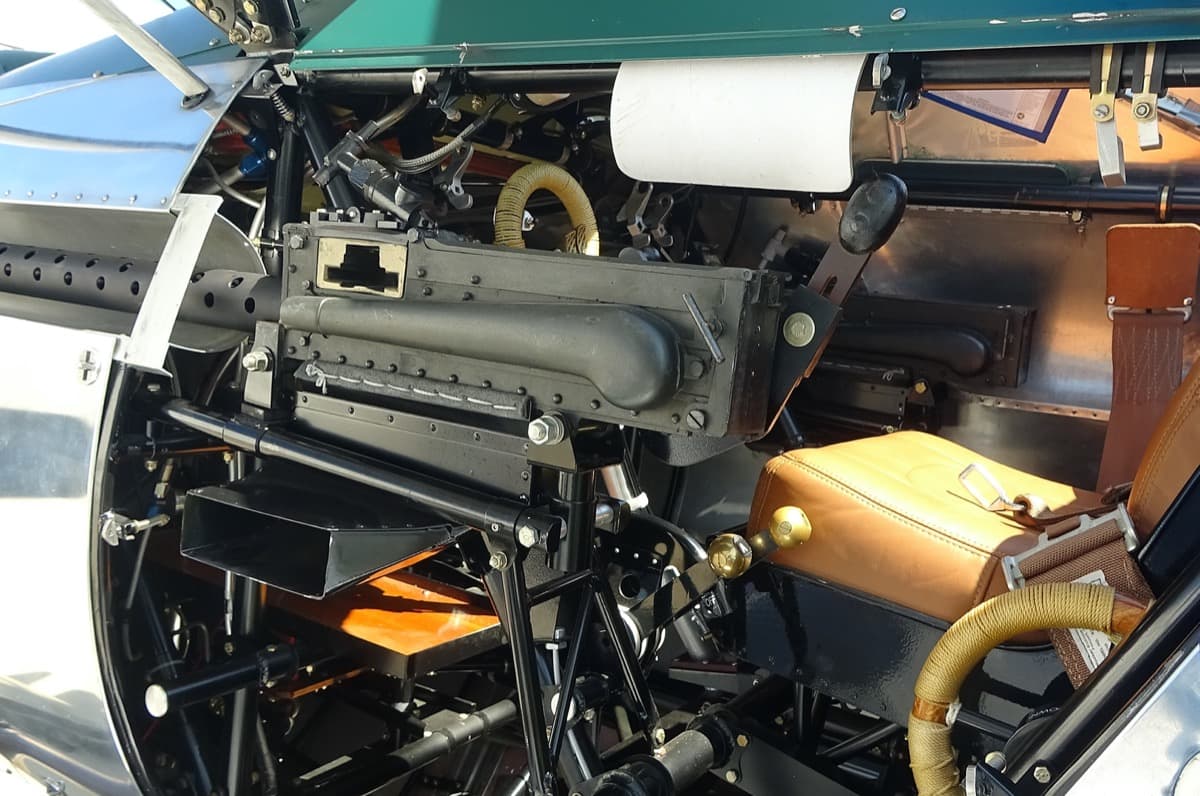 In the 1930s, Bristol Bulldogs shouldered about 70% of the Royal Air Force's fighter defense efforts. Built in small quantities compared to later wartime standards, some sources say 312 Bulldog fighters left the Bristol shops in an era when production aircraft were largely hand built. Other accounts put that number above 400 machines.
Given the ravages of wartime metals conservation that followed the Bulldog era, it is not surprising that only two original Bulldogs can be counted in museums.
Ed Storo's masterful replica brings those prewar times to life.