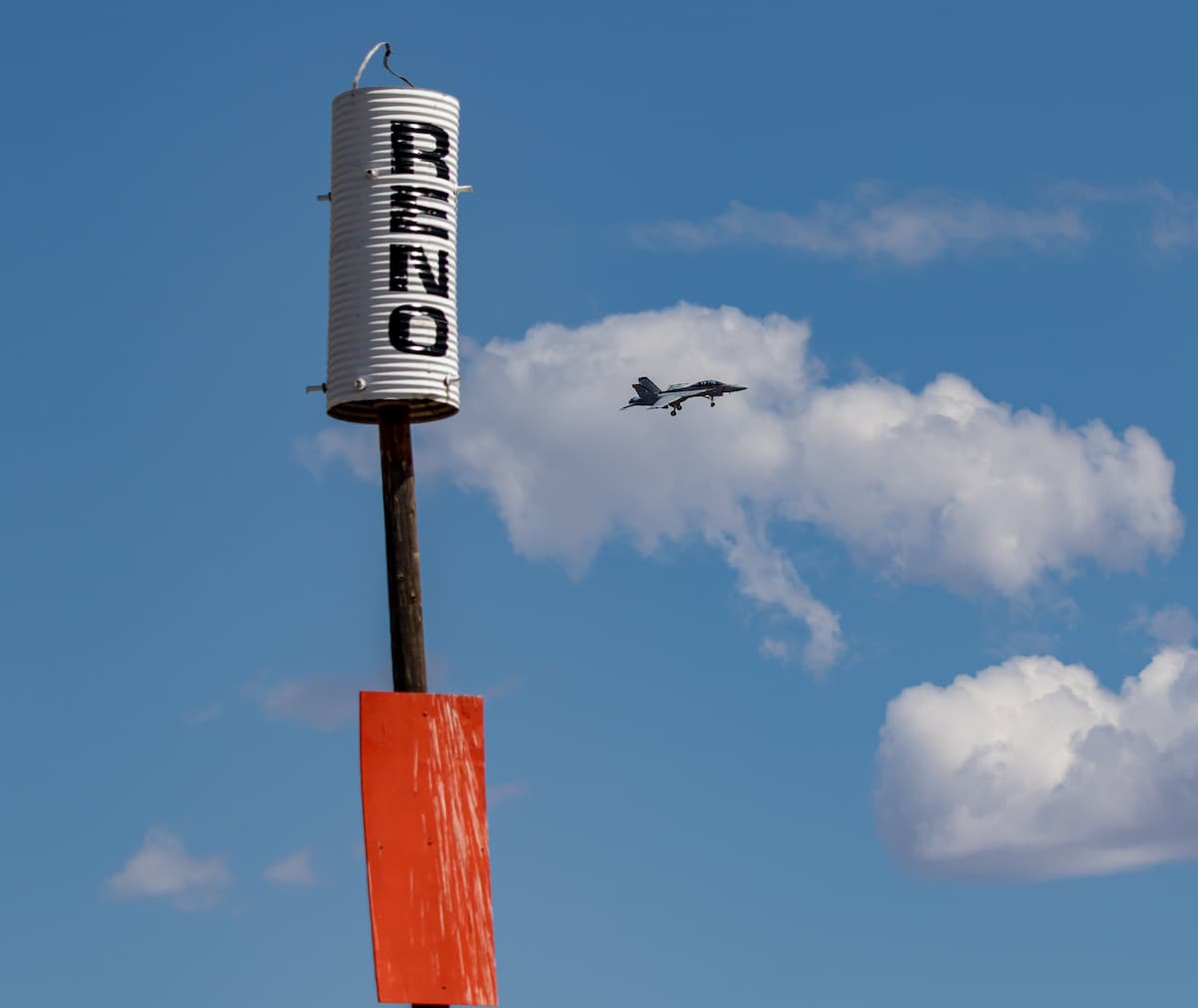 Everybody knew 2023 was the last time racers would round the pylons at Reno, and it showed in the number of people attending the races.
Initial estimates placed the crowd at 30% to 40% higher than races in the past decade. One first-timer told me he drove his 30-year-old car from New England, sleeping in it, just to get to the last Reno Air Races for the experience.
Held at Reno/Stead Airport (KRTS) northwest of town since 1966 and across town as early as 1964, the National Championship Air Races have grown their own mystique ever since Wide World of Sports put the spectacle on network television.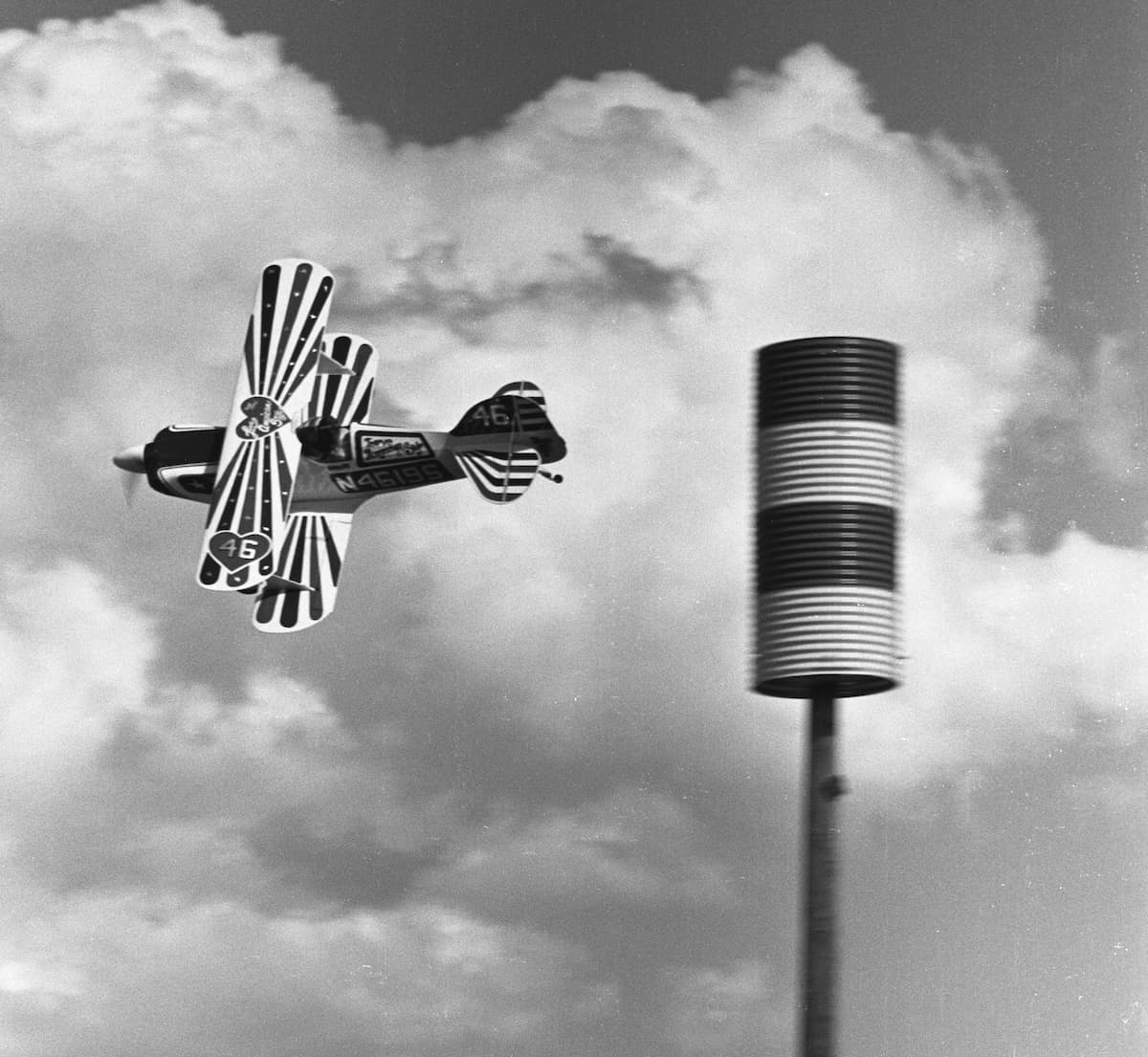 Back then, Air Progress magazine, once a flagship monthly publication in the aviation marketplace, burnished the lure of the Reno air races, and General Aviation News (at that time Western Flyer) publisher Dave Sclair made the annual pilgrimage to Reno in the 1970s.
For the 2023 farewell edition of the races at Stead, a number of memorable flashbacks were in attendance.
Bob Hoover's signature P-51 pace plane Ole Yeller, in which he air-started unlimited races and also performed aerobatic sessions, flew in from Rexburg, Idaho. It currently resides in John Bagley's Legacy Flight Museum.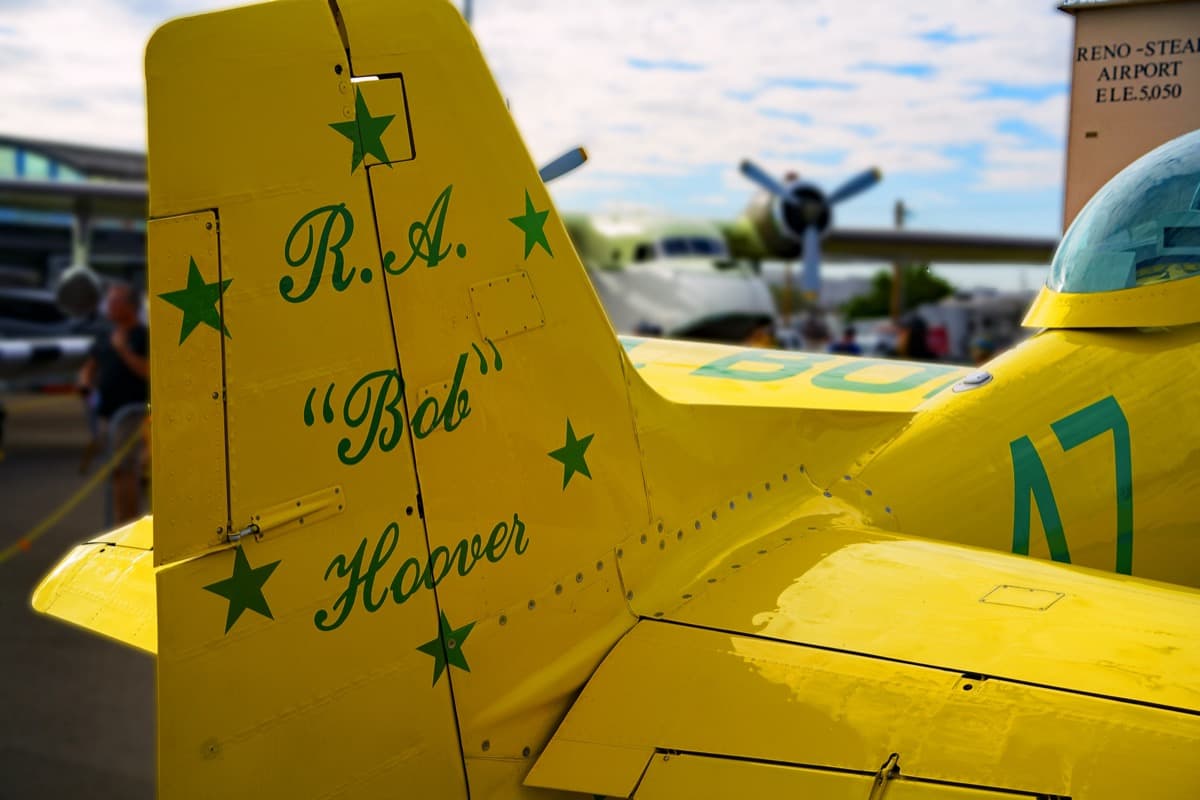 Returning as competitive race classics were the P-51D Mustangs Miss America and Bardahl Special.
Miss America started its racing career in 1969 with owner Howie Keefe at the controls. In recent years, owner Brent Hisey has flown Miss America in a modified, yet unmistakable, rendition of its star-spangled red-white-and-blue paint scheme.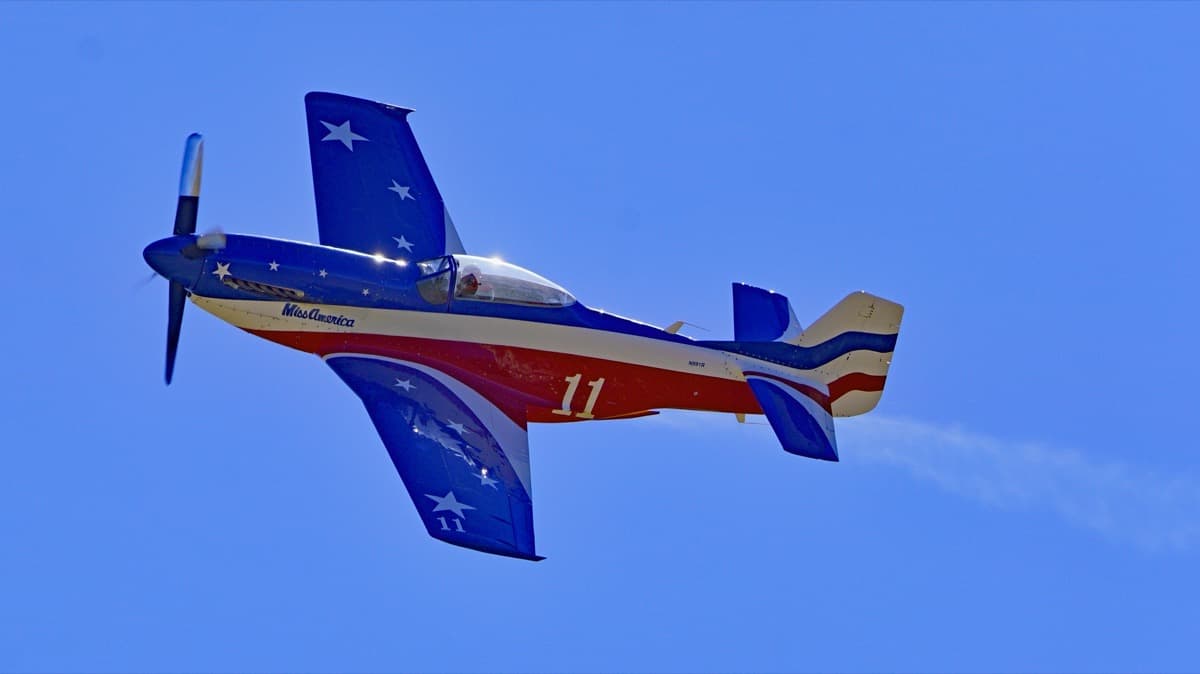 Bardahl Special, flown by racing champion Steven Hinton, looked a lot like its 1960s self, with the addition of subtle high-speed modifications that made this Mustang the favorite to win the Gold race in 2023 until a Sunday afternoon collision of two T-6s brought a stop to further racing.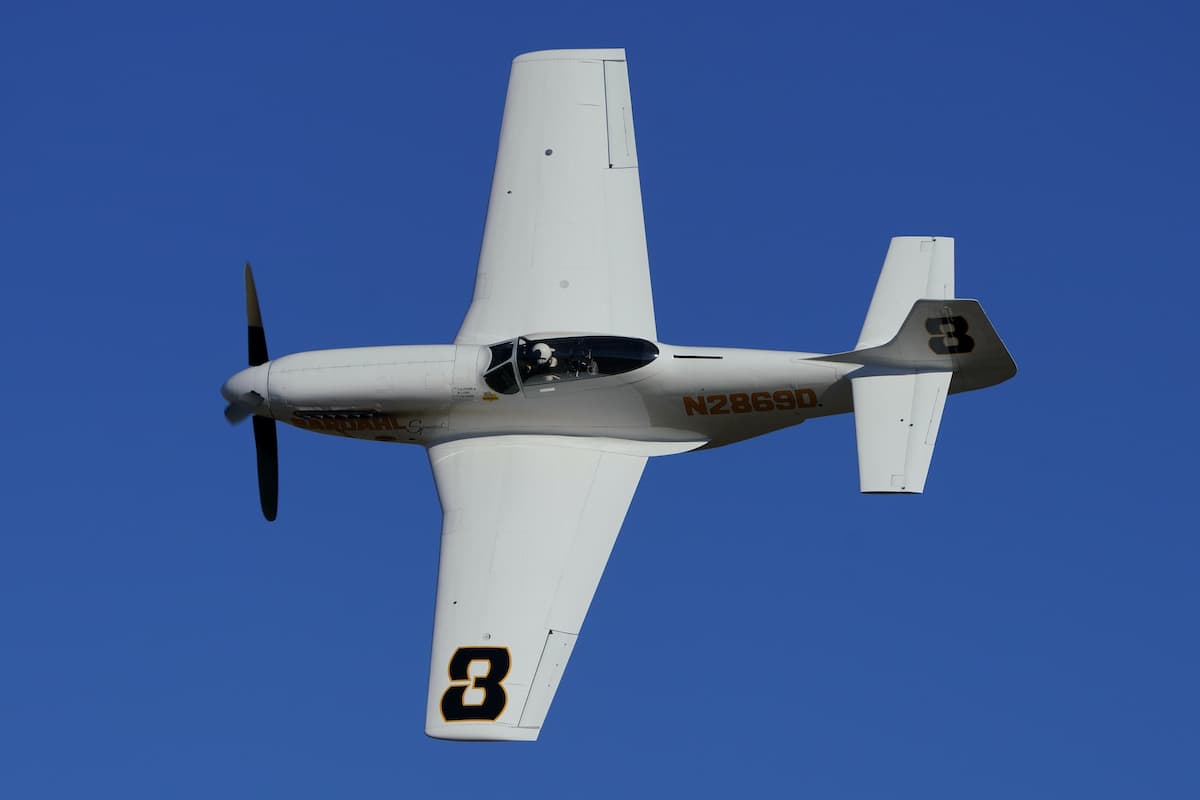 Another classic contender was the conspicuously purple P-51 formerly raced by Clay Lacy, and currently flown by Vicky Benzing.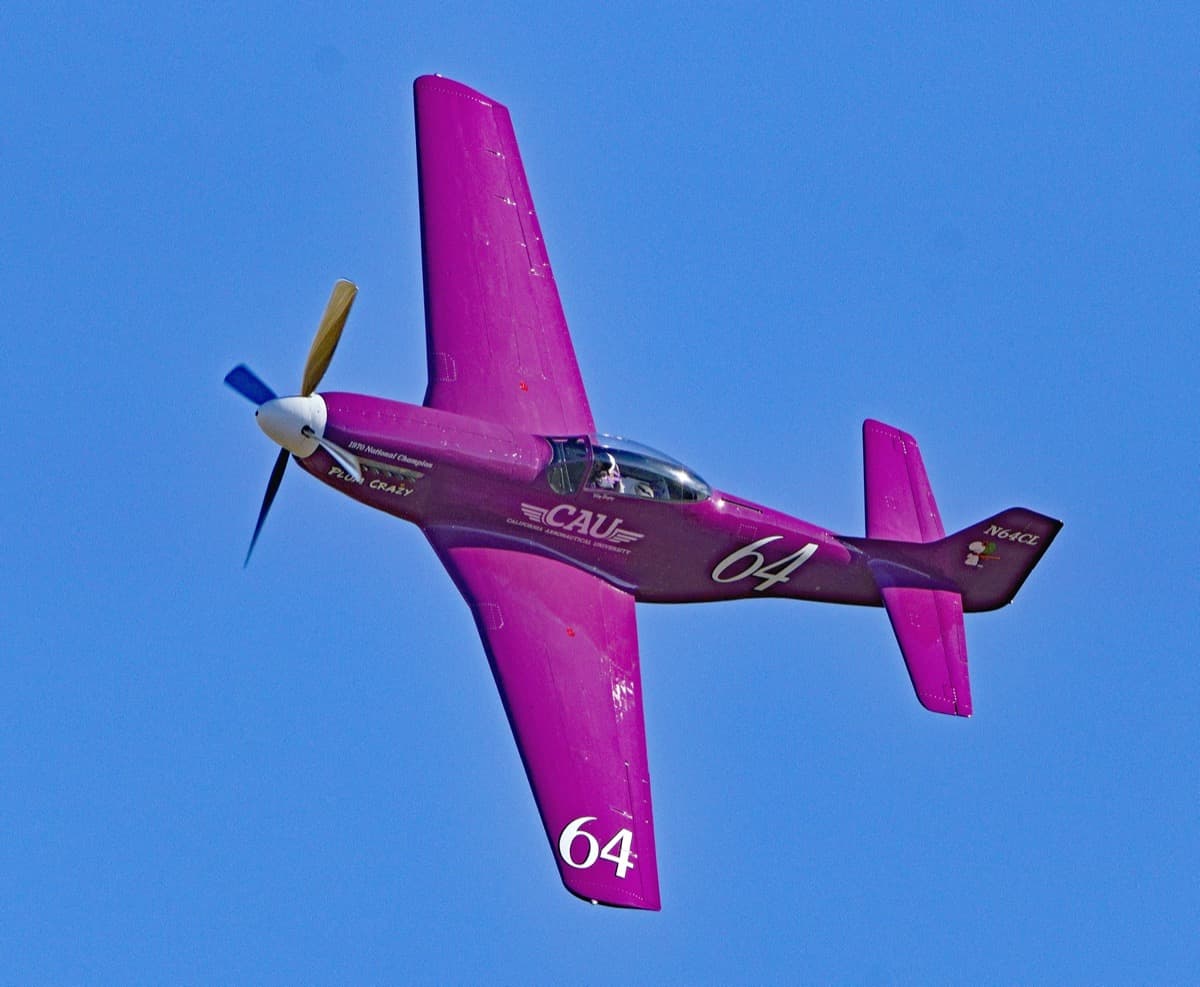 Other nuggets could be found at Reno 2023.
Mark Schafhausen flew his regal-looking black-and-gold Bucker Jungmann biplane from Spokane and parked it prominently near Bob Hoover's yellow Mustang for all to see. This Bucker had flown at Reno as far back as the Sixties, when hydroplane driver, air race pilot, and aerobatic flier Mira Slovak demonstrated it at Reno, as did subsequent owner Dave Rahm in the 1970s. Mark was a 23-year-old friend and student of geology professor Rahm from Washington. Mark bought the Bucker from Rahm's estate and has kept it ever since.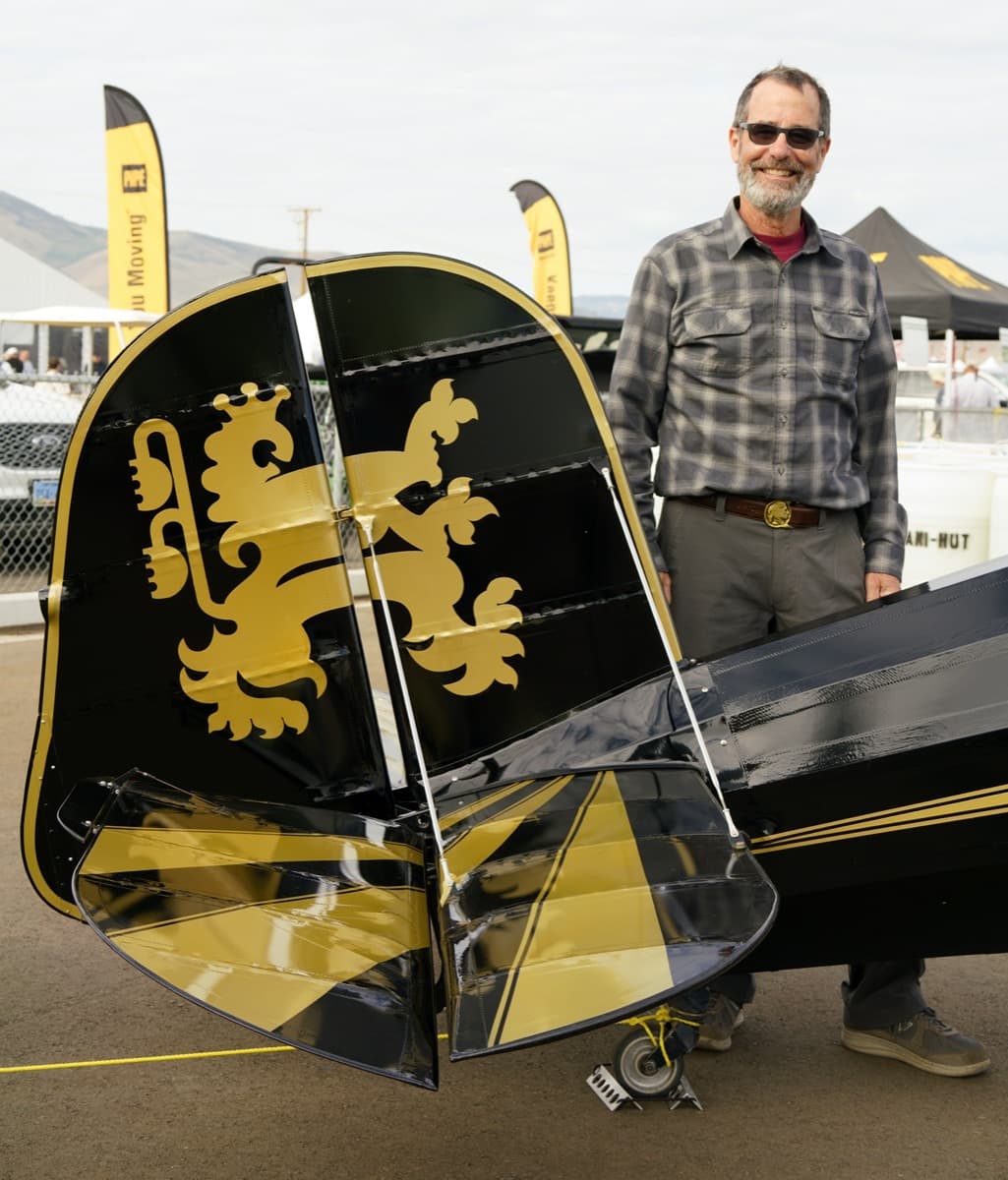 There was a nostalgic, yet new-to-Reno air racer on display and in the skies around the pylons. It was the mesmerizingly deep blue P-51C Mustang air racer called Thunderbird.
Thunderbird was fielded by actor Jimmy Stewart in the postwar 1940s and flown by Joe De Bona when Cleveland was the center of the air racing universe.
Unveiled this summer, it was only fitting that this high-stepping cross-country racer from the past should be stabled with the Mustangs of today's racing world at Reno, flying demonstration laps to the delight of the crowd.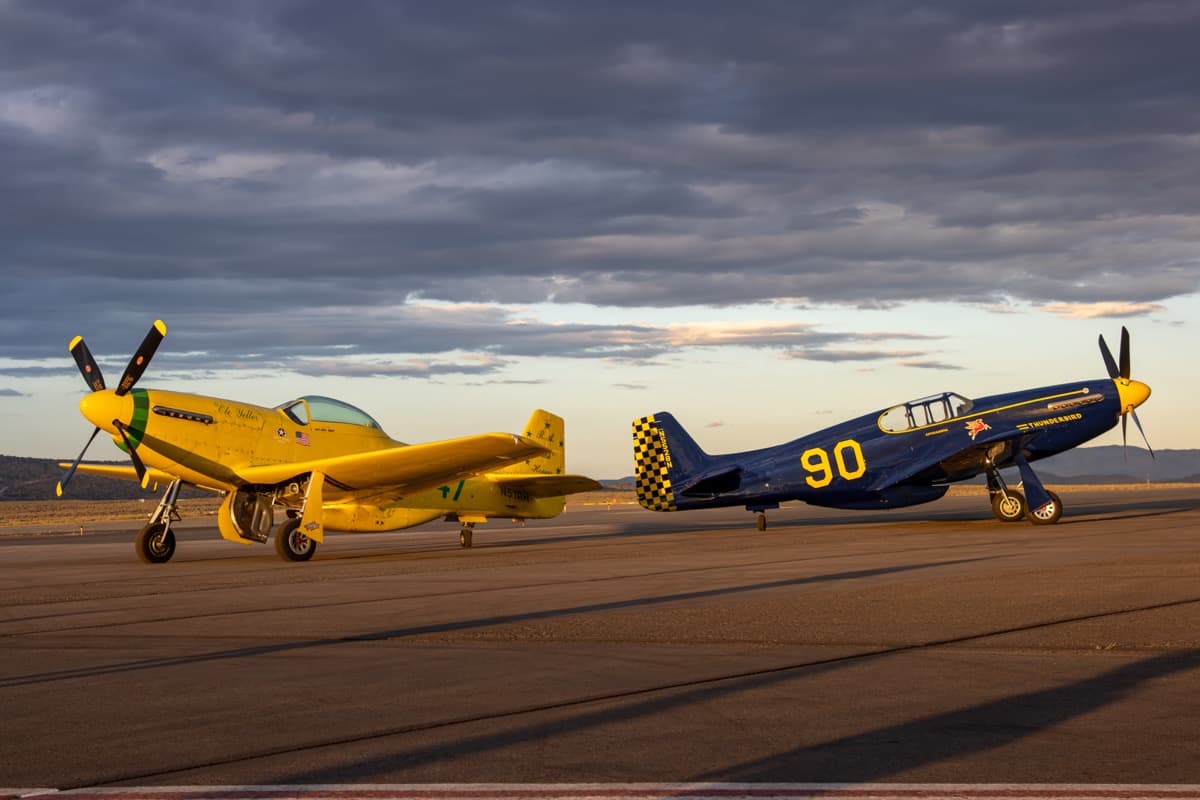 My first trip to the Reno air races was when I was in college, in 1971, and could barely afford a student standby airfare. I nabbed a room in a converted ex-military dorm at Stead for most of the nights that year, but on arrival at the Reno airport I had nowhere to stay on my first evening. It looked like I was going to occupy my time all night long in the airport coffee shop, sampling their chili and saltine crackers and listening to the tales of a talkative airport security guard into the wee hours.
That's when a warbird pilot acquaintance arrived for the races with his girlfriend and her sister, and asked where I was staying. My answer must have sounded pathetic. His girlfriend quickly spoke up and said she and her sister had a spare bed in their hotel room and I could stay with them. My pilot pal, sounding suddenly fatherly and a bit stern, quickly said "you can stay with me, Fred…"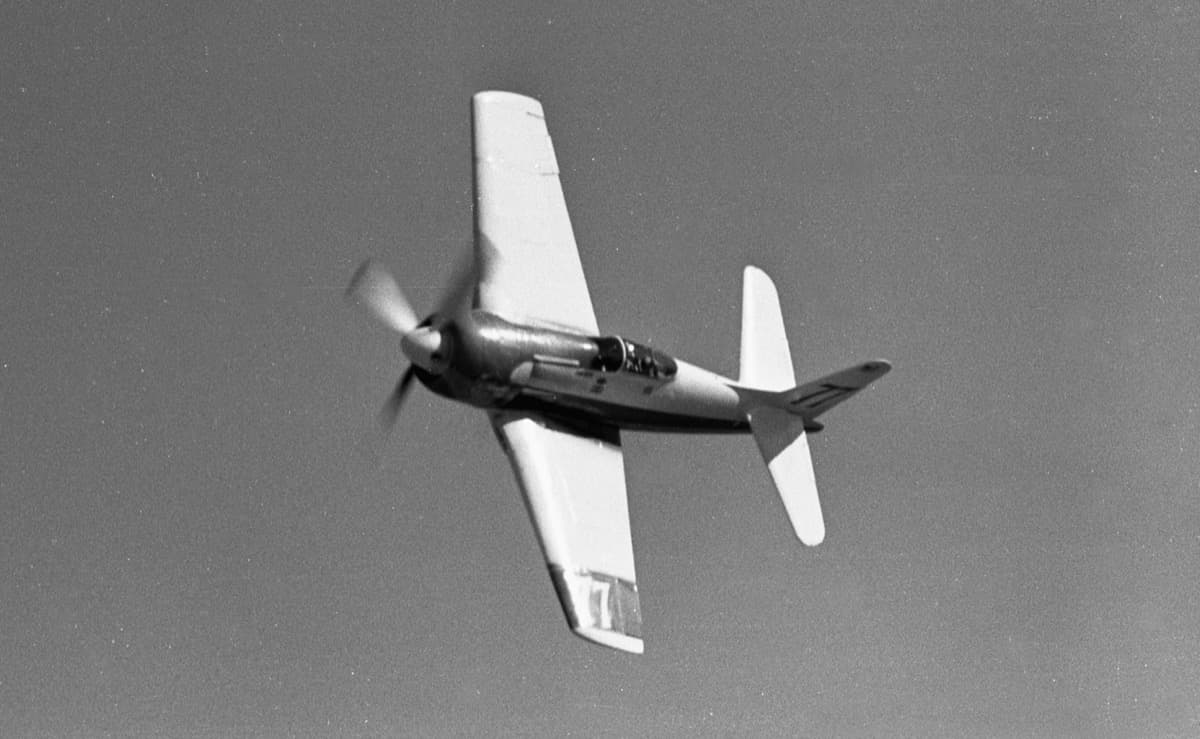 My press pass in 1971 included the opportunity to rattle out to the pylons in the back of a pick-up truck. The roar of the racers impressed me then, something that has never diminished over subsequent years.
A couple things stand out in my mind from the 1971 Reno air races. It was cold — crazy cold — with snow flurries in the hills and wind so incessant it sandblasted the new shoes I wore for the trip.
And then aviation scion Mike Loening made an emergency landing in his black, white, and red P-51D and the Mustang racer came to rest on its belly in the desert.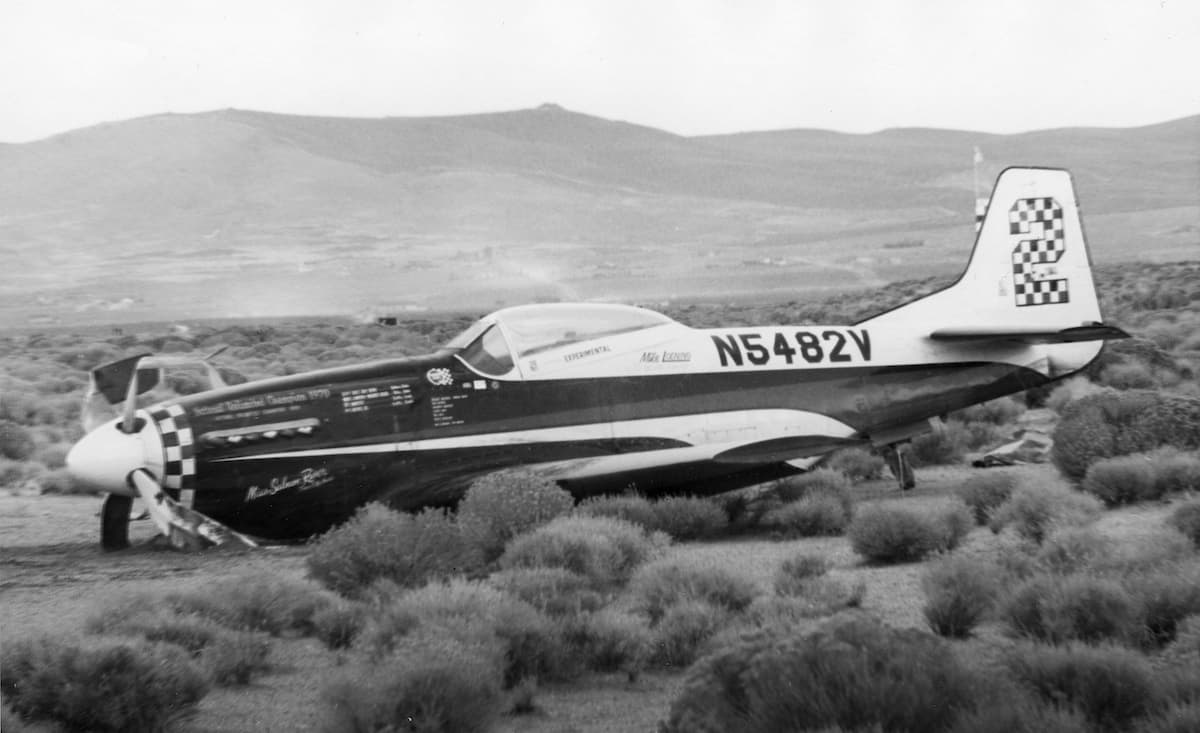 Sunday evening looked like it was going to be a losing proposition trying to get from Stead to the downtown Reno airport in time for my ticketed flight back to Seattle-Tacoma, but some air race veterans from the Pacific Northwest assured me the Sunday evening flight to Sea-Tac on air race weekend had a reputation for taking off tardy. Sure enough, with the cabin filled by Puget Sound air race merrymakers, I made the gate in time as we departed late. I never heard what the official reason was.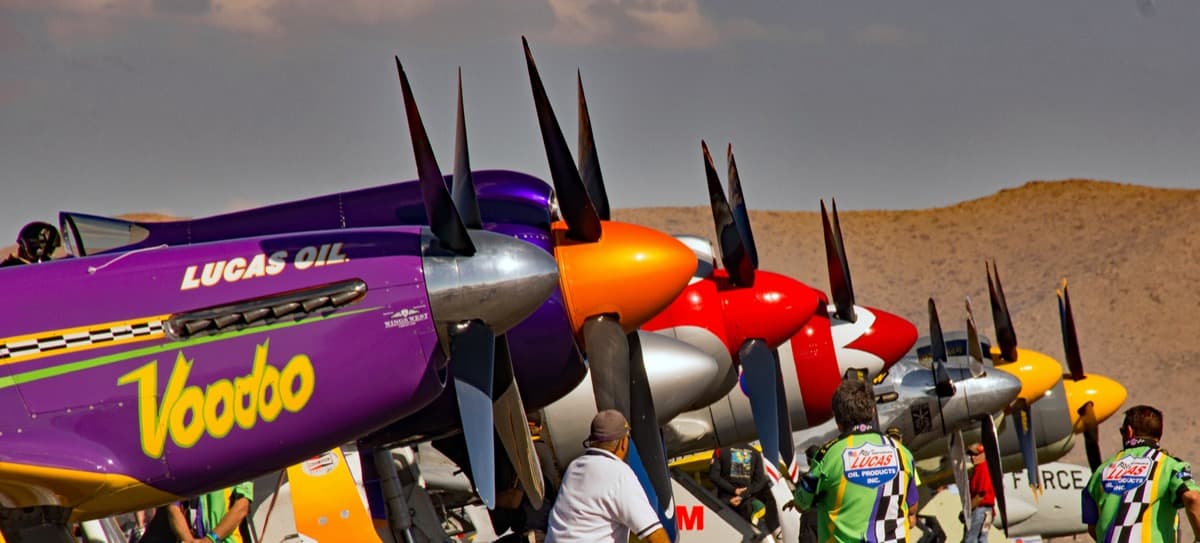 I came to the races a few more times over the ensuing decades, and I must raise my hand as one of those who attended this year specifically because it was the last Reno air races.
The 1975 Reno air races hosted talent like test pilot and air show pilot Bob Hoover and movie flier Frank Tallman. Both Hoover and Tallman, at the pinnacles of their professions, were approachable and spent time sitting on the wing of Bob's yellow P-51 Mustang after the racing was over for the day, signing autographs and chatting with admirers.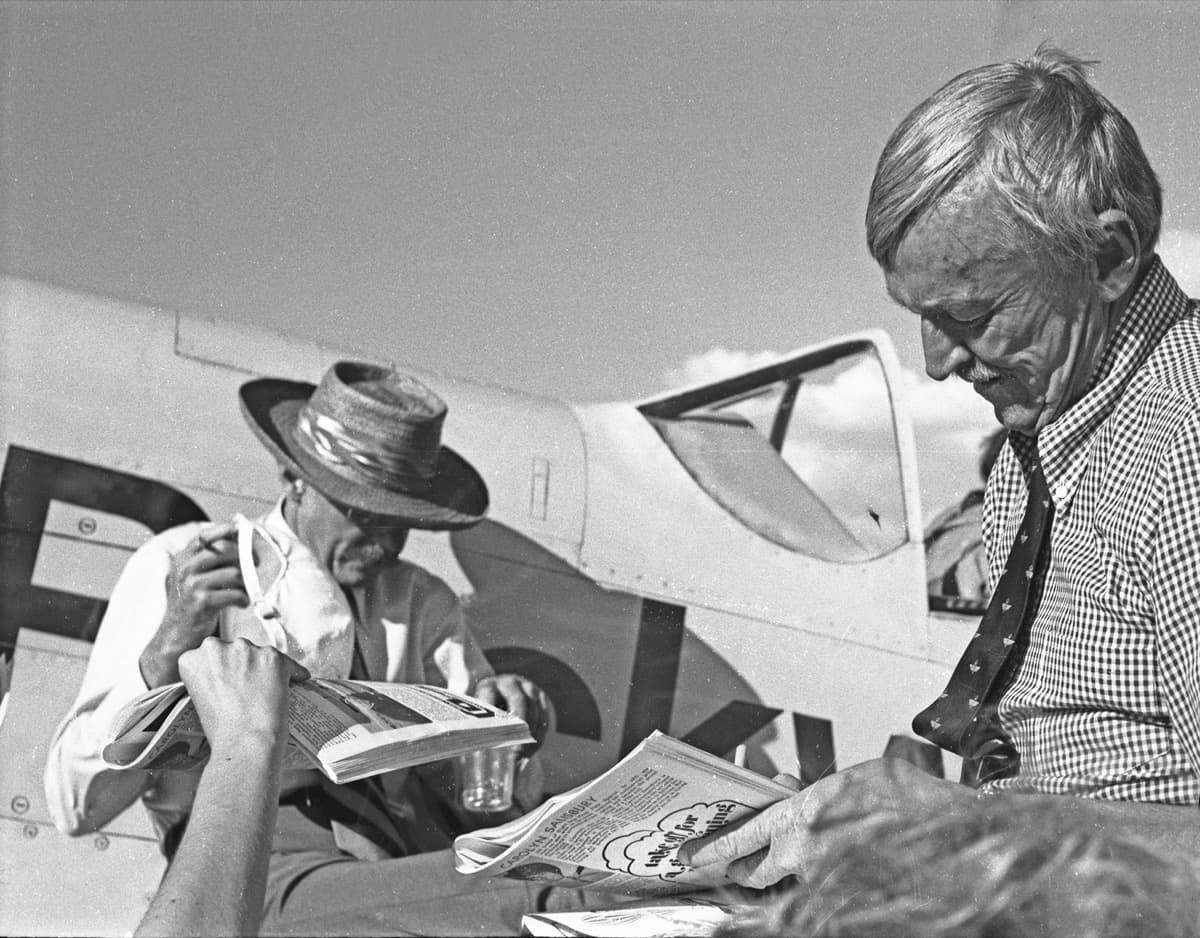 Tallman masterfully flew his awkward-looking J2F Duck biplane amphibian in improbable aerobatics over the race course that year.
Back then, the grandstands were wooden bleachers that anticipated a much smaller crowd than recent years.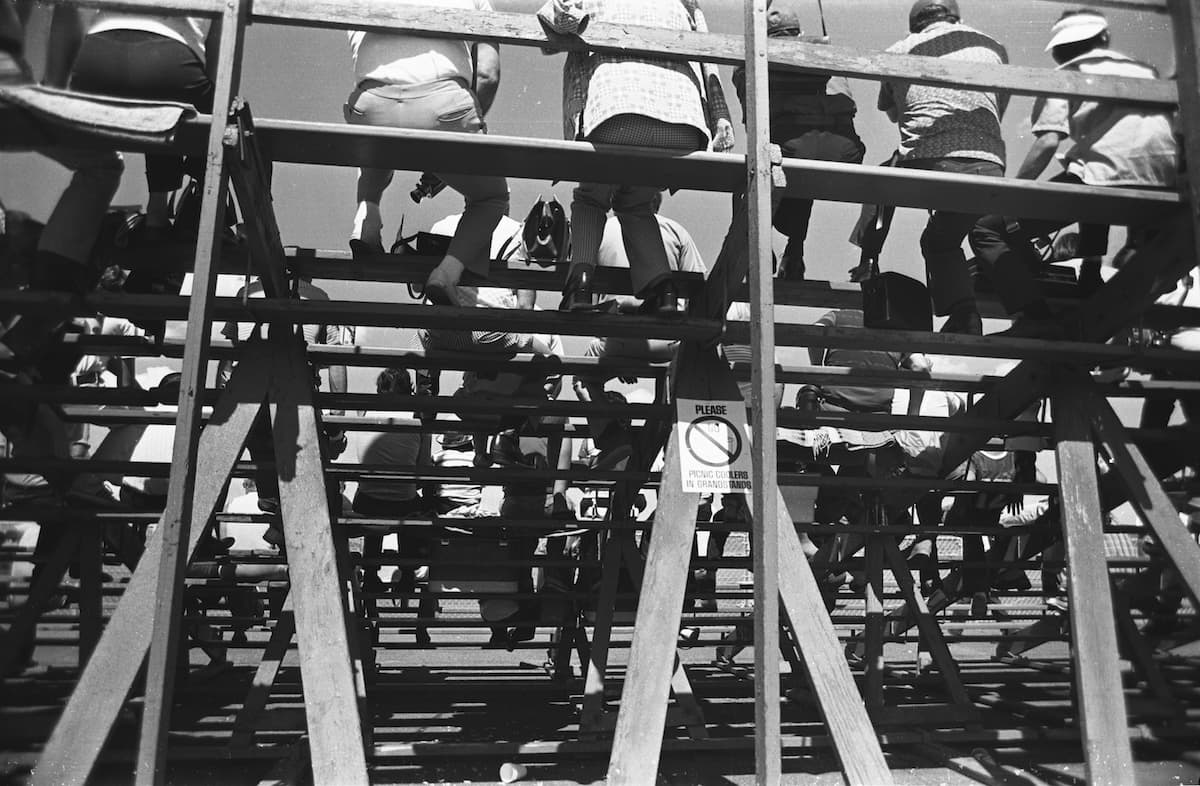 But the sights, sounds, and aromas of air racing remained the same. Like lifelong friends you grow old with, one doesn't really see the changes to the Stead racing layout until you look at snapshots from back in the day.
And now it's all in the snapshots. Racing is over at Reno. The rumble of Mustangs and Sea Furies rounding the pylons at Stead in a collective roar echoes in the past, as distant as the sound of silver dollars clanking into a metal bin when slot machines still paid out in actual coins.
But if Cleveland racing enthusiasts mourned the demise of their civilian Thompson Trophy pylon races after 1949, the flame was far from extinguished. It roared back with a longevity at Reno that was almost three times the lifespan of the original Thompson races.
National Championship Air Racing officials rung the final curtain down at Stead this year with allusions to a reborn set of national air races at a yet-to-be-named venue by 2025.
Perhaps all the 2023 Reno Final Flag T-shirts will be overtaken by 2025 First Flag air race wear from a new home. Hear those Merlins roaring in the distance?