Members of the Torrance City Council in California voted 5-0 to ban touch-and-go operations at city-owned Zamperini Field Airport (KTOA) at an October 2023 meeting.
Sigh.
According to an article in the local newspaper the Daily Breeze, the ban will take eight to 12 months to become effective.
"Legal analysis and environmental analysis" are required, the article notes.
That's good news, I suppose.
But what drove this action by the elected officials in Torrance?
Community pushback to an increase in flight operations — noise — at KTOA.
In 2019 the FAA counted 125,174 operations at the airport. In 2020 operations dropped to 111,772 (thanks COVID). In 2021 operations rebounded to 136,652. In 2022 the FAA counted 185,806 operations and through September 2023 another 142,121.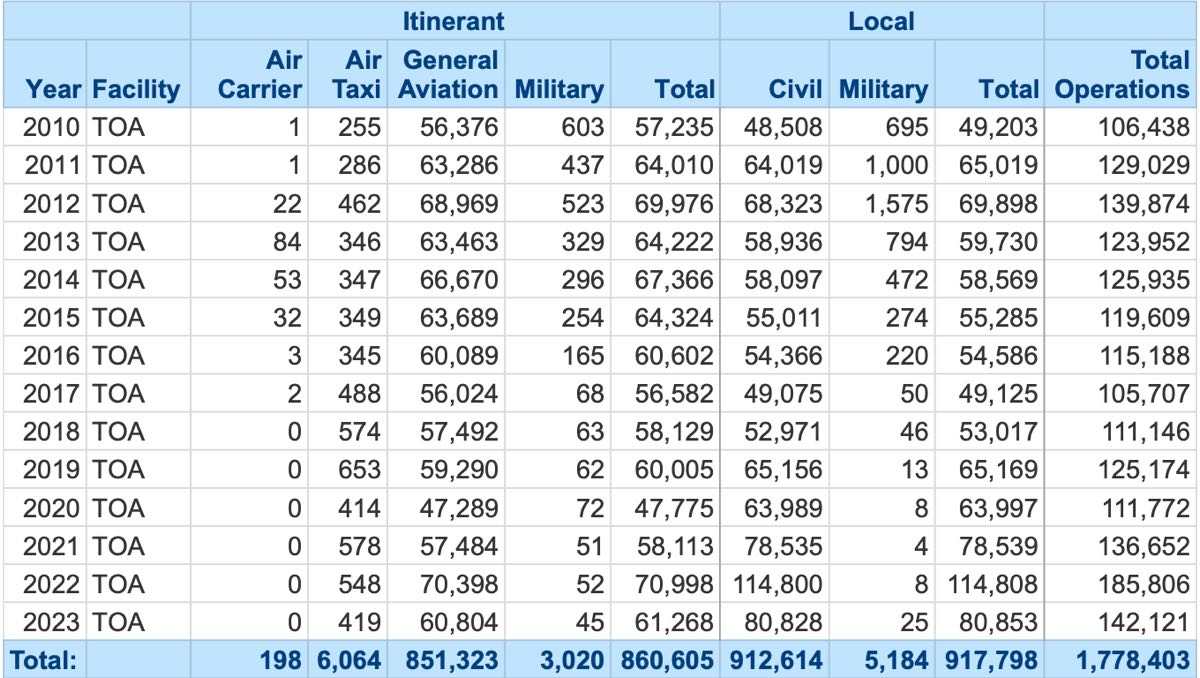 That's 306 daily operations, on average in 2020. By 2022 that number jumped to 509, and is on pace to increase again to 519 in 2023.
While not all of the increase in traffic can be attributed to flight training, it is a large portion. Local traffic represented about 36,000 of the nearly 50,000 increase in operations in 2022 compared to 2021.
One of the flight schools noted in the Daily Breeze article is Sling Pilot Academy. I assume it is related to the Torrance-based Sling Flying Club that was awarded a $499,865 "Aviation Workforce Development Grant" from the FAA back in March 2023.
The first sentence from the FAA's March 2, 2023, announcement reads, "Twenty-three schools will receive $10 million in grants from the Federal Aviation Administration (FAA) to help attract and train students for careers as pilots and aviation maintenance technicians."
We need more professional pilots and we need more maintainers. The "we" isn't specific to only those of us in the aviation industry — the "we" refers to society at large. Aviation plays a huge part in the overall economy.
But pilots aren't created in a vacuum.
We do need more pilots, which means we need more flight training. And for those who live near a popular flight training airport, they will pay a higher noise penalty than those of us who do not.
And if I had to guess, I'd say the majority paying the price for increased flight instruction aren't thinking about the economy as a whole. They are focused on the noise overhead. Full stop.
But it is all connected. If any of us want to board a commercial flight in the future we need to train pilots today. Same goes for ordering something online for next day delivery.
I think Jamie Beckett said it best in his recent "The noise that is music to our ears" column.
"I suspect there will always be noise complaints from neighbors who don't love airplane noise. Even as aircraft get quieter and noise abatement procedures reduce the number of homes impacted by that aeronautical commotion, there will always be a handful of cranky folks who want to hear nothing but the sounds of nature when they're at home. So they'll call. They'll write. They'll whine as they place their next-day shipping orders online without a thought in the world about how that package will get from California to Ohio in a matter of hours."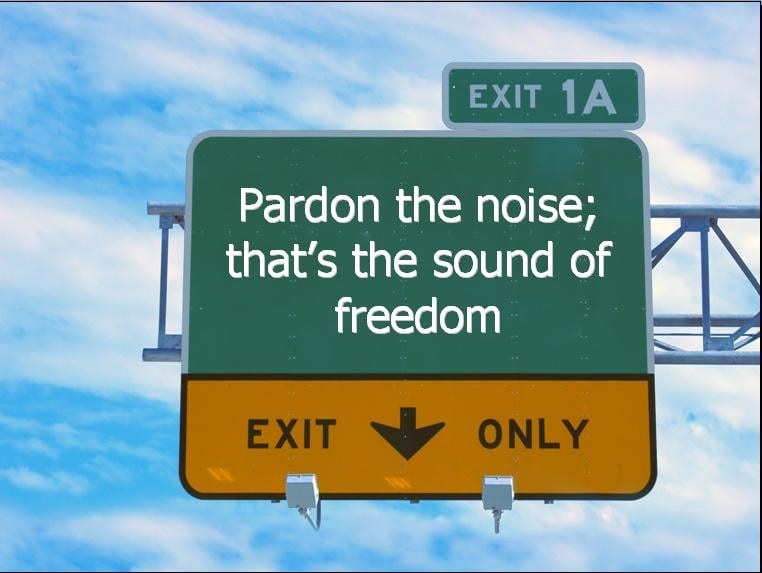 My family lives a few miles from Joint Base Lewis-McChord near Tacoma, Washington, and rarely does a week go by that JBLM doesn't announce a training alert. On social media, they use a picture of highway sign edited to read, "Pardon the noise; that's the sound of freedom."
We can easily hear the booming — I mean freedom — from our home.
And there are times it gets annoying. Like when I'm trying to sleep.
However, I am also aware of the needs beyond my little circle of life.
This isn't limited to Torrance. As I was writing this column, the Aircraft Owners and Pilots Association (AOPA) posted a story to its website titled "Noise concerns divide aviators, residents in Colorado."
I don't have the answer. But I am certain that "the airport was here first" isn't our best response. For anyone who uttered that phrase to members of the Torrance City Council, it didn't work.
Similarly, I doubt a message that connects the dots between today's aspiring pilots and tomorrow's healthy travel and e-commerce industries will calm the ire of those sick of planes in the pattern overhead.
Hopefully someone will remind Torrance city leaders of the 2020 letter the FAA sent to the Torrance Airport Association. It reminds the city that the FAA is tasked with regulating the airspace above the United States, not the individual states, counties, or cities — even if they do own the airport.
While it would've been nice for local governments to preserve space around airports decades ago to prevent such issues, they didn't, so we have to deal with reality as it is, not as we wish it to be.
A touch and go on this topic isn't going to cut it. We need to perform a full stop, secure the plane, and get involved in our communities — and stay involved.