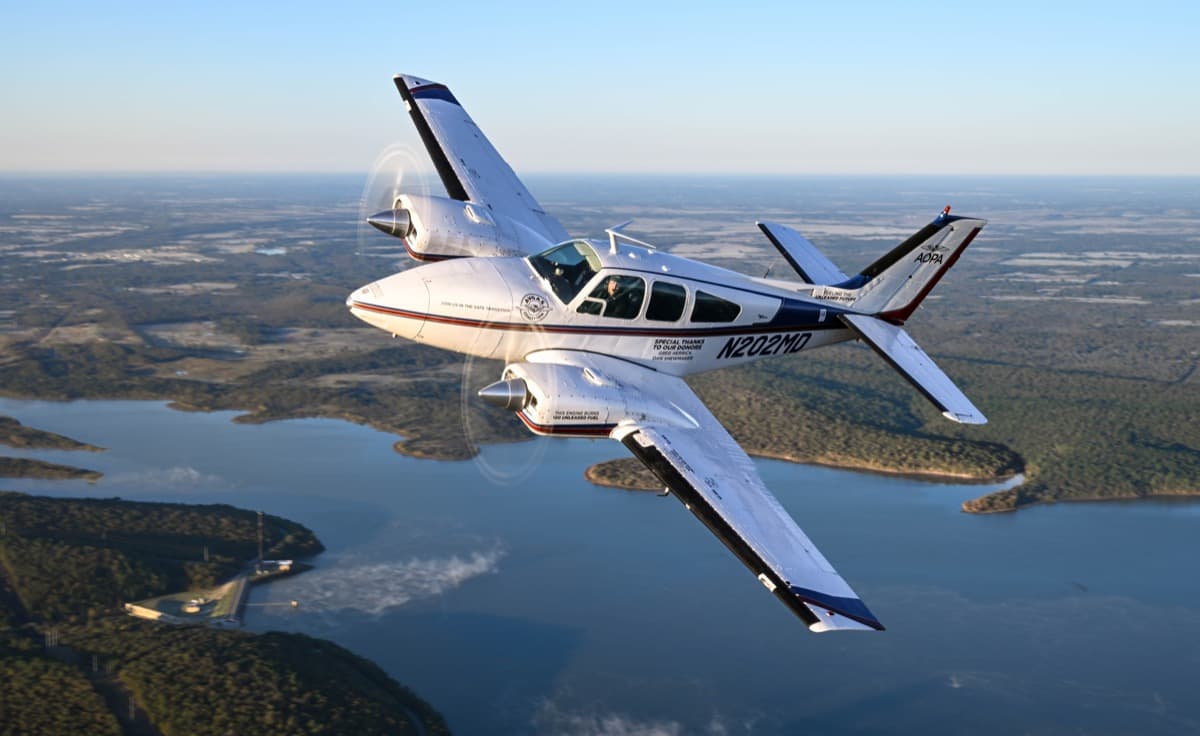 To help move general aviation's unleaded future forward, Aircraft Owners and Pilots Association (AOPA) President Mark Baker flew a Beechcraft Baron twin-engine aircraft over Ada, Oklahoma, on Oct. 31, 2023, to begin a program to "demonstrate the efficacy and safety of General Aviation Modifications Inc.'s G100UL fuel, which received FAA supplemental type certification approval in 2022."
"We wanted to get some actual experience with a 100-octane unleaded fuel in the kinds of airplanes and engines that our members own and fly," Baker said. "This fuel has been tested extensively in labs and received an FAA STC. Should the FAA approve additional fuels, we'll test them, too, so we can see what they're like to use out on the airways."
Baker flew the Baron for one hour with G100UL feeding the left engine and 100LL in the right. He said the performance of the two engines was nearly identical and "the Baron flew beautifully."
The flight included several full-power takeoffs and a prolonged high-power cruise at more than 75% power.
Through this and future flights, performance will be analyzed by closely comparing the two engines operating at the same time on the same airframe, according to AOPA officials.
The engines will undergo regular borescope inspections and compression tests to compare internal engine wear.
As other unleaded fuels become more widely available for standard-category GA aircraft, AOPA intends to try them, using the same airplane and techniques.
"George Braly and GAMI have done a great deal of pioneering work preparing for general aviation's unleaded future," Baker said. "We're staging the AOPA Baron at GAMI's headquarters in Ada first to try out its G100UL."
GAMI is currently working toward commercializing its fuel in order to distribute it more widely.
The Baron is equipped with two freshly overhauled, normally aspirated (non-turbocharged) Continental IO-520 engines. It also has new Garmin avionics, including an engine monitor capable of recording a wide variety of engine data, AOPA officials noted.
Mike Busch, founder of Savvy Maintenance and an AOPA Pilot magazine columnist, will analyze engine data from the Baron using Savvy's computerized diagnostic tools. Savvy has gathered detailed engine data from hundreds of thousands of hours of GA flights and developed predictive diagnostic tools designed to anticipate engine component failures before they happen, according to associatin officials.
"The move to unleaded fuel is absolutely critical to the future of general aviation," Baker said. "This airplane is a valuable tool because it can help us make the transition safely and confidently."