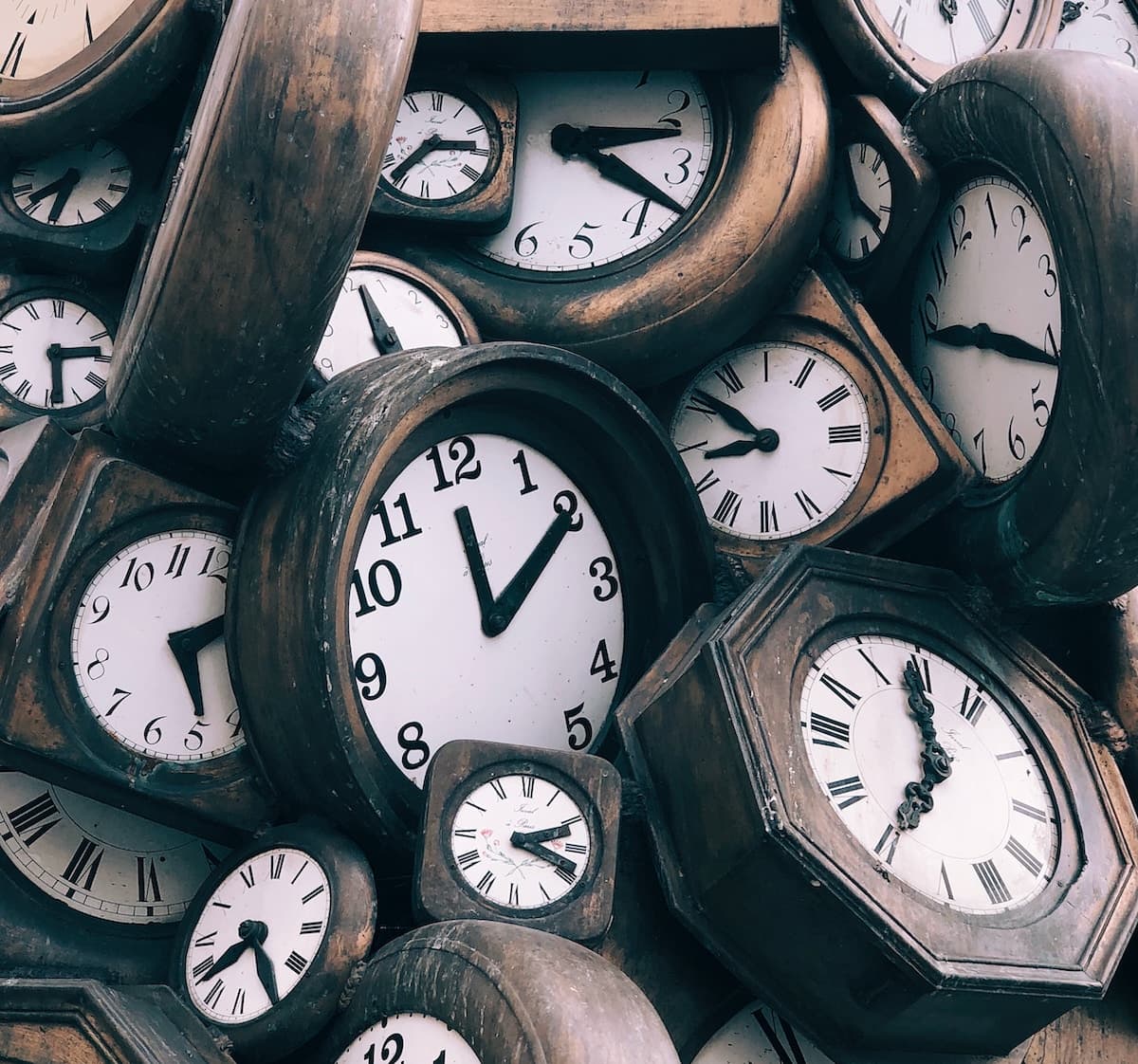 As fall rolls around each year there are several major and minor seasonal items that catch our attention. The return of pumpkin spice latte to our local coffee shop, for instance. Or the morning chill that replaces the formerly furnace-like environment of summer. And, of course, the dark of night descends on us an hour earlier.
Woo hoo! Can Christmas be far off now?
While I am not a fan of seasonal coffee-based drinks (I remain a black coffee aficionado on a year-round basis), nor do I embrace temperatures lower than 70° Fahrenheit, the early arrival of night was at one time a great gift to me. No more. I'm old now. I'm set in my ways. Searching the house for the few analog clocks we still have so I can set them to an artificially manufactured time zone, only to repeat the process in six months, vexes me.
I once had a roommate who wasn't sure if he should set the clocks forward or backward. So, he optimized his efforts by setting some forward, some backward, and left one the same as it had been. As a result, life got a bit confusing for a few days. My roommate never saw the problem. "What's an hour this way or that?" he reasoned.
For a pilot the early sunset is a gift. Or at least it can be. Especially for flight students and CFIs who need to log a specific amount of night flying to qualify for a certificate.
In Florida, where reasonable people of my age have relocated to, the sun sets just before 8 p.m. in mid-August. With night time for the purposes of log book endorsements beginning roughly an hour after sunset, that puts these pairs of trainees/trainers departing at 9 p.m. or later. That can be an inconvenience for the student, who may have a family or friends they'd rather spend the evening with. For the instructor it can be a real challenge. The long hours of a CFI's day are extended precipitously. While they may have their first launch of the day at 8 a.m., they're now likely to land more than 14 hours later.
Oof, that's a long day.
In the interest of accuracy, let me acknowledge the FAA does not specify that night occurs an hour after sunset. They classify night as beginning at the end of evening civil twilight — a term that is hardly well known or understood. That point occurs when the geometric center of the sun is 6° below the horizon.
Got it? That's a little complex for the average non-astrophysicist. So, we go with an hour after sunset. That's close enough.
With the arrival of fall and the changing of the clocks, however, that same student and CFI can now launch as early as 6:15 p.m. — a far more humane timeframe that allows for the completion of federally mandated tasks while still getting home in time to tuck the little ones into bed.
For me this has all become a moot point, however. The cloak of night has become a hard and fast component of my Go/No Go decision-making matrix. The smooth air and spectacular visibility of night flying is well in my rear-view mirror these days. At least it is when talking about piston-driven, single-engine aircraft.
Let me explain.
When I was a student pilot, I loved night flying. When I was employed as a full-time CFI I loved it even more. Here in central Florida temperatures become noticeably cooler after the sun sets, which means the roller coaster ride of mid-afternoon thermal-induced turbulence has gone. I could often see my destination airport from 20 or more miles away. The brilliance of white runway lights, the flashing beacon, and blue taxiway lights caught my eye while I was still far off.
The romance of night sucked me in.
What I thought less of in those days were the large swaths of dark nothingness below me. For all the talk of overpopulation and overbuilding, those dark patches still exist in great numbers. They're big, too. Some stretch for many miles in every direction — much farther than I could possibly glide should the powerplant up front quit turning the propeller.
Perhaps my comfort level with night flying back in the day had something to do with me flying out of a highly urbanized area that was attached by myriad light sources to the city of Orlando. Search lights jutted up into the sky from the big theme parks. Shopping malls, street lights, car dealerships, and suburban accent lights provided me with a carpet of opportunity should anything untoward happen that would necessitate a precautionary or emergency landing.
Today, I'm far more in touch with my mortality than I was in my 20s. That's a fairly common experience. As we age, we become more aware. As we become more aware we realize we are not quite as bulletproof or Teflon coated as we might have thought. We tend to adopt an attitude of self-preservation, for which I have no shame.
I'm slowing down a bit. Taking fewer chances. I still ride my motorcycle, and fly the airplane, and include a slice of pie with my Thanksgiving dinner. But I don't tempt fate with the reckless abandon of my younger years. So the motorcycle and the airplane remain stationary once the sun slips 6° below the horizon.
Of course, I am fully aware that my engine has no idea if the sun is up or if it is on the other side of the planet. But I know. And my aging eyes are less likely to pick up on small details than they once were.
So, with the coming of night I find myself on the porch enjoying the evening as much as ever, while I secretly envy the students and CFIs launching from the same runway I used to fly off of years ago, seeking the same adventures and opportunities I've been fortunate enough to enjoy.
It's a beautiful thing.