J.A. Air Center, a longtime West Chicago (KDPA) based service company, has moved to Chicagol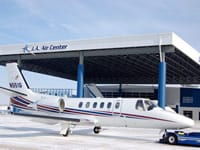 and's Aurora Municipal Airport (KARR).
The four-building campus features a 20,000-square-foot arrival/departure canopy large enough to handle large cabin corporate aircraft, more than 90,000 square feet of hangar space, 60,000 square feet of office space and a separate VIP arrival terminal.
The FBO terminal has amenities including a coffee café, conference rooms, business center, WSI weather, VIP lounge, sleep rooms, private showers, game rooms, multiple TV viewing areas and an exercise room. A 60,000-gallon fuel farm featuring Conoco Phillips products is operational as well.
In addition to FBO services, aircraft sales and acquisitions, charter, flight instruction, aircraft detailing, mail order avionics and consumer GPS sales, J. A. Air Center is a Part 145 repair station offering aircraft maintenance and parts sales, instrument sales and service and award winning avionics installation and service.
For more information: JAAir.com.