The Florida Department of Transportation (FDOT) has named Lee County Port Authority (LCPA) Executive Director Robert Ball as the 2009 Aviation Professional of the Year.
This award is given to an active aviation professional who has made "a significant and continued contribution to Florida aviation during the year and throughout their career," according to FDOT officials.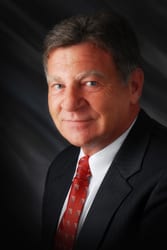 Ball also was given this award in 1998. He is the only airport professional to have received the honor twice.
"This award recognizes Bob's work and leadership in expansion, air service and business development efforts in the operation of two award-winning transportation facilities — Southwest Florida International Airport (RSW) and Page Field General Aviation Airport (FMY)," said Aaron Smith, FDOT state aviation manager. "He is responsible for the unprecedented success of both airports and has been committed to working with community partners to meet commercial and general aviation air transportation needs in Southwest Florida."
Ball joined the Lee County Port Authority in August 1993 as deputy executive director, and was promoted to executive director in May 1996.
For more information: FlyLCPA.com