The new Aero Centex FBO has officially opened at Georgetown Municipal Airport (GTU) in the Austin, Texas, business corridor.
Aero Centex is a mixed-use aviation services complex featuring 25,000 square feet of hangar and terminal space as well as 70,000 square feet of reinforced ramp space. The hangar complex includes a community hangar and private hangars available for short- or long-term lease.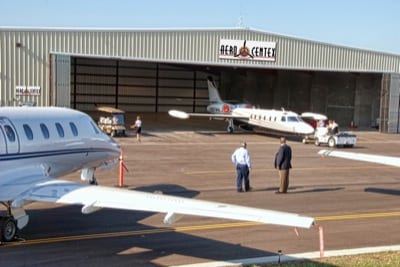 "Our vision for this new FBO was to provide an upscale base of operation for aircraft owners and operators who wanted convenient access to the Austin business corridor but without all the hassle of air and road congestion," said Winston Pfiester, president and owner of Aero Centex, noting the airport is  "clear of Austin's ATC area for easy in and out."
Pfiester said the new FBO is a full service facility offering line service for quick turns, pilot and customer lounges, Internet workstations with Wi-Fi access, on-site rental car, catering and complete concierge services. Line service personnel are certified through the NATA Safety First program. The facility is an AvFuel branded aviation fuel provider offering Jet A and 100LL, including self-service 100LL.
For more information: 888-858-8048 or AeroCentex.com.