The engines workshop tent at SUN 'n FUN was renamed The Ray Fiset Engine Workshop Wednesday in honor of the long-time engines chairman who passed away last July.
Fiset was a well-known figure at SUN 'n FUN, as well as Oshkosh, volunteering at both events for many, many years. Fiset, who also represented the Recreational Aircraft Association in Quebec, was hit by a propeller in 1957 when he dove to save someone who was unknowingly walking into it. Although that put him in a wheelchair for the rest of his life, he didn't slow down. He built airplanes, operated an aviation machine shop, ran the engines workshop at SUN 'n FUN, and manned the Lost & Found booth at AirVenture.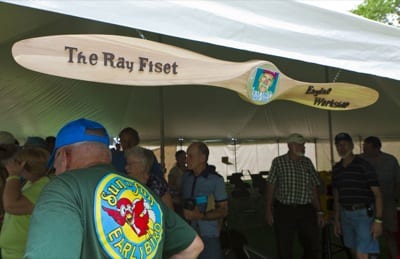 At Wednesday's ceremony, a prop with Fiset's photo was hung at the engines workshop. The ceremony was attended by SUN 'n FUN officials as well as many members of Fiset's family.