Dan Johnson, president of the Light Aircraft Manufacturers Association, is an expert on Light Sport Aircraft.
Question: What looks like two motorgliders flying in really tight formation sharing an engine… er, a motor, literally between them? Can this Burt Rutan-looking aircraft (pictured) win the big dough? And I mean seriously big money with a purse of $1.65 millon!
Called the Pipistrel Taurus G4, the prize-seeking aircraft rolled out of the Pipistrel factory in Slovenia for the first time recently. After posing briefly for the camera, G4 taxied away quietly under electric power for the start of the flight testing program.
Pipistrel previously won a big NASA check with its Virus SW but the company has now taken a wholly different approach, based on rules that give seat-mile advantage to four seater models. "This aircraft is the first four-place electric aircraft to be flown in the world," stated Pipistrel officials. The company's Taurus Electro claimed to be the first two-place electric aircraft to be flown in the world four years earlier.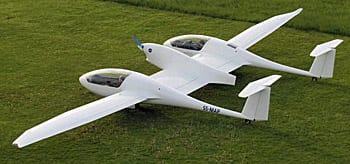 The unique design has come about by grafting two Pipistrel Taurus aircraft together with a center section that is some 15 feet wide and supports a centrally located pylon housing the electric engine and batteries. Some have said the Taurus G4 resembles White Knight Two, the launch carrier of SpaceShipTwo. Taurus G4 is powered by a 145 kW (about 195 hp) brushless electric motor that drives a 6-foot two-blade prop. More specs: Wingspan 75 feet. Gear is retractable. Empty weight 2,343 lbs., including 1,034 pounds of batteries. Maximum takeoff weight is 3,300 pounds, yielding a payload of 957 pounds.
After competing in the CAFE/NASA Green Flight Challenge, Taurus G4 will then compete in the EAA Airventure Electric Flight Challenge held at this year's Oshkosh.
One of the main development engineers on this project, Pipistrel's Tine Tomazic, doubles as test pilot. Tine (pronounced Teen-eh) also works with a talented team handling the electrical design and control systems. The company has elected not to disclose performance figures and flight capabilities of its new machine until it debuts in the 2011 CAFE/NASA Green Flight Challenge, but Tine did say this: "This is the most powerful electric aircraft currently developed. It has the most battery capacity on-board and it is also the first four-place aircraft to be flown under electric power."
He added that the G4 CAFE Racer is purely a proof-of-concept aircraft that Pipistrel is using as a testbed for many of the same technologies that will be introduced into the recently announced Panthera aircraft. That sleek four-seat project will be designed around a normal gasoline engine, a hybrid engine, or an electric-only motor.
Is Taurus G4 for you? It could be. "After the completion of these competitions we expect to sell the Taurus G4 to somebody wanting a very unique and one-off design for personal use or to a company wanting to further investigate future propulsion technologies," Tine said.
For more information: Pipistrel.si
For more on Sport Pilot/LSA: ByDanJohnson.com