The Rocky Mountain Airshow in Broomfield, Colo., has been selected as one of 20 events worldwide to host the U.S. Air Force's F-22 Raptor Demo Team.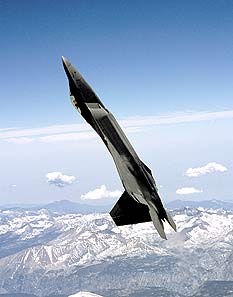 "We are thrilled to be selected by this very exclusive team," noted Jim Cimiluca, Event Chairman. "Performances by other military demo teams have fallen victim to tough budget cuts. It's very possible this may be the only chance we get to see the world's air dominance leader perform for us in Denver."
The 10th annual airshow, slated for Aug. 24-26 at the Rocky Mountain Metropolitan Airport, will include national aerobatic performers in aircraft ranging from WWI replicas to today's state of the art technology along with a variety of attractions on the ground. Fireworks presented by Webroot Security follow a Hot Air Balloon Glow and the twilight air show on Friday night.
The AdventureZone kid's area will showcase numerous activities and hands on projects to engage and excite kids of all ages while emphasizing the importance of STEM curricula.
Hundreds of aircraft from across the country will also be on site for the 32nd annual Rocky Mountain Regional Fly-in held in conjunction with the air show. Come early Saturday and Sunday mornings to enjoy the Rocky Mountain Balloon Fest launches.
Early bird tickets are on sale now at the lowest price of the season at RMAIRSHOW.com.
The F-22 Raptor is one of the Air Force's newest fighter aircraft. Its combination of stealth, supercruise, maneuverability, and integrated avionics, coupled with improved supportability, represents an exponential leap in war fighting capabilities. The Raptor performs both air-to-air and air-to-ground missions allowing full realization of operational concepts vital to the 21st century Air Force. The F-22, a critical component of the Global Strike Task Force, is designed to project air dominance, rapidly and at great distances and defeat threats attempting to deny access to our nation's Air Force, Army, Navy and Marine Corps. The F-22 cannot be matched by any known or projected fighter aircraft.

People who read this article also read articles on airparks, airshow, airshows, avgas, aviation fuel, aviation news, aircraft owner, avionics, buy a plane, FAA, fly-in, flying, general aviation, learn to fly, pilots, Light-Sport Aircraft, LSA, and Sport Pilot.