Michael Porter's restored Stearman helps tell the women's story
"Is that what I think it is?"
There's something special about seeing a military aviator reunited with an airplane that he or, in this case, she flew during the war. It can be an emotional moment, like watching the reunion of long-lost family members.
During this year's SUN 'n FUN, a handful of members of the Women Airforce Service Pilots (WASP) were reunited with a 1942 Stearman that had been based at Avenger Field in Sweetwater, Texas, during World War II and used in primary training. The reactions of the women ranged from smiles and eyes growing misty as the memories came flooding back, to girlish giggles and the sharing of war stories.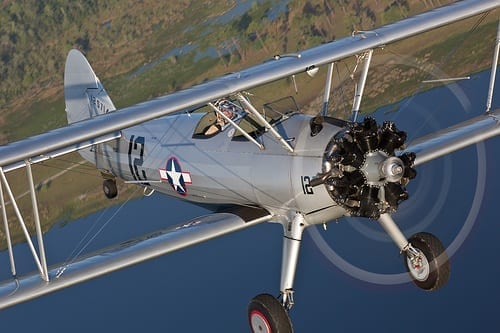 The pilot and aircraft owner facilitating the reunion was Michael Porter of East Liverpool, Ohio. Porter, born decades after the end of World War II, has been flying since his teen years, logging about 3,500 hours, including 2,000 in the Stearman, which he bought in 1998.
"When I first got hold of the airplane it was a flying wreck with civilian markings," he recalled. "I contacted the Air Force and the Smithsonian and gave them the serial number so that they could look up the airplane. They got back to me about two months later with all the bases it was stationed at. When I heard 'you have an airplane with a unique history — it was stationed with the WASP program,' I realized that I had something really special here, and I needed to do something really nice with this airplane. Their story hasn't been told nearly enough to the general public."
The WASP program was created during World War II to recruit women to fly in non-combat roles, such as ferrying planes, flight instruction, flight testing, and flying anti-aircraft tow targets, as all the male pilots were fighting in the war. From Feb. 10, 1943, to Aug. 12, 1944, Porter's Stearman, B75N1, construction number 75-322, was used for primary training at Sweetwater. Although the women were required to be licensed pilots with 500 hours when they reported for duty, they spent months learning to fly the Army way.
Some 25,000 women applied to be WASPs, of which 1,830 were accepted. Of that, 1,074 completed training.
Considered civilian employees at the time, there were no military benefits for the women. In fact, they were not given veteran status until 1977. In 2009 they received the Congressional Gold Medal for their war-time efforts.
According to many of the WASPs, when the program was disbanded in December 1944 they were told to "go home and keep your mouth shut," so most people didn't know about the WASP until decades after the end of World War II.
This cloak of secrecy made it a challenge to get information about the airplane, said Porter, who spent months rummaging through every possible photographic source he could think of to get details on the airplane. The Texas Women's University in Denton was particularly helpful, he said.
"They have the biggest photo archive of the WASP and they have been slowly putting photos online for anyone to look at. It took seven years of looking through photographs of their flight line until I could identify this aircraft. It happened one night, very late, and I saw it. I thought 'that looks like it could be it'."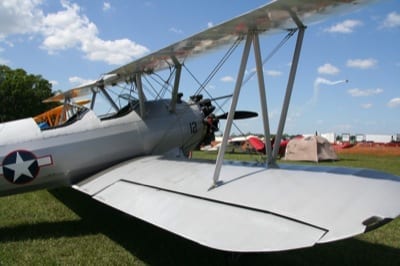 Porter sent an email requesting a high resolution copy of the photograph.
"It was the same plane! There is was, the second one in line. I thought, 'Now I have everything I need as far as markings on the aircraft, including the buzz numbers," he said, explaining the buzz numbers were on the side of aircraft at bases during the war. "That way if a student or a cadet flew low or recklessly he, or in this case she, would be caught very quickly, hence the slang term 'buzz number'. When I realized that all the serial numbers on the aircraft matched up, I said 'this is how we will restore it! Let's make sure that it is super accurate and go for every little detail!'"
Porter spent the next few years acquiring parts for what is sure to be one of the most authentic restorations ever done. By 2007 he was ready to begin the work.
"Once we got those parts collected, we were ready. I came home from the Stearman Fly-In and the next day I had the razor blade out and I was taking off the fabric. The restoration took 11 months, going at it all hours, seven days a week. You know, stop for lunch, go right back to it, stop for dinner, go right back to it, until two or three in the morning every single day!"
The covering is a modern Polyester/Dacron Airtek process, but that's about the only modern change, according to Porter.
The cockpit sports the original instruments. Adding to the detail is a hand-lettered "cheat sheet" for the instructor in the front seat depicting the weight and balance. Porter even recreated a military flight plan form that is carried in the airplane, correct down to the manual typewriter font.
Porter had the help of WASP Bernice "Bee" Falk Haydu, class of 44-7, during the restoration.
When the aircraft was finished, Porter flew it to a WASP reunion in Sweetwater, where Haydu and a gaggle of WASP were quite excited to see the restored aircraft.
"One of the women remarked, 'I flew one just like it' and then another said, 'no sweetie, you flew THIS one!'" Porter recalled. "At least four of the women knew without a doubt that they had flown the airplane, so I asked them to sign the inside of the wing panel. I carry a little bit of them every time the airplane is flying."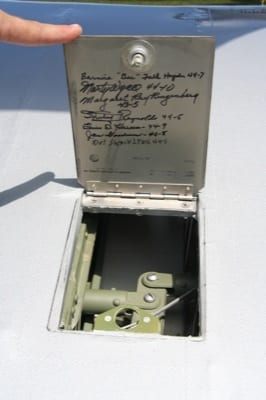 Porter enjoys taking the plane around to airshows and fly-ins to get the story out, but notes the Stearman is not cheap to operate. He is grateful to have sponsors. "Texas National Bank paid for the fuel so that I could make the WASP reunion in Texas," he recalled. "My straight-line route was going to be 1,200 miles but I ended up flying 1,700 miles to get around some weather."
Flying such a long distance in an open cockpit airplane may not be comfortable, but it's worth it, said Porter.
"It's about time someone did a WASP airplane back to the original markings," he said. "It's been wonderful to educate people who did not have a clue about the WASP program. We have to get their story out there and this is the perfect talking piece. I put this in an airshow and everybody just draws to it like a magnet."
People who read this article also read articles on airparks, airshow, airshows, avgas, aviation fuel, aviation news, aircraft owner, avionics, buy a plane, FAA, fly-in, flying, general aviation, learn to fly, pilots, Light-Sport Aircraft, LSA, and Sport Pilot.