Due to record rainfall over the last six months, SUN 'n FUN has cancelled the Seabird Splash-In that has been held annually on Lake Agnes at Fantasy of Flight during the SUN 'n FUN International Fly-In & Expo.
SUN 'n FUN officials report the Lake Agnes water level is more than 2 feet above normal, which creates numerous hazards to seaplane operations in the form of hidden obstructions and very shallow and long approaches to land access.
Additionally, both the dock and ramp at Fantasy of Flight are essentially unusable, officials noted.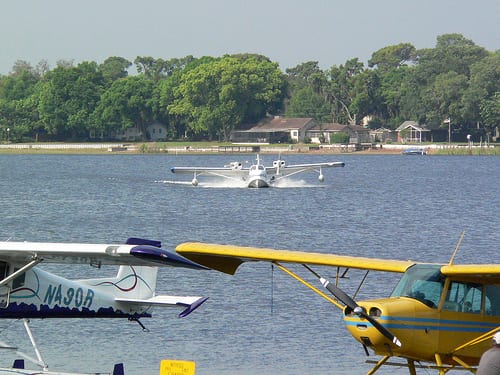 "This decision does not come lightly and was made after a recommendation from the SUN 'n FUN Seabirds chairman and discussions with Seaplane Pilots Association leadership and others," officials said in a prepared release.
SUN 'n FUN officials noted that Fantasy of Flight founder Kermit Weeks and his team were "ready and willing to support this year's event and we thank them for their preparation efforts to make it happen."
The SUN 'n FUN Seabirds Team is working on alternative activities for all seaplane enthusiasts at this year's show, which is slated for April 21-26 at Lakeland Linder Regional Airport (LAL) in Florida.
A Saturday night dinner at the SUN 'n FUN Seabird area will be held prior to the evening airshow and fireworks.
"Though we sincerely regret having to make this decision, we always put safety first and foremost," said John R. Leenhouts, president & CEO of SUN 'n FUN, concluded.