Mercy Flight Southeast is raffling off a chance for a once-in-a-lifetime flight in P-51 Mustang.
The charity is partnering with Stallion 51 in Kissimmee, Florida, for the fundraising effort.Mercy Flight Southeast's network of 650 volunteer pilots provides free air transportation to life-saving medical appointments. While pilots donate their airplanes, fuel and flight hours to complete more than 3,000 flights each year, the non-profit organization relies on donations and fundraising to pay for support services and to keep passengers and pilots in the air.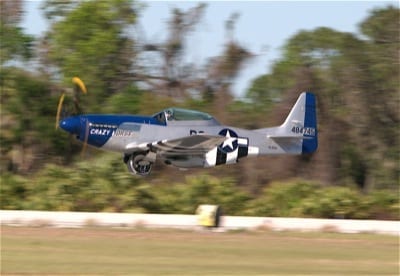 The raffle prize includes a half-day P-51 orientation experience at Stallion 51's headquarters at the Kissimmee Gateway Airport (KISM) in Kissimmee, Florida, including:
A pre-flight briefing that tailors each flight to the individual's experience, expertise and expectations;
A preflight walk around and cockpit orientation;
A hands-on flight that encourages the individual to do 95% of the flying;
A post-flight briefing reviewing the recorded video that captures all of the action during the flight; and,
A photo with pilot and aircraft.
Raffle tickets are $20 each, six for $100 or 13 for $200. The prize includes round-trip airfare up to $500 to Orlando.
The winner will be announced April 10, 2016, during the annual SUN 'n FUN International Fly-in and Expo at Lakeland Linder Regional Airport (KLAL), April 5-10, 2016. You do not need to be present to win.
Raffle tickets can be purchased online or by calling 352-326-0761.