FORT LAUDERDALE, Fla. — Lorrie White recently joined Banyan Air Service as an avionics sales representative.
White started her aviation career in 2002 when she enlisted in the United State Navy as an avionics technician and gained experience working on the P-3 Orion, S-3 Viking, and SH-60 Seahawk.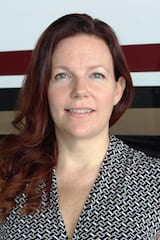 She was recruited to be a high-risk instructor for Naval Aerospace Physiology and Water Survival School where she taught military pilots survival, as well as maintained and operated survival training equipment.
She has also worked as an avionics tech for L3 Communications and AECOM at NAS Mayport on SH-60s, LB & B Associates as an electronic tech at NAS Key West on the F-5 Tiger flight trainer, and Duncan Aviation Fort Lauderdale as an avionics tech on various civilian aircraft.
She holds an AA degree in Liberal Arts from Danville Community College and a BS degree in Electronics Systems Technologies from Southern Illinois University.
Banyan Air Service, based at Fort Lauderdale Executive Airport, offers FBO services, an aviation store, Jet Runway Café, aircraft sales, and a maintenance and repair operation (MRO) that includes airframe, avionics and aftermarket part sales services.