On June 21-22, the NTSB hosted a forum on Pilot Weather Reports (PIREPs) to begin gathering information about the current state of the PIREP system.
The NTSB is seeking input from pilots regarding the current process of creating, submitting and disseminating PIREPs. What works, what doesn't and what could be done better? Pilots' comments will be used to help create an NTSB Special Investigation Report.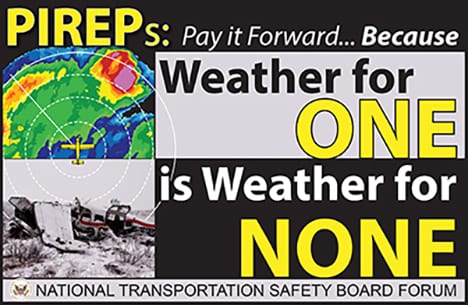 The NTSB believes that improving the PIREP system would yield immediate safety and efficiency benefits for the entire aviation community, and could improve general aviation safety, which is reflected in NTSB's slogan for the project – "PIREPS: Pay it forward… Because weather for one is weather for none."
Pilots can submit remarks no later than July 1 to PIREP.Forum@ntsb.gov.