I like Jamie Beckett. Both as a person (most importantly) and as an aviation enthusiast. For those of you who don't recognize the name, Jamie is one of General Aviation News' columnists, as well as an Aircraft Owners and Pilots Association (AOPA) Ambassador in Florida. (We had him first 🙂 )
Like me, he's far from objective about flying. Exactly as it should be. Flying is a great thing. For a wide variety of reasons. And none of those reasons are THE reason flying is so cool.
Just like… wing on top or bottom? Nosewheel or tailwheel? Neither is right, neither is wrong. Personal preference.
Jamie's latest column – General aviation by the numbers – is another in a long line of pro-flying, glass half-full (or maybe all the way full) missives about why we should be pro-flying.
"The number of people walking around with a valid FAA pilot certificate in their possession is up by nearly 25,000," states Jamie.
As Rod Machado would say, "Good thing." Indeed it is.
But the devil, as they say, is always in the details. Let's take a peek, shall we.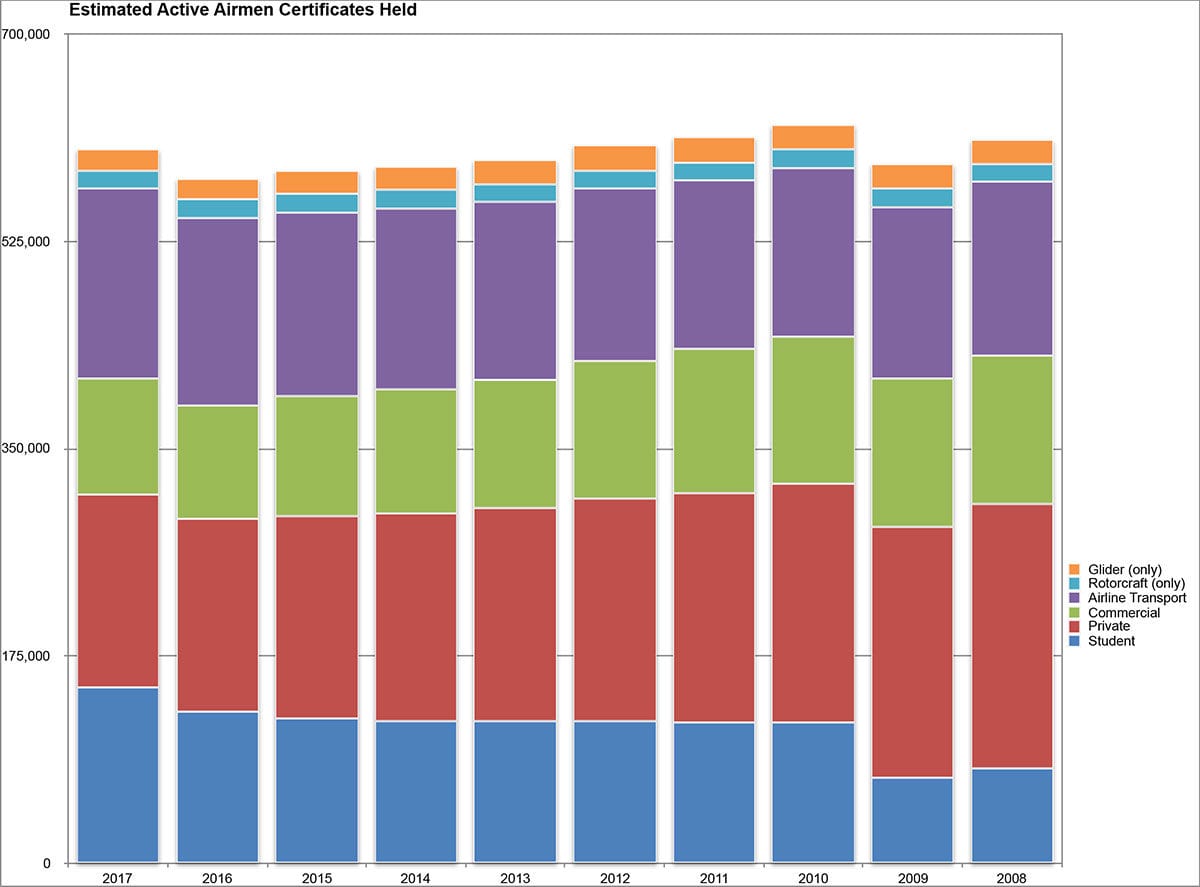 The above chart is from the FAA's U.S. Civil Airmen Statistics (last updated December 2017).
The largest block of airmen hold a private certificate (162,455). Next is Airline Transport (159,825). In third place, and growing, is student pilots (149,121). From 2016 to 2017 those categories increased by 142, 1,931, and 20,620 respectively.
Those who dive into FAA minutiae will point to changes in the duration a student pilot certificate is valid and cry foul.
In July 2010, the FAA increased from 36 to 60 months the duration a student pilot certificate was valid for pilots under the age of 40. That bumped the student pilot population from 72,280 to 119,119 at the end of 2009. Then starting with April 2016, newly issued student pilot certificates no longer have an expiration date. Over time, the total number of student pilot certificates is likely to grow.
I can already hear the haters…"See, the FAA is just messing with the data." "The FAA is trying to justify their existence." "The FAA is just rearranging deck chairs on the Titanic."
To those haters, I say: So!
Becoming a pilot isn't easy. From the start, as in signing up and getting a student pilot certificate isn't easy or obvious. You've got to want to do it. That's probably a good thing. But we can certainly make the process easier, while doing little harm. But that's a subject for another time.
For those who received a student pilot certificate, that represents a dream. For some that dream is aerobatics, for others it is flying professionally, and yet for others it is a lazy Sunday afternoon $100 hamburger. There are as many reasons to learn to fly as there are students. That's what makes flying so great. It is personal to each person.
Thirty years ago the pilot population topped 800,000. In 2017 it popped over 600,000 for the first time since 2012.
Regardless of the reasons people become pilots, a larger number is better than a smaller one.
Let's help those dreamers take flight and push the number of private, commercial and Airline Transport pilots all the higher. A new year is just around the corner. Let's make it the best one yet.