To celebrate the 25th year of awarding scholarships, the NGPA is offering more than $500,000 in scholarships to members in 2023.
This year NGPA will surpass $1.7 million donated since 1998, furthering the organization's mission to build, support, and unite the LGBTQ+ aviation community worldwide, according to association officials.
A variety of scholarships are available for all levels of flight training and other aviation-related higher education, NGPA officials noted.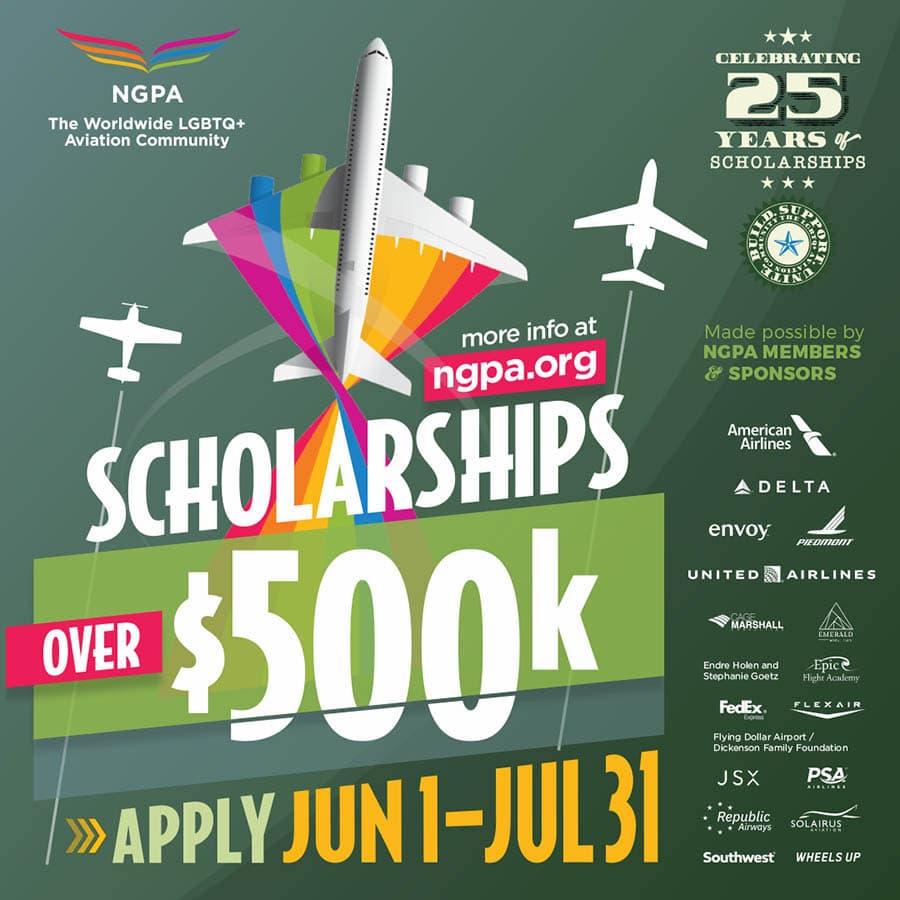 Offerings for the 2023 scholarship cycle are funded through industry partners and membership donations.
A major portion of the scholarships — $325,000 — is through the association's partnership with the United Airlines AVIATE Academy (UAA), officials reported.
Other scholarship sponsors include American Airlines, Buttgenbach Foundation, Cage Marshall Consulting, Delta Air Lines, Emerald Mental Health, Endre Holden & Stephanie Goetz, Envoy, Epic Flight Academy, FedEx, Flex Air, Flying Dollar Airport, JSX, Piedmont, PSA, Republic Airways, Solairus Aviation, Southwest Airlines, and Wheels Up.
"If you aspire to work as an aviation professional, please apply," said Miriam Williams, chair of the NGPA Scholarship Committee. "Our scholarship program is one of the most substantive means NGPA can give back to its membership and meet the 'build and support' portions of our mission."
NGPA scholarships are awarded regardless of an individual's gender identity, gender expression, or sexual orientation, but all applicants are asked to provide evidence of their contributions to the LGBTQ+ community.
To apply, all applicants must be members of the organization. Membership can be purchased or renewed at NGPA.org.
Applications will be accepted until July 31, 2023.
For more information: NGPA.org/Scholarships