Mid-Continent Instruments introduces its newest battery system, the MD420-1 Emergency Power Supply.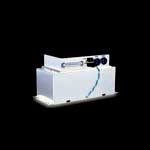 The 2.5 amp-hour battery powers electronic flight displays, standby instruments or other avionic systems, said company officials, who note Honeywell Bendix/King recently named the MD420-1 as the optional battery backup for the new KFD840 Primary Flight Display.
The MD420-1 can be configured for automatic arming and disarming, which prevents accidental battery discharge and improves dispatch reliability. The battery system utilizes a field-replaceable, sealed lead-acid cell module, which has a life expectancy of three years. The MD420-1 is continuously recharged using the main aircraft power and can accept either a 14V or 28V input. A small panel annunciator unit controls test, status and control functions.
The MD420-1 is TSO-certified and begins shipping in November. List price is $2,485.
For more information: 316-630-0101 or MCICO.com.