Steve Oliver and Suzanne Asbury-Oliver are the 2010 recipients of the Bill Barber Award for Showmanship. The award will be presented during EAA AirVenture 2010 at EAA's Theater in the Woods on Monday, July 26.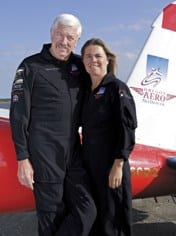 Steve Oliver began flying with his father in a Piper Vagabond at the age of 12. By the time he was 17, he had enrolled in aeromechanics school in Kansas City and was taking flying lessons. In just 11 months, he earned commercial and instructor ratings and performed his first airshow. He currently holds an Airline Transport Pilot rating, is a single and multi-engine flight instructor, an Aerobatic Competency Evaluator (ACE), and holds a ground level aerobatic waiver. Oliver has flown transport category fire bombers, helicopters, and seaplanes. He has flown mail and has been both a corporate and a charter pilot. He has flown many hours crop dusting and towing banners at various events across the country. It was while towing banners that he met Suzanne Asbury.
Suzanne Asbury-Oliver began flying gliders at age 14 while attending junior high school near Portland, Oregon. At 15 she soloed, and by 18 she was certified as a flight instructor. She also holds an Airline Transport Pilot rating and has logged more than 6,000 flying hours, many of them in her original 1929 open cockpit Travel Air Pepsi SkyWriter biplane. After some 70 active years on the job, the biplane was retired in 2000 and now hangs from the ceiling at the Smithsonian's National Air and Space Museum Steven F. Udvar-Hazy Center at Dulles Airport. Today, she is the nation's only female professional skywriter.
With Suzanne as the primary skywriter, Steve performs the aerobatic day and night shows in the Oregon Aero SkyDancer, a 1956 de Havilland Super Chipmunk which has been specially modified for airshow performances both in the daytime and at night. The Olivers also offer barnstorming rides in a New Standard D-25.
This year marks the 25th anniversary of the Bill Barber Award for Showmanship, which began in 1986. The award goes to airshow performers or teams that have demonstrated great skill and showmanship and is presented annually by World Airshow News magazine and the friends and family of the late Bill Barber.
Past Bill Barber Award winners include:
2009 Michael Goulian
2008 Bud Granley
2007 Dacy Family Airshow Team
2006 Danny Clisham
2005 Pietsch Airshows
2004 Bobby Younkin
2003 Jim LeRoy
2002 AeroShell Aerobatic Team
2001 Northern Lights Aerobatic Team
2000 John Mohr
1999 Dan Buchanan
1998 Patty Wagstaff
1997 Gene Soucy & Teresa Stokes
1996 Wayne Handley
1995 Bob Hoover
1994 Bob & Annette Hosking
1993 Red Baron Stearman Squadron
1992 Sean D. Tucker
1991 Julie Clark
1990 Leo Loudenslager
1989 Jimmy Franklin
1988 No Award
1987 The French Connection
1986 Eagles Aerobatic Flight Team